Read more recipes, techniques, tips, and reports from Meathead's kitchen and grill deck at AmazingRibs.com
"When I was a child, I talked like a child, I thought like a child, I reasoned like a child. When I became a man, I put childish ways behind me." 1 Corinthians 13:11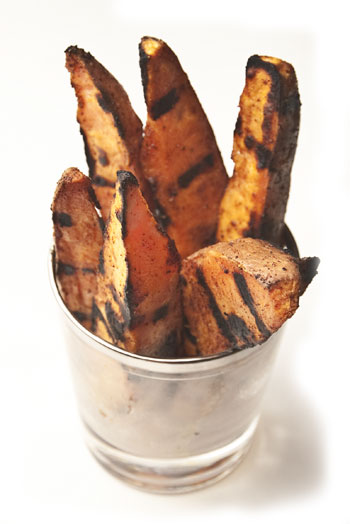 I know the kids love the sweet potatoes with gooey marshmallows and the casserole with brown sugar and ersatz maple syrup. But this recipe is sweet enough for kids and savory enough for adults. It produces crisp shards of deliciousness that are still sweet, but not so sweet they should be dessert.
The moment I first tasted sweet potatoes French fries, I was addicted. Couldn't get enough of them. So I immediately went home and tried to make them on my grill. What I came up with are not as crispy all over as deep fried, but the edges are nice and crunchy, and they have great grilled flavor, better caramelization of sugars, and much less fat and calories. And they just flat out look cool. Even if you cook them indoors in an oven, they are darn tasty.
If you are cooking my Ultimate Smoked Turkey, you can cook these on the grill after you remove the bird and before you slice it.
For the record, in case anyone is interested, these are not yams. The orange or yellow smooth skin pointy tuber that we love is technically correctly called a sweet potato, not a yam. A real yam has a rough woody skin, the interior is pale in color, and it is rarely found in grocery stores in the US. Somehow the two got confused in common use years ago. The United States Department of Agriculture (USDA) has tried to help but has actually deepened the confusion (insert wisecrack about government here). USDA requires that if you use the popular name yam on a sweet potato, you must also label it sweet potato, the correct name. As a result, we now use the names interchangeably, and incorrectly so. So don't let me hear you call these yams, OK?
Serves. 2
Preparation time. 10 minutes if you tie one hand behind your back
Cooking time. 15-20 minutes at about 325°F
Ingredients
2 medium sweet potatoes
2 tablespoons vegetable oil
2 teaspoons Meathead's Memphis Dust*
1/8 teaspoon chipotle powder (optional)
Stuck indoors?
This recipe is designed for the grill, but you can cook these babies in your oven. Just lightly coat a sheet pan, cookie pan, or a roasting pan with oil, crank the oven to about 400°F (you need a bit more heat since you are not cooking over flame), and turn them when the sides are golden.
* About Meathead's Memphis Dust. No, I'm not selling anything. This is a spice mix that is easy to make, just click the link for the recipe. My readers have used it to win numerous prizes in barbecue competitions. I use it on ribs and other pork dishes, stuffed celery and jalapenos, on the rim of Bloody Mary's, and even on popcorn. Readers tell me they love it on chicken, turkey, and salmon. I make it in 3 cup batches and keep it in a bottle in the pantry. If you don't want to make up a batch, then you can just wing it by sprinkling the potatoes with mix of brown sugar, paprika, garlic powder, onion powder, ginger powder, rosemary powder (or dried thyme), salt and black pepper. Don't leave out the green herb.
About the Chipotle powder. If you don't have chipotle powder (and the question is why don't you?), then you can use any hot pepper like cayenne, chili powder, pepper flakes, or even ancho (which is not very hot). If you and your guest like things with a kick, double the chipotle.
Optional topping. I love these shards of sweet and savory nekkid, but if you nibble one and find out that you got a dry potato, you can mount a daub of butter on them in the serving platter or serve them with a scoop of sour cream on the side.
Do this
1) Preheat the grill to about 325°F. We will be cooking with direct heat, but I still set up in a 2-zone configuration so I can push them aside and hold them in a cooler area if some of them finish ahead of the rest.
2) Cut off the tips of the potatoes and dig out any bad spots. I prefer to leave the skin on. They say it is nutritious, but I just like the taste and texture, but you can remove it if you wish. Cut them in half lengthwise, and then into quarters. If you are using really big taters, cut them into eighths.
Optional. If you prefer, you can cut them into disks about 3/8" thick and cook them about 5 minutes per side on a slightly lower temp, about 300°F.
3) Dump the potatoes into a large bowl, drizzle with the oil, and with your tongs, toss them so they are lightly coated. Then sprinkle with the seasonings and toss until evenly coated. Be careful that the chipotle doesn't hang out all on one or two spikes.
4) Lay them on the grill so they get good horizontal grill marks, and close the lid. Hang around the grill, and after about 3 minutes, check and see if they have nice brown grill marks. If they do, rotate them to another side. Repeat until all three sides are marked. When they are, they should be ready, and you can tell by poking them with a fork. It should slide in and out easily. If not move them to the indirect side and let them roast a bit longer, turning them as needed so they don't burn.
Tell us below how you cook your sweet potatoes.
All text and photos are Copyright (c) 2010 By Meathead, and all rights are reserved
For more of Meathead's writing, photos, and recipes, please visit his website AmazingRibs.com
Calling all HuffPost superfans!
Sign up for membership to become a founding member and help shape HuffPost's next chapter