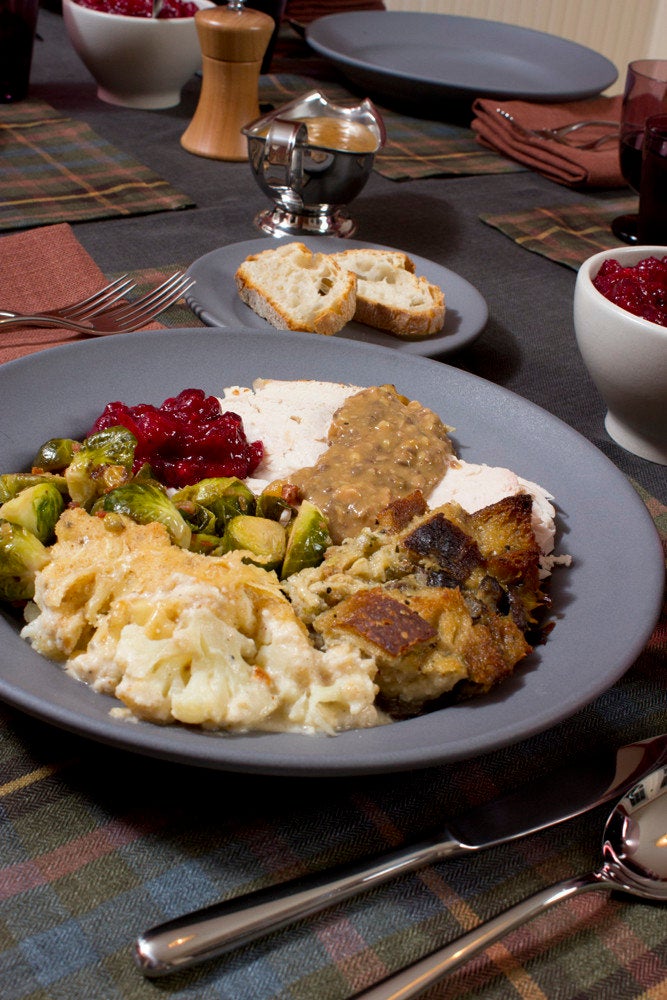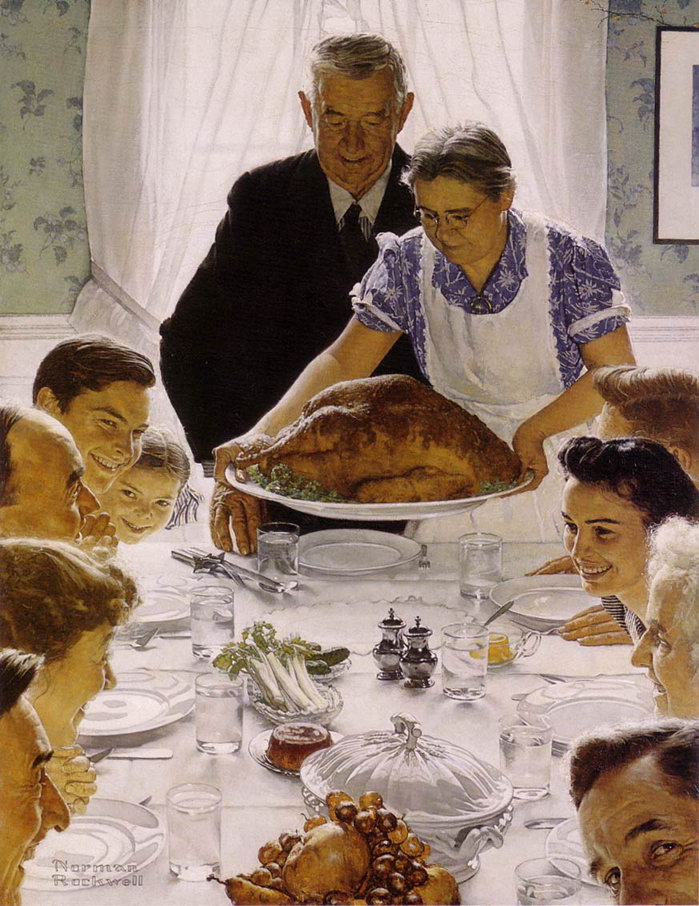 It's been awhile since you've heard recipe news from me. As you know, I've been cooking and supervising hundreds of volunteers to continue feeding those-in-need from the aftermath of Hurricane Sandy. It is definitely a time to give thanks: For me personally, the thanks come from the opportunity to serve. The food maven himself, Arthur Schwartz, came to help yesterday and will be there in our satellite kitchen at Congregation Beth Elohim today. His tasks included peeling eggs (20 dozen of them!) and sautéing 30 pounds of onions until caramelized. They are for the homemade bread stuffing we will make for our pre-Thanksgiving meals. Our goal is 1500 sandwiches and 250 hot lunches -- roast chicken, stuffing, mixed vegetables, cranberry sauce and "dinner" rolls. Fresh apple slices, too. Anne Hathaway and her new husband came to visit us at the shul the other day -- they were heartened by the work that was taking place.
That said, here are some of my favorite Thanksgiving recipes, for it is a time when simplicity might be most appreciated. I, too, will be preparing a Thanksgiving meal for a dozen or so of our family and friends, and then again on Saturday. And a nice invitation just came our way -- a dinner of leftovers on Friday night at a neighbor's home. I adore leftovers more than you can imagine. In addition to the radically simple recipes below, you might enjoy my refreshing cranberry granita -- yes, made from a wobbly block of leftover cranberry sauce -- complete with its ridges.
Below you'll also find some wine suggestions from my favorite wine gal, Carol Berman (classinaglasswine.com), who says, "the Thanksgiving feast is filled with many flavors, which run from savory to sweet. I look to wines that simply harmonize with them and sway with the music of the meal. These are my Thanksgiving picks for 2012. Look for current vintages, although these all age gracefully and sell for less than $25.00."
Paumanok Vineyards, Riesling, North Fork, Long Island, NY
Domaine des Terres Dorées, Beaujolais, L'Ancien, France
Montinore Vineyards, Pinot Noir, Oregon
Tenuta Pederzana, Lambrusco Grasparossa, Emilia Romagna, Italy
Happy Thanksgiving to all.
Juicy Turkey Breast with Sausage, Fennel & Golden Raisins (adapted from Radically Simple)
This really elegant recipe is a cinch to make and looks like an elaborate French "ballontine." Have the butcher bone the breast, leaving the breast halves attached and the skin on. This is a perfect Thanksgiving recipe for six, but often I roast turkey thighs that are marinated in garlic, fresh thyme, rosemary and white wine so that we can all enjoy some dark meat, too. Stunning and simple.
12 scallions, white and green parts separated
¾ pound Italian sweet sausage, removed from casing
½ cup golden raisins
2 tablespoons fennel seed
3-pound boneless whole fresh turkey breast, with skin
2 tablespoon olive oil
2 cups chicken broth
Preheat the oven to 375 degrees. Arrange the scallion greens in a row on a broiler pan. Mince the white parts of the scallions and combine with the sausage, raisins and 1-1/2 tablespoons of the fennel seeds. Sprinkle the turkey (skin side down) with salt and pepper. Spoon a line of sausage mixture down the center. Starting at one long side, roll up tightly to enclose the filling. Tie with string at 1-inch intervals. Place the turkey on the scallions and brush with the oil. Sprinkle with the remaining fennel seeds and salt. Roast 1-1/2 hours, basting with 1 cup broth, until the stuffing reaches 155 degrees. Transfer turkey to a platter. Place the pan atop the burners. Add remaining broth. Boil, scraping up browned bits, 5 minutes; strain. Remove string from the turkey; thickly slice. Drizzle with the pan sauce. Serves 6
Jane Brody's Brussels Sprouts
Jane Brody, the personal health columnist for the New York Times since 1975, is my neighbor in Park Slope, Brooklyn. She is crazy about Brussels sprouts and gave me her recipe to include in my book, Radically Simple. It is her adaptation of a recipe from the Bear Café in Woodstock, New York. I love how recipes travel around.
½ cup pecan halves
1-1/2 pounds Brussels sprouts, trimmed
2 tablespoons unsalted butter
2 tablespoons olive oil
1 small yellow onion, finely chopped
2 large garlic cloves, finely chopped
Bring a large pot of salted water to a boil. Toast the pecans in a nonstick skillet over medium-high heat until fragrant, 2 minutes. Set aside. Add the Brussels sprouts to the boiling water and cook 5 minutes. Drain well; cut each in half through the stem end. Heat the oil and butter in a large skillet. Add the onion and cook over high heat until golden, 5 minutes. Add the garlic and Brussels sprouts and cook until tender and browned in spots, 5 to 10 minutes. Transfer to a serving bowl. Break the toasted pecans in half and sprinkle over the Brussels sprouts. Season with salt and pepper. Serves 4 to 6
Leftover- Cranberry Sauce- Granita
This is one of my favorite inventions! After (or before) Thanksgiving you can transform a can, or two, of jellied cranberry sauce into an amazing granita --- or sorbet. Garnish with fresh raspberries or pomegranate seeds. If you don't have an ice cream maker to make sorbet, you can prepare this as a granita by freezing the mixture and stirring it with a fork until slushy.
Grated zest and juice of 3 large lemons
Grated zest and juice of 2 large oranges
2/3 cup sugar
¼ teaspoon pure vanilla extract
16 ounces jellied cranberry sauce
Combine the lemon zest, ½ cup lemon juice, orange zest, and ½ cup orange juice in a medium saucepan. Add the sugar, vanilla and 2-1/2 cups water; bring to a boil. Spoon the cranberry sauce, in large pieces, into the saucepan. Bring to a boil and whisk until melted and smooth. Cool, and then chill well. Freeze in an ice cream maker according to the manufacturer's directions. Serves 8
Rozanne Gold is a four-time James Beard award-winning chef and author of Eat Fresh Food: Awesome Recipes for Teen Chefs, Healthy 1-2-3, and Radically Simple: Brilliant Flavors with Breathtaking Ease.