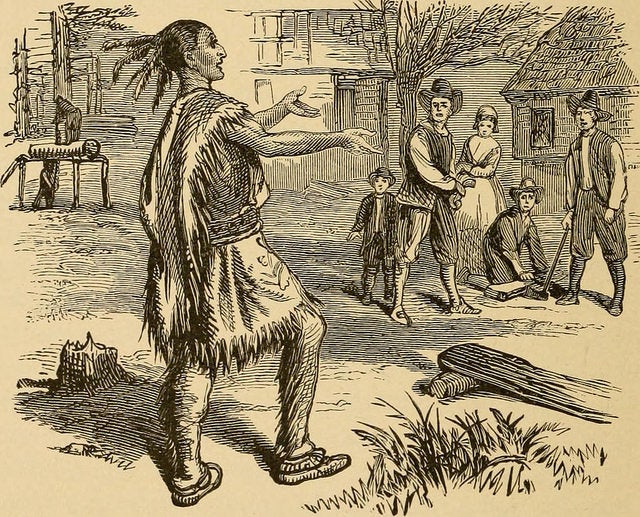 The Thanksgiving story you know probably goes a bit like this: English Pilgrims, seeking religious freedom, landed in Plymouth, Massachusetts, where they found a rich land full of animals and were greeted by a friendly Indian named Squanto, who taught them how to plant corn.
The true story is more complicated. Once you learn about the real Squanto -- also known as Tisquantum -- you'll have a great yarn to tell your family over the Thanksgiving table.
"This is not revisionist history," Peters promised. "This is history that's just been overlooked because people have become very, very comfortable with the story of happy Pilgrims and friendly Indians. They're very content with that -- even to the point where no one really questioned how is it that Squanto knew how to speak perfect English when they came."
Here's what really happened.
In 1614, six years before the Pilgrims landed in modern-day Massachusetts, an Englishman named Thomas Hunt kidnapped Tisquantum from his village, Patuxet, which was part of a group of villages known as the Wampanoag confederation. (Europeans had started visiting the northeast of what is now the United States by the 1520s, and probably as early as the 1480s.)
Hunt took Tisquantum and around two dozen other kidnapped Wampanoag to Spain, where he tried to sell them into slavery.
"It caused quite a commotion when this guy showed up trying to sell these people," Mann said. "A bunch of people in the church said no way."
Tisquantum escaped slavery -- with the help of Catholic friars, according to some accounts -- then somehow found his way to England.
He finally made it back to what is now Massachusetts in 1619. As far as historians can tell, Tisquantum was the only one of the kidnapped Wampanoags to ever return to North America, Peters notes.
"As far as historians can tell, Tisquantum was the only one of the kidnapped Wampanoags to ever return to North America."
But while Tisquantum was in Europe, an epidemic had swept across New England.
"The account that's recorded by Gov. Bradford of Plymouth Plantation is that there's a shipwreck of French sailors that year on Cape Cod," Mann said. "One of them carried some disease and it wiped out a huge percentage of the population in coastal new England. ... The guess is it was some kind of viral hepatitis, which is easily communicated in water. It exploded like chains of firecrackers."
When Tisquantum returned to Patuxet, he found that he was the village's only survivor.
"Into this bumbled the Pilgrims," Mann said. "They had shown up in New England a few weeks before winter. ... Up until the Pilgrims, the pattern had been pretty clear. Europeans would show up, and Indians would be interested in their trade goods, but they were really uninterested in letting [Europeans] permanently occupy land."
Often, armed native people would even force Europeans to leave if they attempted to stay too long.
This time, the Europeans wanted to stay, and the disease that had decimated Patuxet ensured that they had a place to settle.
"Patuxet ultimately becomes Plymouth," Peters explained. "They find this cleared land and just the bones of the Indians. They called it divine providence: God killed these Indians so we could live here."
A website Peters helped create for the 400th anniversary of the Pilgrims' arrival puts it even more bluntly: "The graveyard of [Tisquantum's] people became Plymouth Colony."
Massasoit, a local Wampanoag leader, didn't trust Tisquantum. "He looks at this guy and smells trouble," Mann said. Massasoit kept Tisquantum under what was essentially house arrest until the Pilgrims showed up and promptly started starving to death.
Patuxet wasn't the only native village decimated by the plague. The entire Wampanoag confederation had been badly hit -- as much as 75 percent of the Wampanoag population was wiped out, Mann said. But the Narragansett, a rival neighboring group, basically weren't affected by the disease at all. That put the Wampanoag in a precarious strategic position.
""The graveyard of his people became Plymouth Colony.""
"He decides we'll ally with these guys, set up a good trading relationship, control supply of English goods, and the Narragansett won't be able to attack us," Mann said.
On March 22, 1621, Massasoit went to meet with the Pilgrims. He brought Tisquantum along to translate.
Tisquantum most likely was not the name he was given at birth. In that part of the Northeast, tisquantum referred to rage, especially the rage of manitou, the world-suffusing spiritual power at the heart of coastal Indians' religious beliefs. When Tisquantum approached the Pilgrims and identified himself by that sobriquet, it was as if he had stuck out his hand and said, "Hello, I'm the Wrath of God."
Massasoit was right not to trust Tisquantum, who soon tried to pit the Pilgrims against him. But the plan didn't work: Massasoit "is just pissed off and demands the Pilgrims hand him over because he's gonna execute him," Mann said.
The Pilgrims didn't. Instead, Tisquantum stayed in the colony with them, helping them prepare for the next winter.
"Never did the newcomers ask themselves why he might be making himself essential," Mann wrote in Smithsonian. "But from the Pilgrims' accounts of their dealings with him, the answer seems clear: the alternative to staying in Plymouth was returning to Massasoit and renewed captivity."
It's all a lot more complicated -- Machiavellian, even -- than the story you might have learned. Mann in Smithsonian again:
By fall the settlers' situation was secure enough that they held a feast of thanksgiving. Massasoit showed up with "some ninety men," Winslow later recalled, most of them with weapons. The Pilgrim militia responded by marching around and firing their guns in the air in a manner intended to convey menace. Gratified, both sides sat down, ate a lot of food and complained about the Narragansett. Ecce Thanksgiving.
So what does this all mean? "While it was by far not the first occasion of human trafficking conducted by European explorers to the new world, the capture of Squanto and his fellow tribesmen would forever alter the course of history for people on two continents," Peters wrote on the anniversary website.
"We learn about Columbus landing in 1492 and it's as if nothing happened for over 100 years until the Pilgrims landed," Mann added. "But the Tisquantum story gives you this tiny peek into that all the people involved had been interacting for more than a century."
Support HuffPost
The Stakes Have Never Been Higher
Popular in the Community