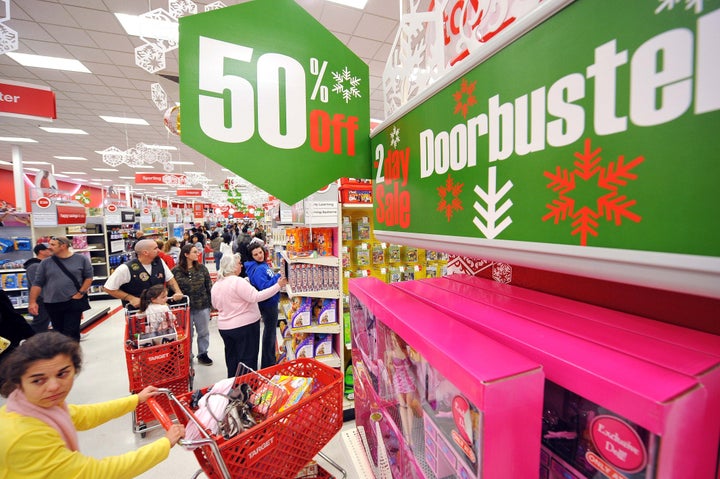 The lines between Thanksgiving day and Black Friday are blurring this year and some aren't happy about it.
Tens of thousands have signed a petition at Change.org asking Target not to open at midnight on Thanksgiving as planned and to open at 5 a.m. on Friday instead to allow workers to spend more time with their families. Anthony Hardwick, an Omaha, Nebraska-based Target employee, said he started the petition because asking workers to arrive at the store no later than 11 p.m. on Thanksgiving day would cut into the time they have to celebrate the holiday with family.
UPDATE: More than 100,000 people have now signed the petition. This post has also been updated to reflect Target's response to the petition.
"With the midnight opening, employees like myself will have to leave for work right in the middle of Thanksgiving Dinner," Hardwick said in a statement. "We don't mind hard work, but cutting into our holidays is a step too far."
But the stores could experience an unexpected backlash from shoppers. Some consumers say they may not take advantage of Black Friday sales in part in an effort to protest retailers' decisions to make their employees work on part of Thanksgiving, according to The New York Times. For others, being in line when the sales start on Thanksgiving Day will cut too much into their own family time.
Retailers may be pushing their openings back earlier in an effort to build off of the momentum of strong sales in recent months. Retail sales probably rose in October by 0.3 percent, according to the median forecast of economists surveyed by Bloomberg News. If the forecast holds true, the gain would follow a 1.1 percent boost that was the most in seven months.
Big box stores may also be capitalizing on consumers' interest in doing everything they can to get a good deal in tough economic times. Though holiday spending is expected to increase by 2.8 percent this year, 62.2 percent of consumers say the economic climate will impact their holiday shopping decisions, according to a National Retail Federation survey cited by CNNMoney. In addition, most consumers said discounts would be the most important factors when deciding what to buy this year.
Target issued a statement Wednesday responding to the petition, alleging that Hardwick was never scheduled to work on Thanksgiving. Part of the statement is below as it appears on the Consumerist:
Our understanding is that this team member also works full-time for another retailer. In early November, he informed his Target managers that he was scheduled to work at his other job on Black Friday and indicated that he needed the day off from Target. We honored that request.

Target does our best to work around the schedules of all of our team members, making every effort to accommodate their requests. Target will offer holiday pay to all hourly team members who work on Thanksgiving Day.
Support HuffPost
The Stakes Have Never Been Higher
Related
Popular in the Community