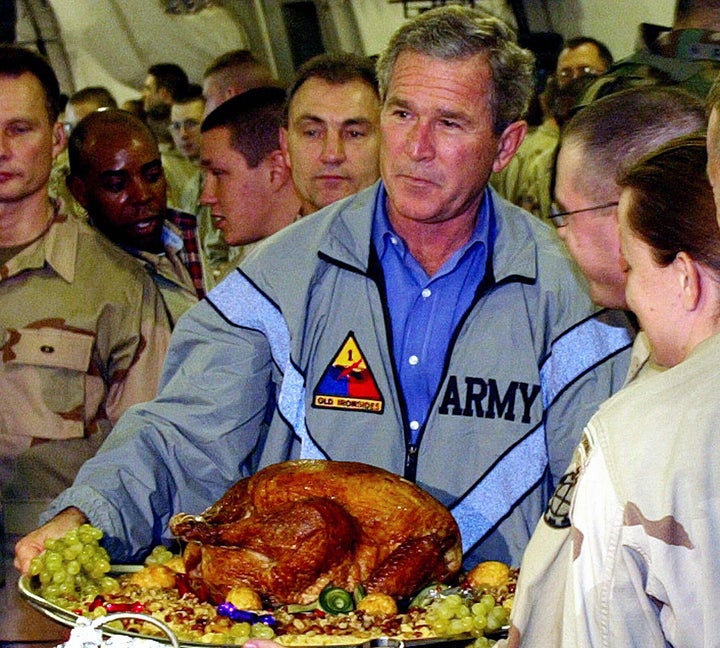 It's that time of year again when everyone starts asking how to roast a turkey. I can't tell you how many questions I get every year from people who are completely intimidated by the idea of roasting this mighty* bird. Most of these people are great cooks, and in fact, have no problem roasting a chicken, but give them the bird over three pounds and something starts breaking down.
Perhaps the problem is that they are presenting their roast turkey to anywhere from five to 20 picky people, or maybe it's the fact that your dinner investment suddenly went from $9 to $45. Regardless, roasting a turkey is actually just as easy as roasting a chicken. It might take a little longer, but in the end, there's no reason why you can't have a tender, delicious, drama-free dinner.
A few months ago I wrote a post on how to roast the perfect chicken. Misplaced modifiers aside, you don't need to start with the perfect bird to end up with a finished product you can be proud of. That said, I will always endorse a free range, organic option, which I think in the end will not only tastes better, but will also support the kind of world we want to live in the future -- but if you can't afford a $50 locally farmed, pasture raised turkey, you can still pull off the perfect Thanksgiving bird pretty easily.
Here are some tips to help you roast your Thanksgiving turkey to perfection. This is all common sense advice if you really think about it, but for whatever reason people seem to lose their minds when it comes to making Thanksgiving dinner.
Do you have any tips of your own? Please leave a comment and let me know what your secret is.
How to Roast a Turkey to Perfection

First things first: thaw your bird completely before putting it in the oven. Thaw it in the fridge for a few days - up to four, depending on the size of your turkey.
400°F is the perfect temperature for cooking a whole bird. You'll get crispy skin without compromising tenderness.
Depending on the size of your bird, it should take anywhere from 3-6 hours to roast at 400°F. I highly recommend a meat thermometer, one that stays in the turkey while it cooks and lets you set an alarm for when it reaches the proper temperature. This keeps you from continually opening the oven door, which will greatly increase your cooking time. Here's a great time chart for turkey roasting.
Basting the bird won't give you crispier skin. In fact, you'll get limp, soggy skin and it only marginally affects the flavor.
Some argue that rubbing the entire bird with fat, inside and out, doesn't affect the flavor, but I disagree. It depends on the fat, though - olive oil won't give you a flavor boost, but butter mixed with a heaping dose of salt and herbs will yield a tasty dish indeed.
It doesn't matter what orientation you roast your turkey in. Breast up, breast down, flipped over halfway through or hanging from the rafters - no position will make the breast more moist.
Stuffing some flavored fat (such as butter with salt and herbs) under the skin will help flavor meat, but don't go overboard. Too much fat will just just make the meat greasy.
They (whoever "they" are) say that you're supposed to cook a whole turkey to 180°F, but I find that 170° yields a perfectly moist bird that's still cooked completely through. Make sure to measure in the thickest part of the breast.
I don't recommend stuffing your turkey before roasting, and this can lead to all sorts of holiday misery - namely salmonella. If you insist on stuffing the bird, make sure you roast it until the stuffing has an internal temperature of at least 165°F.
Let your bird rest for a few minutes after you take it out of the oven. A good 20 minute nap will let everything settle and keep the moisture where it belongs: in the meat.
The easiest way to guarantee that pieces of breast will be moist is to let them soak in the bird's juices for a few minutes after they've been cut. This includes the fatty runoff from what you've rubbed over the surface or stuffed under the skin.
You want the entire thing to roast evenly and have crispy skin all over, so consider elevating it off the surface of the roasting pan. A good-sized roasting rack will do the trick, which allows air to circulate under the bird - crisping it all the way around.
Get a decent oven thermometer, one for measuring the turkey and one for measuring your oven's temperature. 'Nuff said.
Don't waste the juices in the bottom of the pan! Reduce in a saucepan with a little white wine, add a little cornstarch and you've got an amazing gravy.
*Mighty ornery, that is. Have you ever met a turkey in real life? Yikes.

Popular in the Community