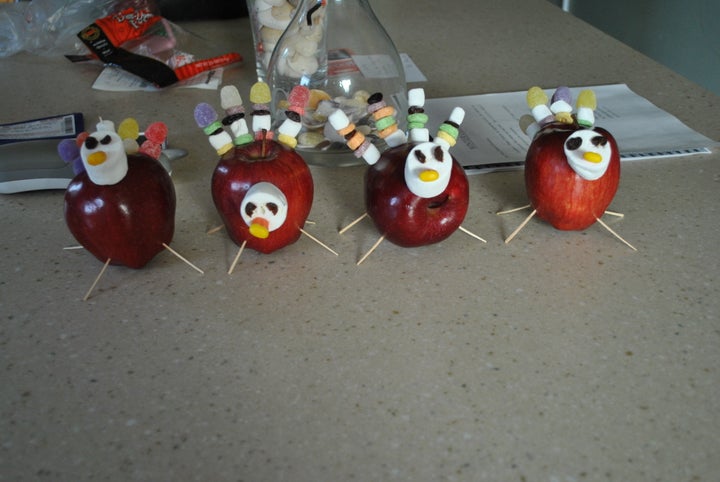 This past year I had great fun illustrating my 28th Junie B. Jones book, Junie B. First Grader, Turkeys We Have Loved and Eaten (and Other Thankful Stuff) by the ever-entertaining Barbara Park. Junie B. has kept me laughing for 20 years, through 28 books. And this book is no exception. In this story, Junie B.'s class puts together a thankful list, and the results are... well, let's just say they're somewhat surprising (though come to think of it, who isn't thankful for rainbow sprinkles?!)

Junie B.'s list got me thinking about my own traditions and my own thankful list. Like Junie B., there are some delicious foods on my list. I am totally thankful for whoever invented macaroni and cheese. I love that stuff. And potatoes. I am thankful for ALL kinds of potatoes. Of course, every year, I thank the turkey. Back when I was a kid, the preparing of the turkey was a big moment for me, my brothers and sister. One year, my younger sister was all wound up, ready to have her first shot at stuffing the turkey. Her shining moment was brief because as soon as she touched the turkey she turned white and nearly passed out! I don't think she's ever touched a turkey since!
Like Junie B., I also loved cranberry sauce -- from a can, naturally -- so that also makes my thankful list. Now that I am grown up, I make my own cranberry sauce (check out my secret ingredient below). It's healthy and delicious and so easy! The only drawback is that it doesn't have the can shape Junie B. likes so much.

At the very top of my thankful list are my family and dear friends; I am thankful for their love and support and for the time we spend together.(P.S. We laugh... a LOT!) I've always loved art (that's why I became an illustrator!) and so as a child, one of my favorite Thanksgiving traditions was the decorating, and that's a tradition I carried on with my own daughter when she was small. Two of our favorite thanksgiving crafts are paper bag turkeys and the apple turkeys described below (which can be either decoration, dessert or both!). But, beyond the decorating, as my daughter was growing up, I wanted to show her that Thanksgiving Day was a day set aside for family, for thanks and appreciation; for sharing and contributing. I wanted her to learn to take those qualities beyond the holiday and practice them in everyday life.

What else am I thankful for? I'm thankful for good music, for tea and for laughter. I'm so, SO thankful that I get to spend my days drawing and making art, not only for myself but as a career. And THAT brings me right back to Junie B. Jones, because a lot of those days have been spent with Junie B., drawing and laughing. My life wouldn't be the same if I didn't have her in it! She may only be a feisty little first grader, but she fills the room and my heart when she's here in the studio as I work. She's become my second child. Oh! And one more thing for my list: I am very thankful for everyone that loves Junie B. as much as I do.
I wish you a Happy Thanksgiving! I hope your holiday is filled with people you love, lots of laughing and maybe even some rainbow sprinkles.
How to make an Apple Turkey
Ingredients: A large red apple, plenty of toothpicks, one regular marshmallow and as many of the following as you'd like: mini-marshmallows, cheerios, raisins, craisins, grapes, cubes of fruit, fruit loops, gumdrops -- the possibilities are endless! Insert a row of toothpicks. These will become the tail feathers (we usually use at least 6). For safety, a grownup should do the toothpicks. Leave enough room between them so you can fill each toothpick with treats. Then let your child decorate. (Make sure to end with something solid, like a grape or a marshmallow, because if you end with cheerios, they may fall off). For the head, we usually use a giant marshmallow (attached with another toothpick), with raisin eyes and a candy corn beak. You can attach the raisins and candy corn by making a little hole in the marshmallow, Besides being a fun activities, these guys make cute table decorations, place card holders, and of course delicious treats!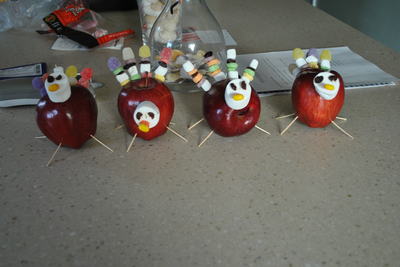 1 pound raw cranberries
2/3 cup honey
1 1/2 cups water
1/4 cup date sugar + some regular sugar to taste
* Pick over and wash berries under running water. DO NOT SOAK.
* In a pot, add honey and water to the berries. Bring to a boil. Keep stirring so the honey doesn't burn.
* When all the berries have popped, turn heat to low and cook a few minutes more until it's thickened.
* Just before removing from heat, add the date sugar.
* Serve warm or cold.
NOTE: Date sugar can be found in natural foods' stores.