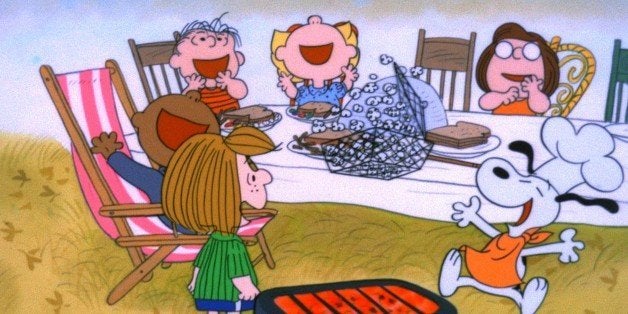 Thanksgiving is a day for gratefulness, football and the chaotic reality of corralling all your loved ones around a single dinner table. It can be the best day of the year, once everything falls in to place, but often the stress of achieving the ideal holiday feast often overshadows what matters most. We rounded up nine Thanksgiving episodes that prove (no matter how that pumpkin pie comes out) nothing is more important than friends and family.
"A Charlie Brown Thanksgiving" (1973)
Charlie Brown's dinner of jelly beans, pretzel sticks and popcorn is the Charlie Brown Christmas Tree of Thanksgiving meals. The quintessential "Peanuts" disappointment and lack of adequate holiday fanfare leaves Charlie and co. to reflect on what is truly important about the day. Eventually everyone leaves the quasi-feast in favor of a proper meal at his grandmother's house. Although, it's clear that on Thanksgiving what matters most is that everyone is together ... even if all you know how to make is "cold cereal and maybe toast."
"Full House," "The Miracle of Thanksgiving" (1987)
Since it is the Tanners' first Thanksgiving without Pam, there is a lot of pressure surrounding the holiday. The girls attempt to recreate their mother's feast "just like last year," but end up with a frozen turkey. The guys rally to repair the dinner, and though the meal is far from perfect, everything ends with a master class in parenting from best dad ever, Danny Tanner. "Thanksgiving wasn't about turkeys, it's about family and about being thankful for what we've have."
"Will and Grace," "Homo for the Holidays" (1994)
The snarky title of this episode reflects much of the way "Will and Grace" handled Jack potentially coming out to his mother on Thanksgiving. There are a number of the typical jokes, like, "Has she met you?" and "What, does she not have a head?" Yet, despite the flippant one-liners, there is an important seriousness to Jack revealing his sexuality. Jack's father turns out to have a secret, too, but the real take-home is the importance of being loved for who we really are.
"Roseanne," "Home Is Where The Afghan Is" (1996)
A perfect Thanksgiving would seem out-of-place on "Roseanne." Dan wasn't around, Bev's coming out was largely pushed off as an effect of her excessive drinking and the hired caterers left Roseanne feeling guilty for winning the lottery. Yet, the holiday redeemed itself, when the group gathered at the Lunchbox to give out food to the less fortunate, leaving the ever-cynical Roseanne to find beauty in giving back alongside the people who matter most.
"Boy Meets World," "Turkey Day" (1996)
After winning turkey and stuffing contest, the boys attempt to combine their family Thanksgivings. The mutual celebration serves to highlight class differences between Cory and Shawn's families, a distinction which makes their respective parents seriously uncomfortable, though the boys are relatively blind to it. Ultimately "Turkey Day" highlights the strength of Shawn and Cory's friendship in spite of their socioeconomic differences -- a force that eventually influences their stubborn families.
"Friends," "The One With All The Thanksgivings" (1998)
There are enough "Friends" Thanksgiving specials, that they deserve a list all their own. But "The One With All The Thanksgivings" is definitely the best, because it ties together the quirky pasts that have brought these six very different people together into an unbreakable family unit ... and also Joey ends up with a turkey stuck on his head.
"Felicity," "Thanksgiving (1998)
Felicity bails on her parents for this particular holiday, but the episode is still about family. Our curly-haired protagonist lights some candles and enjoys a feast out served out of Tupperware. By the end of the meal, it's clear she understands the group as the solid support system she needs in her unfamiliar new setting. "You look around," she writes before the credits roll, "and suddenly you realize you're surrounded by family."
"7th Heaven," "Thanksgiving" (2004)
"7th Heaven" seems like the type of show that was basically created with Thanksgiving episodes in mind. When the Camdens experience some obstacles while trying to put their 2004 holiday together and the "perfect" holiday becomes unattainable, they realize that being a family is not something meant to be confined to a single day a year.
"Grey's Anatomy," "Thanks For The Memories" (2005)
Before "Grey's Anatomy" was a place where even minor characters were in danger of being killed, there was something very special about how this eclectic group of stressed-out doctors could find a support system in each other. Despite their respective struggles with biological family, they are able to cobble together a less than traditional version of Thanksgiving and reflect on how important they are to one another.
"Parenthood," "Happy Thanksgiving" (2010)
True to form, "Parenthood" forgoes the sentimental aspects of Thanksgiving, in favor of a realistically portraying the chaotic nature of family holidays. There is drama and yelling (and much less sappiness than in the aforementioned episodes), but the aggravation only serves to highlight the overarching connection between the families, despite their often difficult dynamics.
Calling all HuffPost superfans!
Sign up for membership to become a founding member and help shape HuffPost's next chapter
BEFORE YOU GO
PHOTO GALLERY
Best Thanksgiving TV Episodes Ever