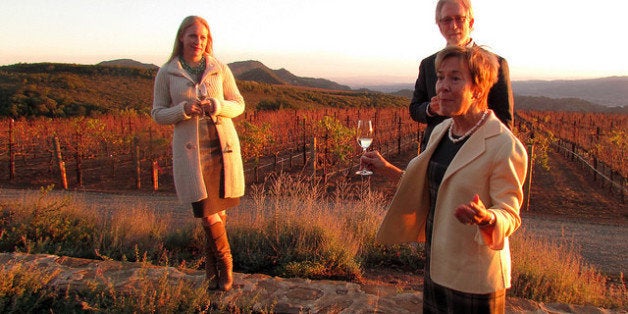 The memorable events described in this piece actually occurred this past weekend -- the weekend before Thanksgiving. Their theme and focus, however, were shared histories and an appreciation of the fruits of a long family legacy. Thanksgiving was the spirit then, albeit a little in advance of the calendar.
The Mondavi family dates its winemaking origins in the U.S. to Italian immigrant Cesare and Rosa's wine grape shipping operations, beginning in Lodi, California, and then, with the 1943 acquisition of the Charles Krug winery in Napa, moving into winemaking.
Rosa and Cesare's sons Robert and Peter were jointly in charge of operations at Charles Krug. Peter focused more on winemaking and vineyard management while Robert built up the sales, marketing and public image. Together they helped make Charles Krug one of the five top Napa producers by the early 1950s.
Robert and Peter, who were born only about a year apart, had different visions for the business and were frequently in conflict. They famously came to blows in 1965, at which point Robert left the business to start the Robert Mondavi Winery. Lengthy litigation between Robert's camp and the rest of the family resulted in a division of Mondavi family assets. Peter remained with the Charles Krug name and much of its former operations while Robert, with sons Michael and Tim, and daughter Marcia, turned to expanding the Robert Mondavi brand.
Those efforts included the Opus One partnership with Baron Rothschild of Mouton Rothschild and a series of acquisitions and joint ventures with numerous other wineries throughout the world. Robert's charitable largesse and business reverses ultimately led to Robert Mondavi Winery and all its assets being sold to Constellation in 2004.
Meanwhile, following Robert's departure from Charles Krug, Peter Mondavi, Sr., steadily continued to build that brand's operations, supported since the early 1980s by sons Marc and Peter Mondavi, Jr.
Starting in about 2003, Robert and Peter Mondavi, Sr., reconciled, thereafter meeting for lunch or dinner on a monthly basis. In the following years, other members of the formerly estranged branches of the Mondavi family started doing holiday dinners and other events together. This past weekend's events, then, were partly a celebration of the family's reconciliation and current harmony.
The idea for a series of family events over one weekend was born when Tim Mondavi's family started planning for the opening of Continuum's new winery at about the same time as Peter's family began to organize a gala opening of the new Charles Krug Visitor Center to coincide with the family patriarch's 99th birthday. With those two events in the works, family members reached out to Michael Mondavi about the possibility of a third event spotlighting Michael's family's current operations.
As a result, my intense and delightful immersion with the extended Mondavi family -- nearly all the descendants of Cesare and Rosa Mondavi, including the children and most of the grandchildren of both Robert and Peter Mondavi, Sr. -- commenced this past Friday with a late afternoon visit to the Continuum vineyard on Pritchard Hill followed by a Thanksgiving themed dinner at the newly finished winery there.
It was Tim Mondavi who, from 1974 through 2004, was the winemaker for Robert Mondavi Winery. The focus of his current project, founded in 2005 with his father Robert and sister Marcia Mondavi Borger, is one artisanal Bordeaux blend wine called Continuum. The 2010 Continuum we sampled that evening was my wine of the weekend, and one of the best California Bordeaux blends I've tasted all year.
Saturday afternoon was Tim's older brother Michael's turn. Michael, who had been involved in winemaking early on at Robert Mondavi Winery, ultimately became its President and CEO. In the same year as the winery's sale to Constellation, he established Folio Fine Wine Partners, which provides marketing services to a few dozen wine brands from several countries. The following year he launched Michael Mondavi Family Estate, producing wines with his wife Isabel and children Rob and Dina.
Michael and Isabel hosted a lunch at their elegant home -- with uncle Peter Mondavi, Sr., on hand -- that included not only Michael and Isabel's wines, but also two older bottlings highly significant to the history of the family.
Saturday evening concluded with a tour of the impressive new Charles Krug Visitor's Center -- a creative reworking of the massive old Charles Krug winery that was originally built in 1872 -- ending with a joyous celebration dinner there in honor of the 99th birthday of Peter Mondavi, Sr.
During the course of these events, I got to spend time with many Mondavi family members, most of whom seem to be working in some aspect of the wine business. That includes fourth generation Mondavi family winemakers Rob (son of Michael), Angelina (daughter of Marc, granddaughter of Peter, Sr.) and Carlo (son of Tim). I came away very moved by the mutual respect and admiration that now reigns in the family. I was also delighted to learn about the huge amount of activity various members of the family are engaged in, and to taste the fruits of some of that activity.
The Mondavi family legacy looms large in the history of California wine, thanks not only to Robert and Peter's early success with Charles Krug, but also Robert's tireless promotion of Napa and California wines around the world. I have enjoyed the recent vintages of Charles Krug, Continuum and Michael Mondavi Family Wines that I've sampled, and look forward to tasting and reporting on those projects further as well as on what the fourth generation is up to.

Peter Mondavi, Sr., surrounded by his granddaughters and, to his left, Robert Mondavi's widow Margrit
For my tasting notes and ratings on the wines I sampled at the events this past weekend, see the complete report on my blog here.