Chances are, if you are the parent of a school-age child and you were on the Internet at all the week of February 17, 2014, you saw the bright yellow fake science board with the provocative question, "How Much Turmoil Does the Science Project Cause Families?" The finding? Of course, "Everyone HATES the science fair!"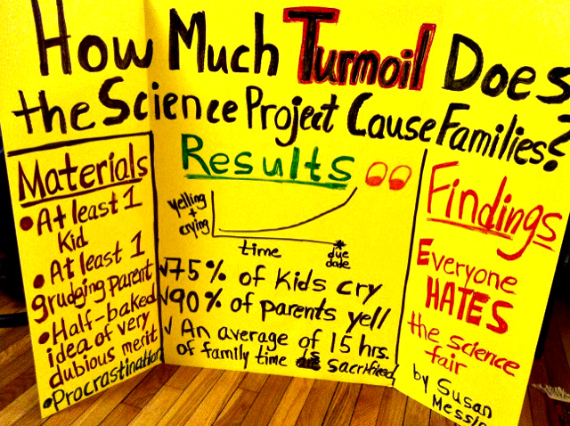 A lot of people, and I mean a whole lot of people, thought this was pretty darn funny. The photo of the board went viral, spinning through the Internet through a variety of social media and landing on Facebook pages and in Twitter feeds and inboxes across the world. Without a doubt, it struck a nerve. The comments revealed the deep loathing felt by many parents about this educational rite of passage. Huge numbers of people saw, shared, and "liked" it on Facebook and other platforms.
Perhaps you thought it was a real project, done by a real (smart-aleck) child. Perhaps you thought it was done by a parent who is against science education. Maybe you were offended because you or your child loves the science fair. So here's the truth.
I'm a 50-year-old mother of one who created the board as an inside joke three years ago, when my daughter was a fifth grader at a public school and she was completing her fifth science fair project, amidst tears and anger. (The tears were hers, the anger mine.)
It was never submitted for a grade (although a lot of people have told me I got an A!). It has never even left my house; I certainly didn't bring it to the actual science fair -- tempted though I was -- because it would have hurt the feelings of all the kids who had worked hard on their projects.
I'm definitely not anti-science or anti-intellectual in any way. I graduated from Bryn Mawr College and I hold three master's degrees. I believe that STEM (science, technology, engineering and math) fields are crucial and that, in fact, more women should enter them. Rock on, young scientists and engineers!
However, given the level of rage I have felt during the completion of my daughter's science fair projects -- and the overwhelmingly positive response my fake board has received -- it seems there is something wrong with competitive, elementary school science fairs. So, here's what I think.
First, any elementary school project that requires a lot of parental time, energy, resources, support, cajoling and financial investment is just BAD. Such projects privilege students from higher-income families for all the obvious reasons. They also take away from family time that families at all income levels have less of these days. And they definitely are a challenge for any students living with parents who cope with physical illness, mental illness and/or substance abuse.
Therefore, I'm a strong believer that elementary school projects should be done in class. Science is so important -- doesn't it make sense to have trained teachers teaching the scientific method rather than a ragtag bunch of parents? I was thrilled when my daughter started middle school and the sixth grade science teachers had the students complete the entire project (including the PowerPoint presentation) in class.
But, what if a school is still really wed to the science fair? How about this: re-cast it as an elective, noncompetitive family project. If the science fair were re-imagined so that families could decide to explore some cool thing and then truly do it together, we'd get rid of the sham that the kids are doing the projects by themselves (maybe some do, but it seems pretty rare). We'd add in the factor of being able to do more complicated/interesting projects because parental involvement would be assumed. And, by getting rid of the stupid competition aspect, we wouldn't have kids (or, let's be clear, parents) competing to see who does the coolest project or the spiffiest board. Doesn't this sound like a much better idea -- and maybe even fun?
Janice VanCleave, who is well-known in science education circles, wrote to me on Facebook after seeing my board and said: "Susan, I love your science fair display. Sadly, it reveals the truth. You have encouraged me to write new rules for elementary science fair projects."
If so many parents, and even someone like Janice VanCleave, see the truth in my joke, something needs to be done. I'd love to have more of a national dialogue about this. Surely, we can figure out a better way to excite students about STEM fields.
Like Us On Facebook |

Follow Us On Twitter |

Contact HuffPost Parents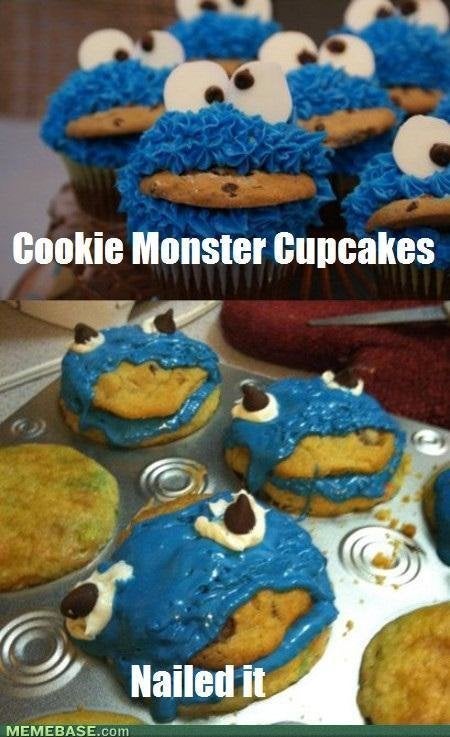 Pinterest Food Fails
Related