Mom and I stand side-by-side, taking in the majesty of Coast Guard Beach. From the calendar date -- April 1 -- and the icy rain, we both know we are a little early for the beach season.
"But the beach is so empty today," I acknowledge, spreading my arms over the vastness of the sand.
Bundled in her black, knee-length coat, Mom steps up to meet me on the pier. From where we stand, the beach seems endless, footprints leaving indents in the sand where someone must have walked earlier in the day.
"It's beautiful," Mom exhales, handing over the cell phone camera and umbrella long enough to tie her hood a little tighter.
"It's beautiful," I agree, taking in the silence of the winter sea.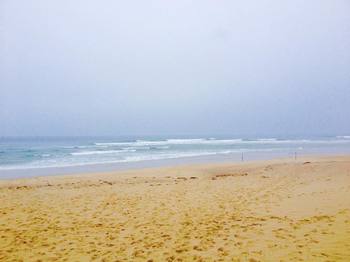 Often, no one emotion describes just how we feel. Happy, peaceful, content, blessed. Quite simply, no single combination of words grasps the depth of these poignant experiences that make up a life.
Sure, for simplicity, for necessity, we try to narrow down the playing field of options, instructing one another to pick an emotion from a list of standard emojis. But nothing about April 1st on Coast Guard Beach was standard. Nothing about the crisp breeze at the shoreline matched with a pre-existing emoji, at least on my downloaded app of yellow smiley faces.
So, in a world of technological convenience and in a life moving at speeds often too fast to process, let's remember the beautiful complexity around us, the moments so precious and the tears so painful that they simply can't condense into a predefined standard of emotion. Because, in those moments, in your portrayal of those experiences, you will find your voice.
What are you waiting for? Take out your pen and paper, or click on that little Word "W" on your screen, and start creating your very own list of moments so complexly powerful there just isn't an emotion to describe them. Use your voice, and add some of your favorites or most memorable to the comments below!
I'll get the ball rolling with a list of eight of my own experiences that just don't condense into a single emotion:
1. The feeling of standing in the warm steam of a shower, watching the water pool into little circles on your arm and roll down your damp skin.
2. That relieving burn in your calves as you stand and stretch for the first time after a five hour flight.
3. The moment you pull a tray of chocolate chip cookies out of the oven, standing still as the sweet smell of baked dough embraces your arms like a full-body massage.
4. The feeling of covering the burn of a chapped lip with the tingling sting of Burt's Bees chapstick, anticipating the cool, crisp relief that will come.
5. The final shovel of dirt placed atop your grandmother's casket at her hillside funeral.
6. The touch of a pen in your hand and a paper against your palm as you scribble out the thought that kept you from falling asleep.
7. That sensation of pressing send on an important application after spending weeks preparing the materials, years readying yourself for that step, and only nanoseconds releasing the opportunity from your own control.
8. The feeling of driving home from a long day at the lab, stuck in traffic on Tanque Verde Rd. and Sabino Canyon, wondering if the sunset really could contain so many different shades of pink, yellow, and orange.
So tell me, what are your 9 and 10?
The doctor said she would live in a nursing home, confined to a wheelchair, crippled by pain; that was thirteen years ago. Instead, Mirissa D. Price is a 2019 DMD candidate at Harvard School of Dental Medicine, spreading pain-free smiles, writing through her nights, and, once again, walking through her days.