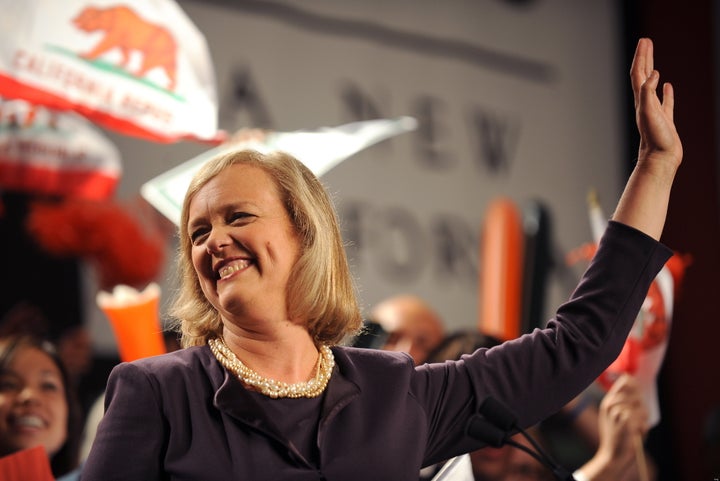 SAN DIEGO. Hope and change, part of the universal human condition, have arrived on the doorstep of the Republican Party in California. I spent this past weekend listening to and talking with Republicans at the state party convention in San Diego, trying to get a bearing. We know who Republicans are now, but who are they becoming?
This is no longer -- quite -- the party of my husband's Aunt Margaret, one of those formidable women with vinegar in her veins who live to be a hundred. Born rich, whip smart and accomplished (one of the first women to graduate from law school at USC), Aunt Margaret was part of the Republican Party in Southern California for decades, and as such she set herself athwart the large social movements of the last century. Yes, there were Aunt Margarets in San Diego, and yes, the state party is still out-of-sync with California's increasingly diverse demographics. In short, the party membership is still very white, if no longer so old. But the Republican face is changing, as the party moves with new currents, carrying it away (if on a note of wistfulness) from the Age of Reagan, bobbing, lurching, evolving, treading, if not boldly, nevertheless inexorably forward.
"The best slate of candidates we have ever had." In one sense, Ron Nehring, party chairman, is correct here. The top of the state ticket has the flavor of inclusiveness that Americans like in their politics now: three women (Meg Whitman, Carly Fiorina and Mimi Walters), an African-American (Damon Dunn) and a Hispanic (Abel Maldonado). Diversity was on display in San Diego. To name a few of the out and about: Grace Hu and Lily Kuo, both in Cerritos politics, Luis Alvarado and Bob Pacheco, both working on the Whitman campaign, African-American political consultant Vernon Van and Telly Lovelace, the campaign manager for Star Parker. Ms. Parker, the African-American running against incumbent Laura Richardson in California's 37th congressional district, and Vietnamese-American Van Tran, running in the 47th, are the faces of this new California Republicanism.
Star Parker herself was a featured speaker, if, like Iranian-American Farrah Douglas, running for the Carlsbad city council, she was relegated to prayers and invocations. Walt Allen, the former mayor of Corvina, in his introduction of Steve Cooley, running for Attorney General against Kamala Harris, joked about his Fu Manchu mustache and Afro when he worked undercover for state narcotics and first met Cooley. It was clear that Allen and Cooley have long been tight, and it was good to see, in a summer when we Americans have regressed, that still there are bonds that transcend race.
Striking is the cognitive dissonance between the growing diversity of California Republicans and their obsession over illegal immigration. Until the party can reconcile the two, the proffer of an inclusive slate invites the suspicion of window-dressing, even where clearly it is not. For now, in the knowledge that California Republicans have potential winners this season, if they don't screw up as they have in the past, the best that the state party can do (and do it did in San Diego) is squelch the resurgent furor among party faithful over immigration. Some in the party remember 1994, and Republican sponsorship of proposition 187, designed to deny health services and education to illegal immigrants, but which instead subsequently denied Republicans statewide office until the election of Arnold Schwarzenegger.
"Like the smoker who can't give up cigarettes until he coughs up blood, the Republicans have had that cough-up blood moment." John Gizzi, the White House correspondent for Human Events, was one of several conservatives who engaged in introspection over the weekend about the error of Republican ways. "The mistakes made on the ethical and spending front -- that will not happen again," he said.
At the Saturday night dinner, before a surprisingly sparse crowd, representative of the California 49th but better known as "Obama's Annoyer-in-Chief" Darrell Issa said, "We have to be willing to tear down the Republican Party as we know it." Issa himself was on a tear. "We have to say to the Tea Party, 'Get out of our way, you're not going far enough.'" (One of the curiosities of the convention was the ignorance of Tea Partiers, as if the state Republican Party was the fort, not quite able to read the Tea smoke in the distance.) In his own moment of introspection, Issa said, "We should have been the party that produced the Sunlight Foundation."
The acknowledgment that mistakes had been made, particularly the out-of-control spending during the Bush years, kept the San Diego convention in a sober mood. The idée fixe of less government/more frugality, held with the fervor only the reformed can muster, has brought into unlikely proximity such different personalities as the earnest Abel Maldonado, currently California Lt. Governor and running against Gavin Newsom to keep his office, and that Inspector Javert of the U.S. Congress, Darrell Issa.
Adding to the sobriety, leavened by the amiable sense of surprise that Republicans in California could do very well this election year, was a determination not to blow it. Therefore, the food fight over immigration about which the state press had been salivating never materialized. The California Republican Assembly and its anti-immigration resolution were banished to Siberia: The group was not provided a conference room, and its resolution was killed before it could make it out of committee. At her brief presser, Carly Fiorina stayed resolutely on-new-message in the face of repeated questions about whether or not California and its Republicans should support Arizona's immigration law. "We ought to put all our energies on forcing the federal government to do its job," she demurred. While expressing sympathy for Arizona, Fiorina has shifted focus to the less-problematic stance (for she, as much as Whitman, needs Hispanic votes) of blaming the feds.
On Sunday, after a bit of a ruckus on the floor over merging the two state groups of Young Republicans, the issue was tabled for future consideration. Again, the squelch. Afterwards, one young man tried to bring round his friend. "We don't have the luxury of a split. We can't afford it. If you have to eat crow on bullshit, do it."
That advice about sums up the California Republican strategy this season. As a result, whatever their private views, party members have rallied around Meg Whitman. I could not find a single conventioneer who said he or she would not go out to vote for her in November.
"If we cannot use a shovel, we will use a spoon to dig ourselves out." Damon Dunn, who is running for Secretary of State against Democratic incumbent Debra Bowen, in his speech on the opening night of the convention perfectly captured the determination of his fellow candidates -- at least for the moment when words come easy -- to fix the fiscal and larger economic mess in which California is mired.
Not surprisingly, the economy -- jobs first, then fiscal frugality -- was the crux of remarks from both gubernatorial candidate Meg Whitman and senatorial candidate Carly Fiorina, although both women, given that it is fast approaching Labor Day, engaged in opponent-bashing. Fiorina has got the stump speech down. Clear enunciation, words ringing like bell chimes, a feeling for pause and emphasis placement, an instinct for the pacing of criticism, the deft, light touch of sarcasm -- actors study years to master these skills for which Fiorina has a natural gift. And did I mention that she spoke without script or teleprompter? Whitman, on the other hand, read much of her dinner speech and stumbled through quite a bit of it. She was less forced and more convincing when I saw her months ago in Lafayette.
Perhaps more important than style (or perhaps not), Whitman has changed her tune since Lafayette, where I saw her speak last spring. At that time, she was forthright that the state cannot afford to cut taxes right now. By San Diego, she was on the "cut taxes" bandwagon, although I suspect she was trying to have it both ways, meaning "cut small business fees," which she did promise in the spring, while allowing her late summer audience to assume she means cut taxes generally. "While Jerry Brown's job is politics," Whitman said, "mine is creating good, new jobs for California." She has big plans, particularly for infrastructure, like highway improvements (much needed) and broadband. On the other hand, Whitman says, "We have to acknowledge we have a government we can no longer afford." How she would bring these promises into alignment is anybody's guess. Naturally, Whitman wants to bring Silicon Valley to Sacramento. She's not going to get many voter complaints there. In San Diego, however, when she said, "We are going to put in great tech systems to root out fraud and abuse," she couldn't have known that only hours later a panel of Republican doctors (engaged in introspection on where Republicans went wrong on health care) would explain in great detail why electronic medical records do no such thing.
"This is an all-star team. Gonna send the other team to the showers in November." When Carly Fiorina launched her luncheon speech Saturday with this metaphor, she was echoing the hope if not quite the conviction in San Diego. Only Darrell Issa, when speaking with that small group of reporters (not many showed up for Saturday night), seemed dead sure that Meg Whitman will win in November. Elsewhere in the California Republican Party, caution rules. "Let's not take anything for granted" is the strategy. The only assumption that I found questionable is rising from what Ron Nehring calls Meg Whitman's "commitment to the entire Republican team." In short, unlike Jerry Brown, she has been helping out (time and money) the down-ballot candidates. This action on her part has encouraged Republicans to believe that Whitman can carry the rest of the ballot with her to victory.
With so many Independents and "Decline to State" in California, sweeping the ballot is unlikely. Particularly in an unsettled economic climate like this one, citizens are apt to hedge their bets with a "checks and balances" kind of vote -- or so it seems to me. The chatty Darrell Issa sees another difficulty for the Republican ticket: the greater name recognition of some of their opponents. Congressman Issa is not sanguine about the chances of Abel Maldonado simply because Gavin Newsom is so much better known. This fact of political life strikes me as particularly ironic in the case of Maldonado, for he was the one Republican candidate in San Diego who could point to achievements, if only spoon-sized, in both cutting spending and providing jobs. As Lt. Governor, he has renegotiated state leases and worked with California Polytechnic at San Luis Obispo to bring together students and the largest mozzarella maker in the state to enlarge the dairy industry and create jobs.
Unlike Abel Maldonado, untried Whitman and Fiorina are making large jobs promises that voters know are going to be hard to deliver. Beyond the promises, which Democrats Jerry Brown and Barbara Boxer are making, too, the Republicans will have to square what constituents need with what they as Republican leaders want to spend and tax. Unless Republicans can work through this cognitive dissonance, they will be out of power in California as quickly as in.
The aircraft carrier USS Ronald Reagan graced the San Diego harbor during the Republican Convention. The Nimitz-class nuclear-powered supercarrier had come to town the previous week for a change of command and the accompanying ceremony. It was an appropriate image for the Party of Reagan and its own change.
Popular in the Community