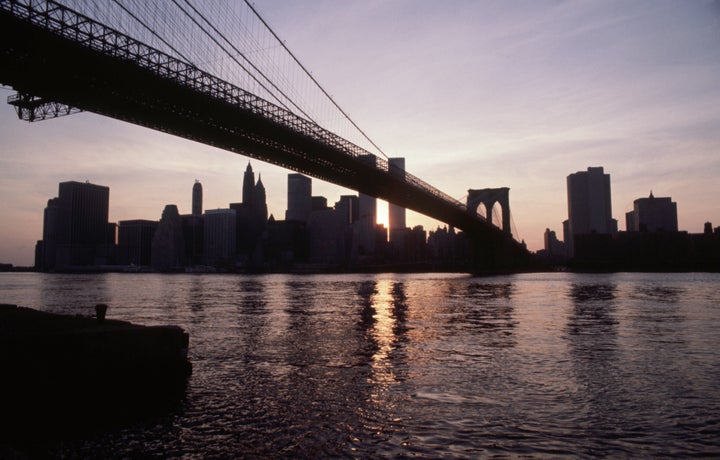 Forty years ago this summer, the lights went out.
It was July 13, 1977, a hot, muggy night here in Manhattan. Lightning strikes set off a cascade of mechanical failures at Con Edison that plunged virtually the entire city into darkness.
I was having dinner at my then-girlfriend's apartment when the lights went out. We tuned in a small, battery-powered radio and listened as news began spreading of trouble and violence around the city.
The two of us stayed where we were and the next morning I walked back to my place a few blocks away. West 57th Street was almost empty; small groups of people gathered in front of their buildings talking about what had happened.
The power remained out and I climbed the 11 stories to my darkened studio apartment but the water was still pumping and I could shower and change. I worked at our public television station, WNET/Channel Thirteen, and the offices were closed. But their electricity already was back, so I went up to the local news department to see whether anyone was around. I was put to work writing news copy about the events of the night and advisories about closings that would be read on the air when the transmitter was up and running again.
That was one bizarre, long hot summer, 1977, and not simply because of the massive blackout. The city still was trying to pull itself from near-bankruptcy, just two years after the New York Daily News had reported the federal government's refusal to help with the front page headline, "FORD TO CITY: DROP DEAD." (Not long after, Congress begrudgingly enacted and President Ford signed legislation that loaned the city $2.3 billion with interest.)
So roiled was the political scene in 1977 that incumbent Democratic Mayor Abe Beame, accused of gross incompetence, was challenged in his party's primary by five other candidates, including Ed Koch, Mario Cuomo and Bella Abzug. Eventually, Koch won the mayoralty and served for three terms.
And throughout that summer there was a serial killer whose brutality seemed a metaphor for what was happening to New York. The self-named Son of Sam killed six and wounded eight, targeting young women in particular. The murders had begun the summer before and for months the '70s version of trolls and creeps searched the phone directory for the names of single women and called in the middle of the night, "I'm the Son of Sam. You're next."
In August, less than a month after the big blackout, and following a massive manhunt, police arrested David Berkowitz, a mail sorter for the postal service. To this day, he is serving six consecutive life sentences, one for each of those he murdered.
As hard as many of us would like to try, 1977 was a summer that's not so easyto forget, a fraught time here in the city that in some similar ways seems to afflict the entire nation today. Yet New York City, a haven for finance and banking's cynical buccaneers and mountebanks, rebounded from its '70s fiscal crisis. Of all the cities in the world, it is second only to Tokyo in gross domestic product (GDP). We're in the midst of a $43 billion construction boom that just keeps growing.
But the transit system is falling apart again. The state of its infrastructure is dire. Subway service is starting to seem as bad as it was 40 years ago — without the graffiti. Local and state government say that overcrowding on the trains is wearing down the tracks and rolling stock. Major, commuter-disrupting repairs are taking place on rotting railroad lines leading in and out of Penn Station — the head of Amtrak euphemistically calls it "the summer of renewal."
Income inequality in the city continues to be an outrage. According to the last census, it's the worst in the United States. Debipriya Chatterjee, an economist with the city's Independent Budget Office reports that, "At the very top, it's the top 0.1 percent who own 24 percent of the city's income," She told the website Gothamist, "We all know that the city is very unequal. What I did not anticipate seeing in the data is that the share of the bottom 50 percent has actually fallen."
In other words, in this city of millions, 3,700 people raked in about 23 percent of the city's income — $63.7 billion. As blogger Ofo Ezeugwu wrote, "Basically, while most of us find ourselves embroiled in this rat race, a small chunk of folks finds themselves watching us run it."
Case in point: the gentrification of my West Village neighborhood, once a center of bohemia, radical thought and modest rents, continues to run amok. Three years ago, a couple of blocks away, a four-story building was sold for $45 million and is being turned into a single-family mansion. As per the website 6sqft, which got a look at the architect's plans, "[T]he mansion will have six bedrooms, two kitchens, its own elevator, a dressing room and walk-in closet larger than most apartments, a 50-foot lap pool, and more than 4,000 square feet of outdoor space that will include a rooftop terrace."
Ironically, the building had been a headquarters for the foster and child-care agency The New York Foundling, which since 1869 has fought the devastating effect of poverty and lack of opportunity for destitute children and families. And the buyer? He and his brother run a health care hedge fund. Of course they do.
In fairness, the millions made from the sale of the former orphanage will go to new programs for those families, so you might be thinking it's a decent exchange. But the constant conversion of properties into luxury vanity homes, especially buildings once used for the public good, seems wrong at a time and in a place where affordable housing for those in desperate need is increasingly nonexistent.
We are New Yorkers and we will carry on; it's what we do. But like that hot muggy July night 40 years ago, we feel increasingly powerless.
Calling all HuffPost superfans!
Sign up for membership to become a founding member and help shape HuffPost's next chapter
BEFORE YOU GO