'Twas like being on a funk, soul voyage that pushed my dopamine to levels that only good music could do. So I guess you can say she's something like a dopamine pusher. After seeing her in concert for the second time and meeting her; Ms. Andy Allo that is, I was intoxicated by not just her spirit, energy, and presence; but by her striking beauty, wit, and talent. Allo is a Cameroon born California based funk/soul/R&B singer, actor, writer and guitarist with Prince's (yes THAT Prince) band NPG. She is currently on her European tour and just completed several tours across the west coast of the United States.
This past Sunday I had the pleasure of attending Andy's show in Frankfurt, Germany. But before the actual show I got to sit in on the sound check, and chat and exchange some laughs with Ms. Allo.
And THAT my friends was the beginning of my "ALLOhigh". We chatted about food, traveling and touring throughout Europe, culture, and more food... Ha! There is much to be said about an artist that is not only talented, celebrated at home and abroad, but is also down to earth with a great personality. Then, it was show time. People began streaming in Frankfurt's Batschkapp club excited to experience her live, and for many this was not the first time. Several of the people there had either seen Andy Allo perform with Prince and the NPG in 2011 during the Welcome to 2 America Euro Tour or when she was in Europe earlier this year. A few minutes past eight o'clock, Andy graced the stage with her big beautiful curls dancing under the lights as she belted and crooned songs while she and her tight band ushered us into her musical world. She performed songs from her albums Unfresh and Superconductor, and even a cover of Marvin Gaye's Let's Get it On.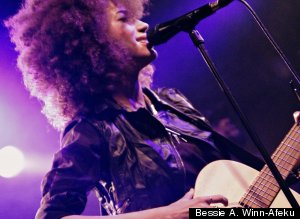 There were even times I had to catch myself every now and then after realized I had that stank face going on. You know, that face you make when you are just in the THICK of grooving to some really funky and soulful music? That was on my face. Her band was tight. And they were all in synch with their leader. From the energy that was being conducted on stage, the music they were creating was taking them to a place that we were all on our way to arriving to.
Good music; live music especially, has the power to raise the dopamine levels in our brains and it was so apparent that this was happening to everyone in the room. Our bodies were controlled by her groove and her band. The crowd was alive, enchanted, and seemed like whatever worries they had before they came in; they left them at the front door. There is a reason why they say that music is a healer. It is. There were so many smiles and faces full of pleasure and joy in the crowd. That lingering natural high that you get after beginning presence of ridiculously talented and creative people? I had that. We all had that. If you've had to opportunity to experience Andy Allo on her last European tour or even during her current tour where she recently toured the west coast; then you KNOW of the "ALLOHigh" that I am speaking of. And if you need your dopamine levels boosted in a natural way....get some more good live music in your life.
Calling all HuffPost superfans!
Sign up for membership to become a founding member and help shape HuffPost's next chapter