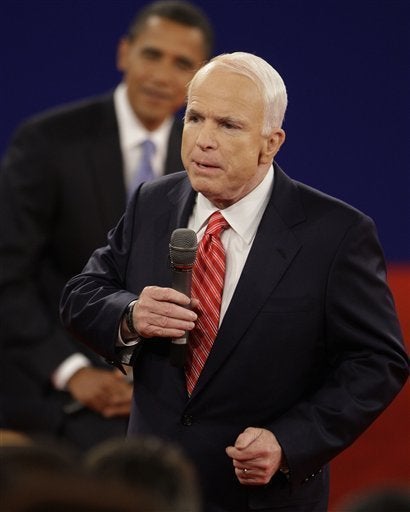 They say that Senator McCain's strong suit is the town hall debate. If this was, in fact, Senator McCain's strength, he might as well go home. Sorry... homes.
At one point, an African American woman was asking him about green jobs and he turned his back on her -- skulking off towards his podium presumably to pop another Ativan or whatever made him sleepily whisper many of his answers. This disrespectful gesture was on the heels of McCain correcting an African American audience member on "bailout" versus "rescue," and foreshadowed McCain's flat out refusal to shake Senator Obama's hand.
Senator Obama, meanwhile, was sharp, cool and presidential. And he hit McCain hard on foreign policy -- among other things, questioning McCain's judgment on Iraq after McCain dropped his "Obama doesn't understand" line. Senator Obama also let fly on McCain's inability to "speak softly" on "bomb, bomb Iran" and "next stop Baghdad." But where Senator Obama succeeded tonight beyond the undisputed accomplishment of his first debate performance was that he seemed to speak directly to you and me tonight. He spoke to our concerns about the economy. This is probably why, on half a dozen answers, the hypnotic CNN dial lines spiked off the charts.
At the end of the Bartlet/Ritchie debate on The West Wing, James Brolin's Governor Ritchie approaches Martin Sheen's President Bartlet and concedes defeat in the entire election as a consequence of Bartlet's debate performance, to which President Bartlet replies, "You'll be back." Following this debate, McCain must know that he's lost this election, barring some major national event. Indeed, he could very well have lost this one tonight.
Popular in the Community