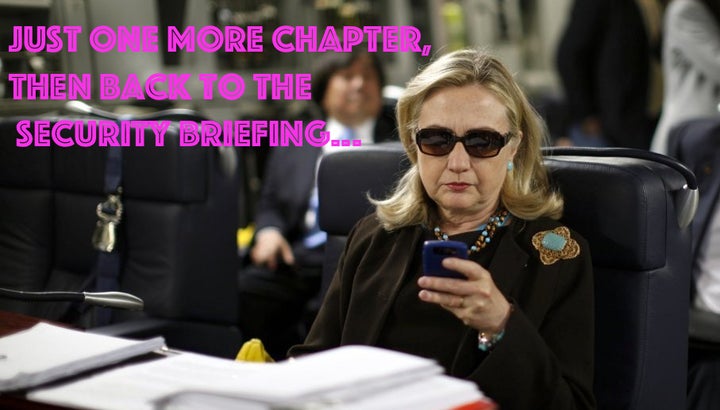 I was up at 5:30 a.m. this morning, wearing my Hillary 2016 shirt and planning to work on my 25th romance novel when I saw that you said this about romance novels in an interview with the Washington Post:
"The whole romance novel industry is about women being grabbed and thrown on a horse and ridden off into the distance."
Hillary, I know you have been very busy doing great, important work for the past few decades—Senator, Secretary of State, the most qualified human to ever run for public office—and I'm guessing you might have been too busy to read a bunch of romance novels and chart their progression from those 1970's bodice rippers to the progressive, feminist friendly love stories they are today. That's okay!
Romance novels are, for the most part, written by women, about women, for women. This is perhaps the only space where women's voices predominantly shape the narrative about themselves in the world. When else does that happen? Not in Hollywood—those movies you also referenced are often written by men, directed by men, made by men. Not in the media—brilliant women have recently pointed out how the perspective of misogynist men shaped the 2016 election coverage.
So when women write for an audience of women—without male meddling—what stories do we tell each other?
Romance novels relentlessly declare that a woman is worth it. She is the plot; the plot does not happen to her. When a woman reads or writes these stories, she is declaring that a woman's journey, experiences and point of view are interesting, relevant and important.
Romance novels are about love and they show that real, good love doesn't ask you to lose weight, change your hair, get a different job, silence your feelings or in some way shrink yourself to fit into a box society has labeled "desirable."
Romance novels have something to offer men, too: a portrayal of masculinity where men can be strong, brave protectors without demeaning or assaulting other people and they can talk about their feelings. And that is what makes them hero material.
Romance novels are #selfcare for millions of women. Simply by picking one up she is refusing, if only for a chapter, her traditional role of caring for others and in doing so she declares that she is important.
Romance novels are the space where women always triumph. Each and every Happy Ever After where the heroine gets the guy (or girl!) and succeeds at whatever challenges the plot has thrown at her gives hope and inspiration to readers that it is worth fighting for love and the kind of world we want to live in.
Dear Hillary, I am still one of your most devoted supporters. And I think you might enjoy the delightful escape a romance novel provides after a long day of leaning in and fighting the good fight on behalf of us all.
So, Romancelandia: let's suggest some #RomanceNovelsForHillary
Popular in the Community