I shoved the barely toasted English muffin with almond butter into my mouth and looked around at the others who had shown up early, in the dark, to the room in the lodge where they had set up the breakfast buffet. Tired eyes. Bandaged feet. Bodies pulsating with energy, ready to climb that mountain. Again.
I didn't have much time to spare. I still had five more laps. Each lap up and down would take at least an hour and fifteen minutes, and no ascents were allowed after 1 p.m. If my calculations were correct, I would start my last ascent at 12:15. But that was only if I didn't stop between laps. And if I could keep my pace up. And if I didn't get hurt. And if the gondola kept running.
I had heard about the 29029 Everesting Challenge over the summer. My friend Jesse Itzler—serial entrepreneur, extreme athlete, and best-selling author—had concocted this unique (and ridiculous!) event to challenge himself and others. I'm a veteran of some of Jesse's other challenging (and equally ridiculous) events including Hell on the Hill where we walk up and down an 85-yard, 35% slope hill 100 times.
I came up with a million reasons not to do 29029. Not one of them was stronger than the reason to do it: because I could. I won't always be strong and capable. I have to do things in my life while I am strong and capable so I don't have regrets. That sounds Pollyannaish and grossly optimistic. I'm not going to do everything just because I can. But I'm going to do some things. So, I signed up, paid the fee, and set my sights on 29029.
Jesse had rented Stratton Mountain in Vermont. The whole freaking mountain. The goal was to climb the equivalent of Mt. Everest (29,029 vertical feet) without having to go to Asia. And deal with altitude sickness, crampons, and potential death from falling off a mountain or into a crevasse. Over three days, the participants of 29029 would climb up Stratton 17 times and take the gondola down. This event had never been done before. No one, not even Jesse, knew what to expect.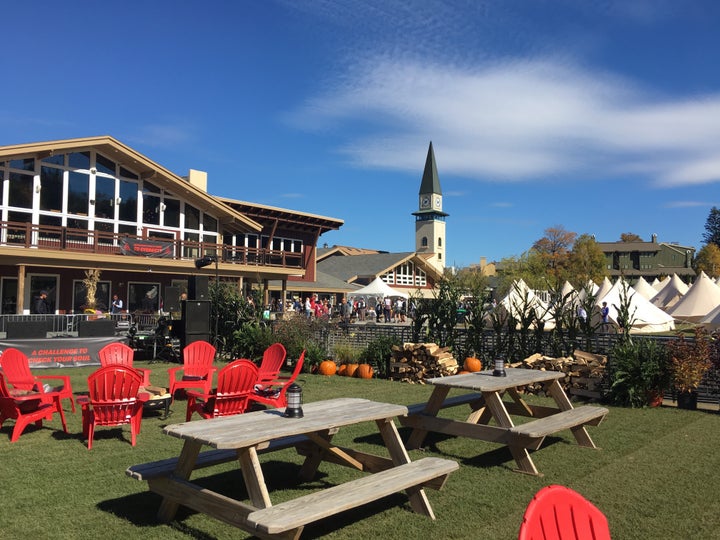 I arrived in Vermont last weekend excited and 100% in denial. I hadn't done any specific training, hoping that my regular fitness routine—dedicated but not extreme by any measure—would suffice. Not only did I not have any mountains close by to train on, but I had writing deadlines. And three kids. And a life. As I said: denial.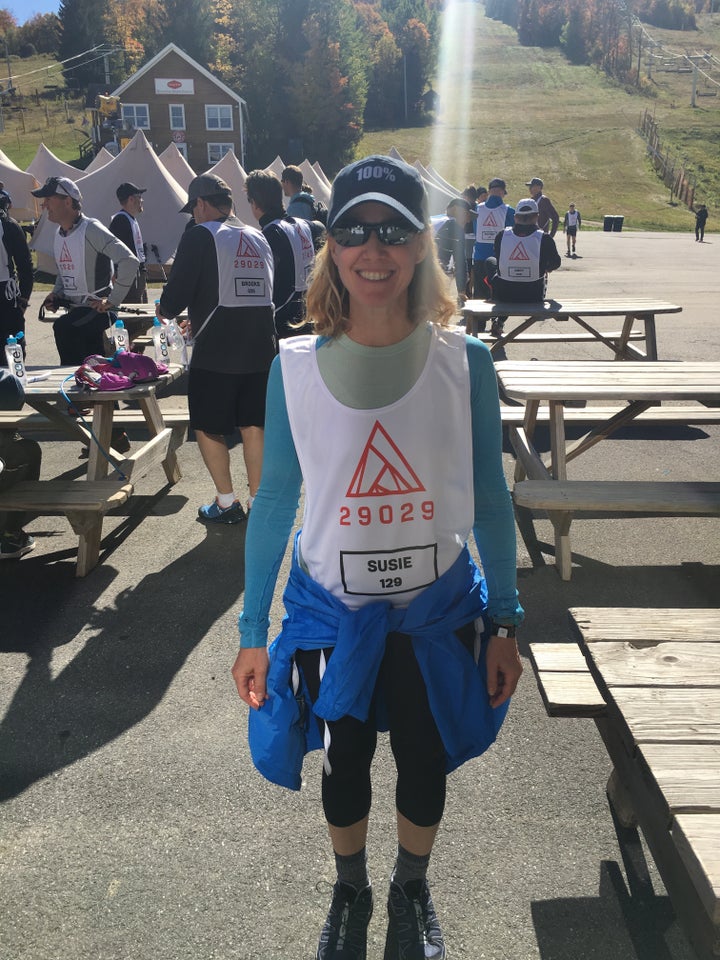 Sure, there were other weekend warriors like me. But this event had also attracted serious endurance athletes including Colin O'Brady who holds the world-record for climbing the Seven Summits, ex-NFL players, ultra-marathoners, and other men and women with impressive athletic accomplishments listed in bullet points on their Twitter profiles.
At 2:15 p.m. on Friday, we all gathered at the starting area where Jesse welcomed us with a very-Jesse inspiring and hilarious speech. The adrenaline in the crowd was thick, cake frosting thick. We were a group of foaming bulls ready to start this damn thing. And then we were off.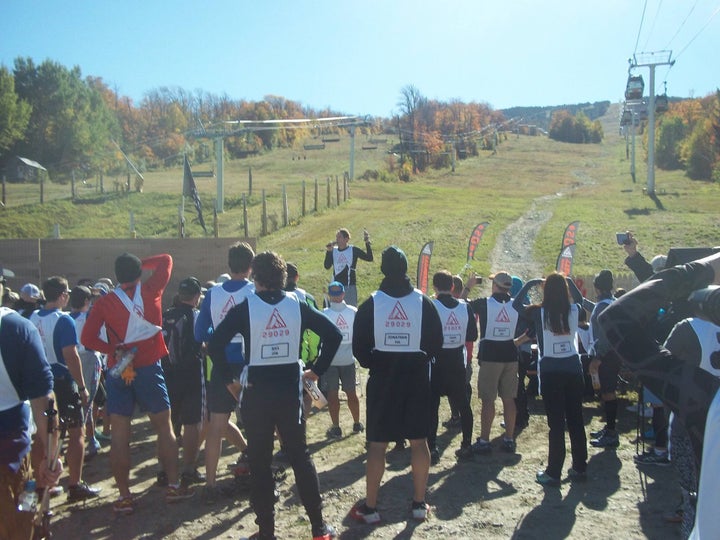 We were allowed to climb as late into the night as we wanted on Friday. Once the gondola closed at five p.m., there would be SUVs available to take us down the mountain to start again. Night climbing would require headlamps, and layers, and a suppression of any fear of creepy things lurking in the tall grass and in the trees beyond. Even though I had heard that many climbers were going to push through the night until they had finished all 17, there was absolutely no way I was climbing in the dark. I had planned to get as many climbs in Friday in the light and then resume Saturday morning until the climbing closed at five and then get my last ascents in on Sunday before the event closed at one. If I had only known.
Beginnings are always exciting. So much potential. So many unknowns. A tremendous opportunity to do something new. The goal is attainable because the actual work is still abstract. But at some point, just after the beginning, the reality of the situation sets in. The work, the knowing of just exactly what the work will entail, becomes tangible. The panic sets in.
That first climb was hard. Harder than anyone expected. The face of that damn mountain was steep. And swampy. And cold. And hot. And windy. And long. And this was just the first time up. We have to do this 16 more times? Are you freaking kidding me? What did I sign up for? Why am I doing this? And who are those insane people who are already halfway up? My feet hurt. I should have broken these shoes in more. What was I thinking signing up for this? Oh. My. God.
Friday is a blur to me now. But I do remember laughing at the inanity of it all, having great conversations with my fellow climbers, and worrying that I was way—waaaaaay—in over my head. But it was the beginning. And I had no idea yet how true that would turn out to be.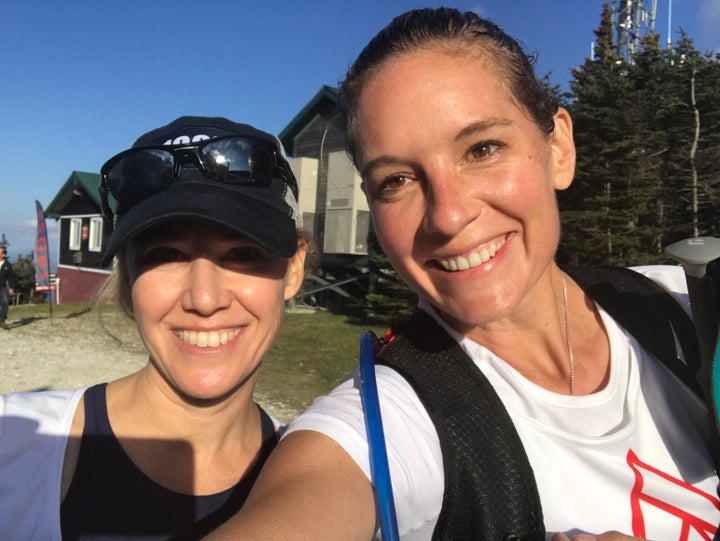 After my fourth ascent Friday, which ended in the dark and required a headlamp, I knew I was done for the night. I was tired and freezing cold and I did not want to do another one in the dark. I went in for dinner and sat quietly, processing my thoughts. My table-mates decided to do one more. Good for them, I thought. But I'm not like them. I'm going to finish dinner and go to bed and get needed rest so I can be ready for tomorrow. And, to be honest, I was scared.
One of my biggest fears coming into the race was not the climbing of the mountain itself or dehydration or getting injured. It was riding in the SUV down the mountain in the dark. I was petrified of falling off the side of the cliff, the game-of-chicken maneuvering with an oncoming vehicle on a too-narrow road, the thick darkness. The ride down after my fourth ascent wasn't as bad as I thought it was going to be, no side cliffs, but there was no way I was going to do it again.
Then I spoke with a fellow participant named Dolvett Quince. I didn't know it at the time, but Dolvett is a trainer on the television show The Biggest Loser, as well as a motivational speaker and best-selling author. At the time though, I just thought he was a nice guy. We had met earlier in the day, and when we saw each other at dinner, I told him what was going on in my brain. Quite simply he told me that if I was afraid to go back out there, that was exactly what I had to do. I thought about it and came up with every reason not to continue on, but I knew he was right. And despite the fact that my blisters were screaming and I had already eaten two bowls of chili that I knew would repeat on me during the climb up, I decided to think forward an hour to the feeling of accomplishment I would feel doing something I 100% did not want to do.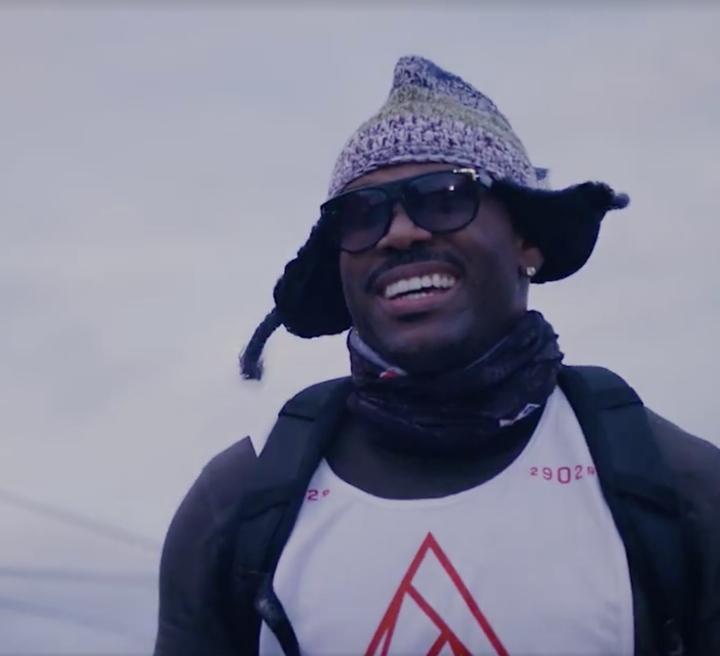 I don't consider myself a lazy person but I'm also not one of those people who jumps out of bed every morning filled with unbounded excitement to get the most out of my day. My life is pretty routinized. And I like it like that. I go the extra mile when I have to, but I usually stick to the predictability of the hamster wheel that is my life. Every now and then, though, I like to go outside of my zone and do big things. And every single time I've done those big things—though inertia threatened to prevent me from doing them—I felt like a rock star. And after each time, I would pledge to do more big things in the future. But, then, well, life.
I started that fifth climb Friday night in the dark dejected and filled with anxiety. But half-way up, I felt energized and elated because I had done something I didn't want to do and I knew I would complete that lap. (Thank you, Dolvett!)
Friday in the books: five laps completed.
Saturday was a grind. Climb up. Rest on the gondola down. Shed a layer. Add a layer. Drink. Drink more. Drink even more. Eat an energy bar at the end of a lap. And then another. There's a peace in monotony. And also sheer terror. At the beginning of every lap I would go into a dark place of knowing how grueling and challenging the ascent was ahead of me. Mentally and physically grueling and challenging. And in the middle of each lap I would get a jolt of energy knowing I was in the midst of it. And almost done. At the end of each lap, there was a huge feeling of accomplishment that I got to check another lap off on the tracking board. And of fear that I had another lap ahead of me. And another. And another. But the day went by and I had seven done. Then nine. And I finished the day with 12 total laps done.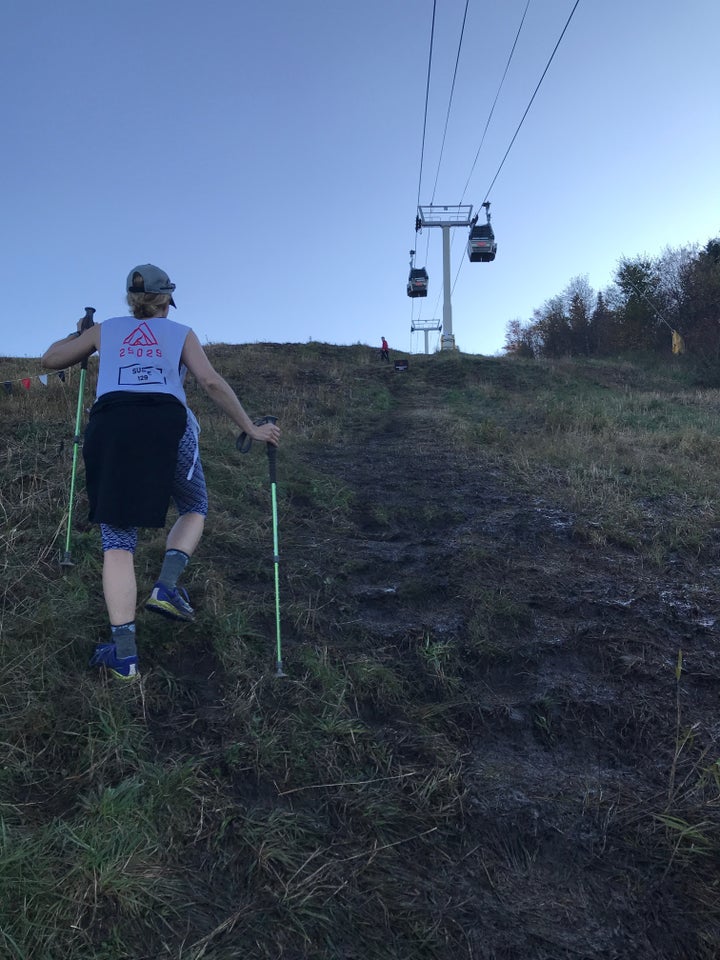 At dinner Saturday night I was a tired mess of doubt and uncertainty. With five more laps to go on Sunday, I was cutting it very close. And why even bother? I had done 12. 12 laps was amazing! My goal coming into the weekend was just to add a new experience to my collection. I hadn't even considered setting myself a goal to do all 17. 17 was for real athletes. For people like Colin and Jesse and Dolvett. I would do what I could and meet new people and enjoy the band and blah blah blah. There was that side of me again. The side that let myself off the hook.
But uninvited guests had taken up residency in my brain. Little voices shouting to be heard. They were telling me that I might be selling myself short.
In Jesse's inspiring and hilarious book, LIVING WITH A SEAL, about when he invited a Navy Seal to live with him for a month and whip him into shape, he tells the story of Seal telling him to do as many pull-ups as he could. Jesse did 17, felt like a badass and called it a day. Seal was having none of that and told Jesse they weren't leaving the gym until Jesse did 100. Jesse couldn't do 100. He knew it. He'd never done it, and he wouldn't do it that day or any other day. But eventually, almost two hours later, he'd done 100. The way he described it was that he had under-indexed himself. By a lot. And that was exactly what I was doing here.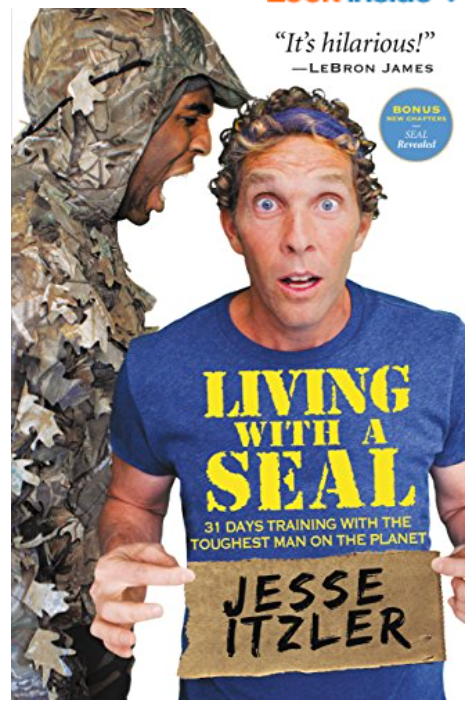 I had done 12. Man, was I proud of myself, but I couldn't do five more. I'd be sore in the morning and tired. So, so tired. And I couldn't wake up early enough to get them all in before the 1 p.m. deadline. As I said, why even bother?
Well, because I was freaking under-indexing myself.
I made a decision in that moment that changed the entire situation. I would go to sleep early and set my watch for a 5:30 a.m. wake-up. I would pack a bag the night before so I could get out of bed without waking my tent-mates, hurry into the lodge bathroom, get ready quickly and start climbing by 6 a.m. so I would be at the top when the first gondola started running at 7 o'clock. I decided if I woke up too sore to move, I would at least push myself to the mid-way point on the mountain. If I couldn't take another step, I would congratulate myself on a good effort and call it a day. But I would try. It was on.
Saturday in the books: seven laps completed for the day; 12 laps total.
My watch glowed 5:44 when I woke up Sunday morning. My alarm hadn't gone off. I cozied into the warmth of my bed and decided to sleep a little more. But then I moved my legs. No soreness. And that little voice said, rather, shouted, get up, woman! You have work to do today! You have enough time! You feel good! You can do this!!
My first ascent Sunday—my 13th total—was difficult because my body was stiff and it was cold and dark. But halfway up, as I watched the glorious sunrise, my entire mentality shifted. I calculated how fast I had to do each climb to finish. And I decided I had only four to do because my fifth would be my last and I would be so excited I wouldn't care. And then I decided I only had three to do because I was on my first so that was practically done. I got giddy just thinking that I might be able to finish.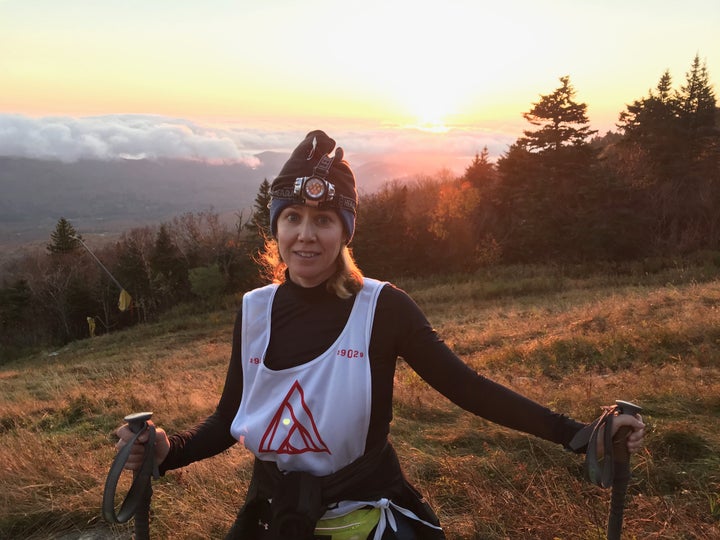 I was pure energy on the gondola down because I knew success was in my viewfinder and it was completely up to me whether or not I was going to push myself far beyond what I was comfortable with. I decided I would.
I finished my 14th ascent to learn the gondola was closed because the winds were too fierce. I would have to take the SUV down, which, because it took longer than the gondola ride, would mess with my timing and possibly prevent me from finishing. I sat in the back of that car and stewed. I had had this. My calculations said I could finish unless the gondola stopped running, and it had. I tried to accept that I had done my best and other forces had stepped in. I tried to convince myself that if I didn't complete all 17 it would be okay. That lasted a few minutes and then the voices said, screw that. You'll just have to climb faster.
I jumped out of the SUV at the bottom and asked one of the volunteers at the tracking board to mark my lap. I didn't even want to waste the minute it would have taken me to do it myself. My pace quickened and I felt completely in control. The winds had lessened. I could still make it.
Throughout the event, each participant wore a white bib that had his or her number and name on it. It was great because you could address and encourage a fellow climber by name. And then… there were the red bibs. After a climber's 16th ascent, he or she was issued a red "Final Ascent" bib and a large black 29029 flag to carry up that last lap and plant in the ground at the top amidst a sea of black flags from prior finishers.
Throughout the day on Saturday, I saw the endurance athletes sporting their red bibs. It never occurred to me that I would get to wear a red bib because that was only for the real athletes. They did hard things all the time. But around my second lap on Sunday, I started looking at the red bibs with a fierce hunger. I was a starving wanderer in the desert and that bib was my tall, icy cold glass of water with a mint sprig. I needed that bib. I would do anything for that bib. And on Sunday, after each lap, I knew, with every tired ounce of my being, with every stabbing jolt from my blisters, I knew that red bib would be mine. I just had to stay on pace and keep moving.
At the end of my 15th ascent, with only two laps left, I was distraught to find the gondola was still closed. I hurried to an SUV that was about to take off down the mountain and got in. My heartbeat was racing. I told the driver to step on it, I had things to do, goddamnit.
I laughed a lot of the way up my 16th because, even though it was my second-to-last, in my mind, it was my last. And I would have enough time. In fact, I had plenty of time. There were no longer any obstacles, besides my own self-doubt, in my way. And my self-doubt, thankfully, had decided to make itself scarce.
I've worked hard in my life, but a lot of things, like school and most of my jobs, have come somewhat easily. And that makes the accomplishments feel less spectacular. One exception was getting the deal for my third novel with St. Martin's Press. I had worked so hard for that, paying my dues, grinding out the manuscripts. The feeling when I got that offer was spectacular. And so was the feeling of putting on that red bib. As they say, nothing worth having comes easy.
I took the now-working gondola down after my 16th alone and absorbed in thoughts of ecstatic disbelief. I branded the board and the volunteer asked me if I was ready to put on my red bib. Was I ready? Ha! I've never worn anything (sorry, wedding gown) so beautiful in my entire life. As I started my 17th ascent (my 17th!) I looked down at that red bib and it was one of the proudest moments of my life.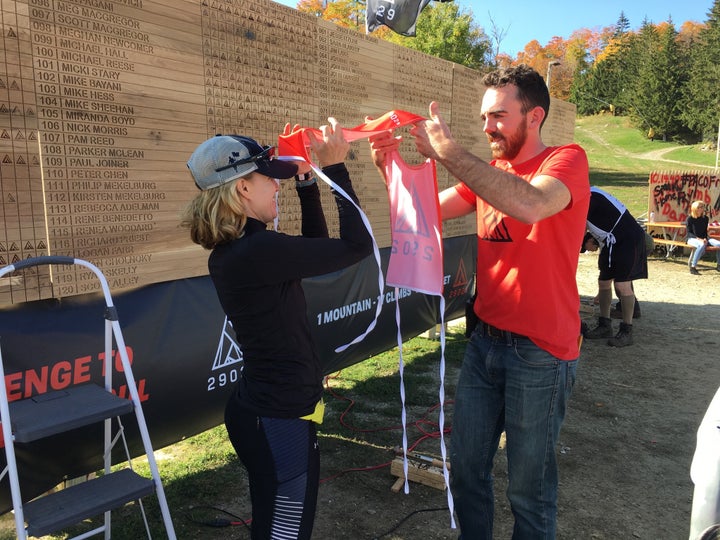 I laughed and cried up 17. I said goodbye to the funny Dr. Seussian grass patches. Goodbye to the climber-made mud steps. Goodbye to the cool black-and-white caterpillars that dotted the path. Goodbye to the universally hated "7 Poles Remaining" sign. Goodbye to the little wooden plank I used to cross a particularly hairy swampy patch 17 times. Goodbye angry mountain. Adi-fricking-os. I will never see you again.
And then I was at the "1 pole remaining marker." And I heard the music and spotted the gondola housing. Signs that the end was near. And at that every end, with tears in my eyes, I raised my poles and sprinted (okay, jogged, but still!) across the finish line. I had done it. I had pulverized my critical inner voice. I had climbed 22.1 miles of unyielding and angry mountain. I had ignored blisters and soreness and feelings of not wanting to take another step.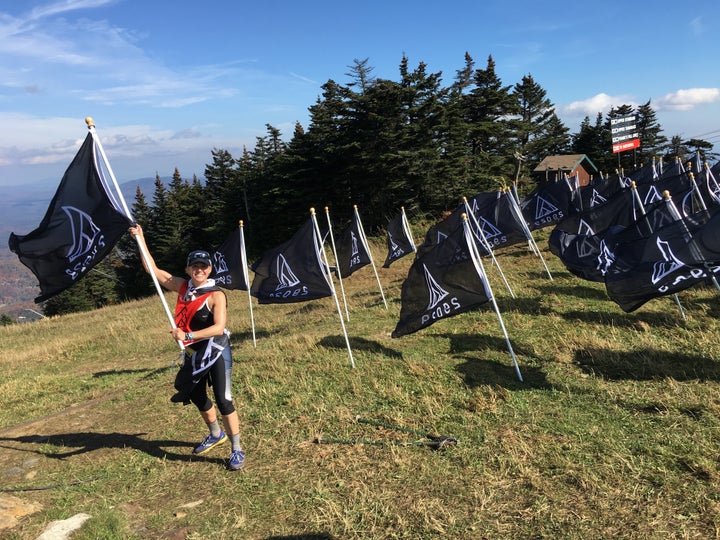 We all have opportunities in our life where we can do things differently than how we typically do them. A lot of us don't take advantage of those opportunities. We stick to what we know because we understand what we know. Even if doing things the same way over and over doesn't yield us new and better results. Even if it keeps us stuck in unfulfilling patterns. Even if we never hear our hearts sing.
But if I learned one thing from slaying the 29029 challenge (and I learned so many things), it's that we can't not take advantage of those opportunities. Those opportunities are everything. The searing sensations of pride and accomplishment you get to feel afterwards are absolutely everything.
It's exactly one week since I started my climb up Stratton. One week since I embarked on an adventure with 150 other new-experience seekers that would change my life. I realize that sounds dramatic and overwrought. But it's true. A fundamental part of my operating system has shifted. 29029 has tattooed itself on my heart and in my brain. I don't know how long this feeling will last. Hopefully, for a while. But I'll always know this way of feeling is possible. I'll always know what it feels like to push past self-imposed boundaries that don't serve me at all. And I'll always know that I'm much stronger physically and mentally than I give myself credit for. And that knowing, my goodness, that knowing is spectacular.
Susie Orman Schnall grew up in Los Angeles and graduated from the University of Pennsylvania. She has written three novels: THE SUBWAY GIRLS (2018, St. Martin's Press), ON GRACE (2014, SparkPress), and THE BALANCE PROJECT (2015, SparkPress), which is about work-life balance and is inspired by her interview series, The Balance Project. Susie's writing has appeared in The New York Times, POPSUGAR, Writer's Digest, and Glamour, among other outlets. She lives in New York with her husband and three sons. Visit susieschnall.com for more information.
Related
Popular in the Community