"You mean, now I'm actually supposed to glide my body off of this platform to the other side all the way over there?!"
Although I never actually wrote it down in a journal, taped it on my bathroom mirror or chanted it out loud three times a day, this year is all about conquering more of my fears with lots of adrenaline-pumping adventure and mixing things up a bit with unique travel experiences. The crazier the adventure, the better -- isn't that how it goes? Even if it involves harnesses, helmets and heights?
Sure. No problem. I can do this.
So, my chase for the thrill happily led me to a magical place I was so excited to discover -- Cypress Valley Canopy Tours in Spicewood, Texas. Here, I spent a full weekend of luxury tree house living and zip lining while conquering my fear of heights!
When I arrived at Cypress Valley, which is about 30 miles west of Austin, my thoughts quickly switched from "I can't believe a place like this exists!" to "This is so cool!" to "Woah we're up high!" as I walked across the suspended bridge that connects the nearest bluff to the tree house I would be staying in. The property sits in what seems like the middle of nowhere and is surrounded by old statuesque cypress trees, deep ravines and the calming sounds of the creek -- the perfect respite for those who want to get away from the major cities and connect with nature. There are currently two tree houses available for guests like myself to enjoy, with plans for many more on the horizon. So you know what that means, I'll definitely be back.
The Nest, the tree house I experienced, is an amazingly cozy multi-level dwelling that includes two bedrooms, a kitchen/dining area, an outside shower and also a private bathhouse. If the Swiss Family Robinson ever thought about upgrading their home to include more luxurious finishes, this would be it.
While I walked around admiring the architectural design, I kept thinking, dream tree houses are real!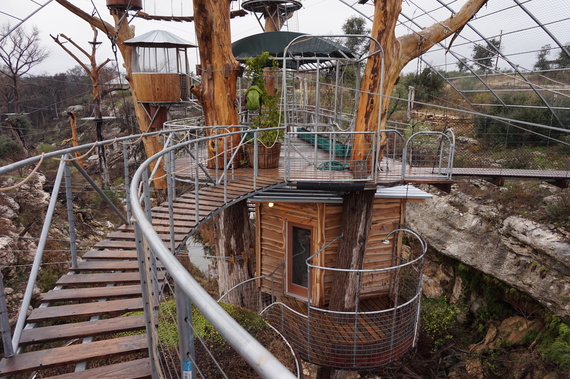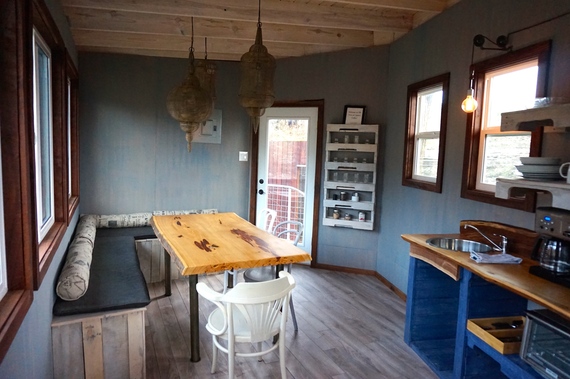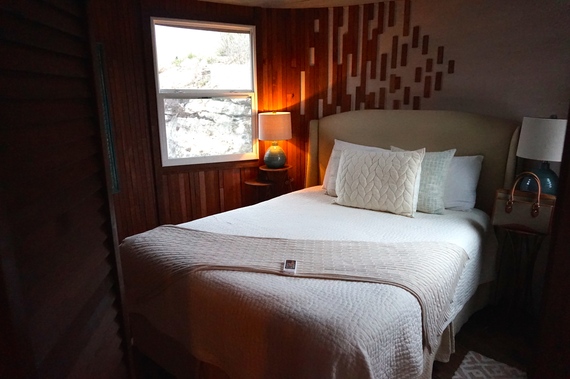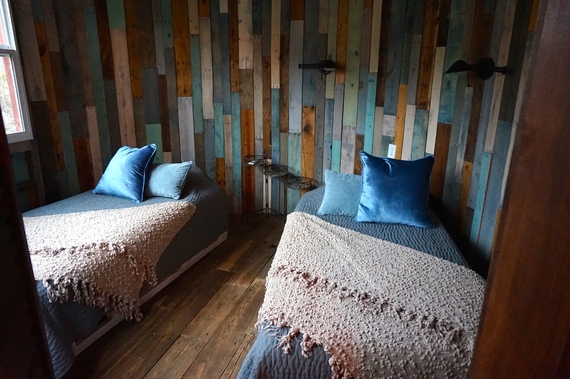 Inside the tree house, there's also a small lounging area at the entrance and on one of the side tables is a leather journal where you can write messages and share your experience with others who will visit in the future. It was interesting to read what others wrote in the past and I noticed a common theme, everyone loves this place. In the lounging room you can also play cards, chess or even read some of your favorite childhood classics that line the shelves in one of the bedrooms. It makes perfect sense. A tree house that lets you relive that child-like magic all over again. Who didn't love being a kid?
Throughout the night while sleeping in the treehouse, I heard a bunch of different sounds from rain tapping on the windows and owls "who-ing" to the creakiness of the wood whenever the wind blew. It initially made me a bit nervous being surrounded by nature and eerie noises in the middle of nowhere, but eventually I got used to it. My friend also says she heard a coyote, which isn't an uncommon observation according to the owner. It was definitely an interesting nighttime experience for sure.
But by the next morning, all I could think about was flying through the trees!
Our zip line canopy tour included an orientation first: Climbing harnesses on. Helmets secured. Go Pro attached to helmet and ready to capture the action. Learn the ins and outs of safely maneuvering our way across the zip line. Check, check, check and check! We had our first trial practice on a line that was very low to the ground to ensure that we all knew what to do. Throughout the orientation, all I could focus on was executing the perfect stop and not flying into the tree on the other side at full speed. Our guide ensured us that wouldn't happen and that she would be right there waiting to help slow us down if we happened to not follow her hand cues as we zipped onto the platform.
Once everyone in my group demonstrated we had everything under control, we headed up to the first line.
My stomach sank as I watched nervously while everyone else went ahead of me and I noticed how natural and graceful they looked -- like they've done it a million times before. Once it was my turn to step up on the tree trunk to get locked, loaded and ready to go, I may have counted to ten, ten times, hesitated some more and peered out over the edge of the platform to try to calculate exactly how high up we were. I noticed everyone waving and cheering me on from the other side and I optimistically thought, okay if they survived, I can too! I want to be over there cheering and jumping and feeling accomplished with them, so here I go! I finally closed my eyes, set my internal radio to Katy Perry's "Roar", lifted my feet off of the platform and screamed my way to the other side.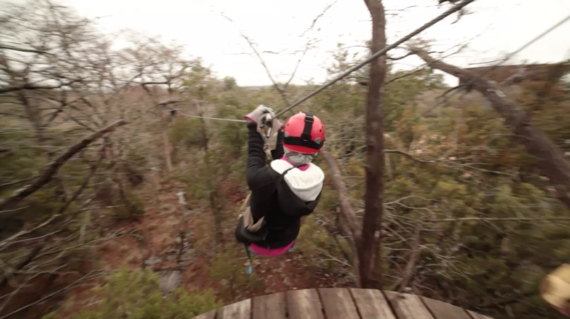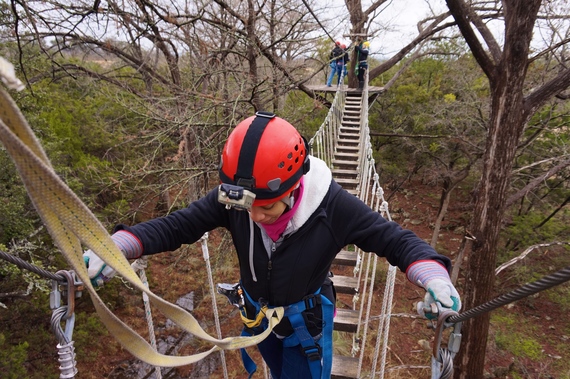 During the ride across, I completely forgot about how high I was. The rush of floating freely through the air and feeling the cool wind wash over my face was so exhilarating that all of my other worries disappeared. And the good news is, I actually kept my eyes open the entire time and saw the instructor's hand gestures when it was time to slow it down. This translates to, I didn't slam into a tree.
After traversing across two sky bridges (one we had to do backwards), screaming to the top of my lungs and zipping across five lines, which included a dual line where I raced my friend, I'd say my fear of heights has definitely been diminished and I may be on to conquering even higher heights.
Enough of my chatter about how awesome this experience was, check out the video below for an inside look at the tree house and zip line canopy tour. (Yes, my southern accent is alive and well!)
For more adventure stories check out:
Support HuffPost
A No-B.S. Guide To Life
Related
Popular in the Community