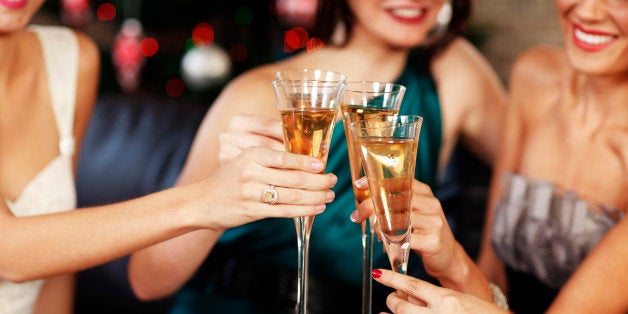 I went to a friend's birthday celebration last night. An all ladies' event.
It started in a swanky, $50-a-meal restaurant with the town's social elite. Everyone was impeccably dressed--beautiful, wealthy, white. Many of the women were professionals. Many had left their professions to take care of their families. Many expressed an intense desire to return to their professions alongside the stifling nature of being home with children all day, but an understanding that it is an important duty for them during this time of life. I found these conversations honest and important.
But I found just as many of the conversations disappointingly shallow. In the restroom, while in the stall, I overheard two women gossiping about another woman at the table. These are middle-aged women, I might add. As an outsider, I felt safe from this gossip. I was not born and raised in this community. I don't have a history here. I would suffer no repercussions by being a victim of this kind of gossip because ultimately, most of these women were not "my people."
But while mingling during the "cocktail" portion of this party, I felt like I betrayed so much of what makes me who I am.
Many women talked almost exclusively about their appearance. Their recent holiday-inspired dietary fails. A desire to fit into old clothes again. I fell into this talk with ease, commiserating on how my daughter's recent illness caused me to lapse in my workout this week. As the words fell from my lips, I felt ridiculous. I was glad that my daughter couldn't overhear me. Here I am--a person in perfectly good health with the fortunate flexibility in work schedule to be able to be home to tend to her myself. Here I was fussing about having to give up a workout. The incredible privilege of it all. The words sickened me. But I said them anyway.
We talked about our fears for our children, for our daughters. How we didn't want them to be mean girls. At one point, the local women's club came up. This is an invitation-only women's organization, and I wondered how many women in my town had felt victimized because of an absent invitation. I realized that so many of us in that room had been mean girls. Were still mean girls? Were in the process of being mean girls. The problem was, though, that not-a-one of us was even close to being a girl. We were all grown women. But, I couldn't help but be sucked into this talk; to participate in some of the ways I despise most in the traditional gender roles of Southern, white, feminine gentility.
It just felt so contradictory and wrong.
I texted my husband, "This is not my crowd," and then, without missing a beat, smiled reassuringly as a mother told me that there's no way she could send her child to the public school in town. After all, none of her child's friends were zoned for that public school. Her child would be alone. She wouldn't have any friends from church or dance class.
"We want our children to have their own friends at school," I said. "Sometimes a mother just has to make a decision that's best for her child." Of course, I gritted my teeth as I spoke the words. They certainly didn't represent my true thoughts--my support for public education, the fact that my child is in her second year of public school and has never had a friend she already knew present on the first day. I didn't emphasize how these have been magical years of watching my child make lots of new friends from lots of different backgrounds, races, genders, religions. Why didn't I say that instead?
I dressed in my best boutique clothes. I did my hair and makeup. I played the part. But at the end of the night, I felt so defeated by my own inability to assert anything I actually believe about the importance of rearing our children to reject the notion of traditional gender roles OR the importance of surrounding our children with students from all walks of life, even if that means that they may not be in class with their best church friend.
I read this now and think, I'm no different in writing these things about last night because just as those two women judged the others at their table boldly in a public restroom with no consideration of who might be in the next stall, I am judging them in this "manifesto." But what I'm most sickened about is less their behavior and more my own behavior --this inability to assert my actual beliefs, even in a pretty low-risk social situation. I dearly love my friend, the person at whose invitation I had come to the party to begin with. I truly respect many of these women for their hard work, their dedication to career and/or family, and their obvious love for their children.
But leaving the dinner party last night, I felt a bit like, by being there, I had betrayed my own sense of self. I yearned for something that felt more authentic. Maybe less like who I am. And more like who I want to be.
Calling all HuffPost superfans!
Sign up for membership to become a founding member and help shape HuffPost's next chapter