That Which I Love Destroys Me: "Veterans Fought for Our Freedom. Now It's Our Turn to Fight for Theirs"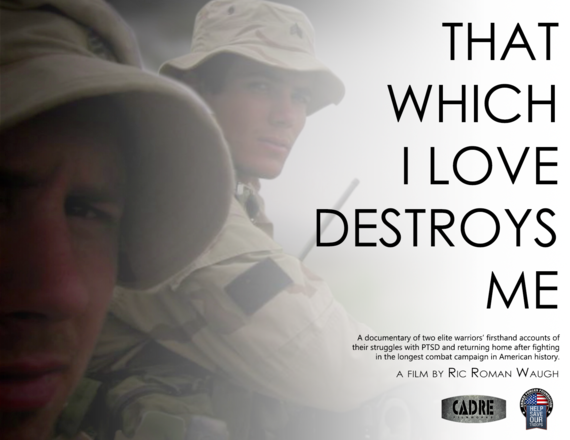 "Everyone can be broken..." Tyler Grey, a former Tier 1 Delta Force operator, who was wounded in a explosion during a high-value target raid in Iraq in 2005, tells us as he describes what he did not survive very well, namely coming back to the USA and civilian life.
We see his mangled arm, shorn apart by the blast and stitched together by the military surgeons who now can keep men (and women) alive when in previous wars they often died in battle. But otherwise he looks like a handsome young man, an all-American, a patriot who fought for our country until he could no longer. What we don't see, visibly, but observe as he tells his story with brutal honesty and no sentimentality, is that his far greater wounds are those that impacted his psyche.
That Which I Love Destroys Me is a Participant Media documentary, tightly drawn in 65 minutes. Produced and directed by Ric Roman Waugh (whose credits include Felon and Snitch, and the forthcoming Evel) this film takes us on the uncertain and arduous road to recovery of two elite soldiers, Tyler Grey and Jayson Floyd. They met as Army Rangers doing war patrols in 2002 at one of the first Forward Operating Bases in Afghanistan, in the wake of 9/11. But they befriended one another years later because of the "invisible wounds" of war, namely the traumatic stress disorder and alcohol and drug addiction that consumed both their re-entries -- and which also could have killed them. Indeed, 22 veterans now die by their own hands, every day, mortality rates that far exceed combat.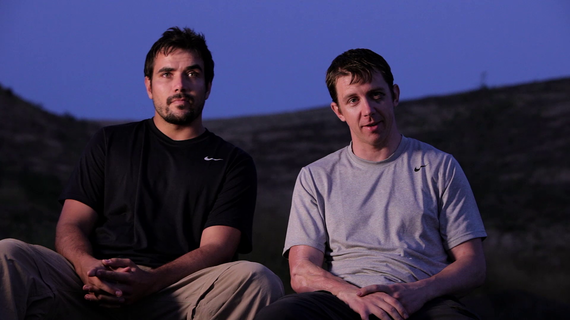 Producer/director Waugh asked Grey and Floyd (who had discovered how helping other vets could free them of their trauma-induced disorders) if they wanted a greater platform for conveying their message: that "wounded warriors" don't have to go it alone and that recovery is hard work, but possible. He turned to Patricia Driscoll at the Armed Forces Foundation who helped him get access to military and governmental officials and the startup money he needed to make this film.
"We followed Tyler and Jayson over a three-year period. Nothing was embellished or fabricated. There were no 'take twos,'" says Waugh, who has no military service, which seems to add to his commitment to serving those who served. "It was liberating to let go of the Hollywood veneer and trickery... to be raw and honest, from the warrior's perspective," he adds.
As a psychiatrist, I have seen the catastrophic effects of trauma, in both soldiers and civilians, and the heartening experience of witnessing recovery. So, Waugh's comment "Whether they are military at any level, or... someone in a car crash here at home, PTSD knows no boundaries," makes me want his message to reach vets and countless others.
This is a tough film to watch. But it needs to be to get past a viewer's defenses against what is truly a challenge to imagine for those of us sheltered from war. But by watching it we see how these two men entered the blackest of holes yet found ways to recover -- to achieve lives free of addiction, and lives reconstituted with relationships and purpose, tenuous as that hold may be.
As commanding as a film may be, it is still, nonetheless, a one-time encounter. That Which I Love Destroys Me will have the duration needed to make even more of an impact because it is part of a yearlong social action campaign (championed by Participant as they do with all their films) called Return The Service. The documentary first aired last fall on PIVOT, Participant's TV channel, and is now available for downloads on iTunes. The documentary will stream at Takepart.com throughout March. In addition, February 11 marks the start of a 10-city theatrical tour of the documentary, cities chosen because of their proximity to military bases and military causes.
The Return the Service Campaign began last Memorial Day. It's focused on the millennial vets who served in Iraq and Afghanistan. Waugh's documentary was a natural ally with this campaign, which will help bring his film to the legions of people and organizations dedicated to making civilian life possible for the 2.6 million military personnel who have served in these wars. If you want to go fast, go alone; if you want to go far, go together, as has been said.
The Return the Service Campaign has also joined with Justice for Vets, a non-profit organization whose mission is to increase the now limited nationwide network of veterans treatment courts (VTCs). These life-saving programs serve vets whose troubled behavior stems from mental and substance use disorders. Instead of allowing them to become embroiled in the criminal justice system -- where their illnesses worsen and their prospects for recovery are usually crushed -- VTC programs hold them accountable while connecting them to the benefits and services they have earned.
Melissa Fitzgerald is the new senior director of Justice For Vets. The daughter of The Honorable James J. Fitzgerald, a senior judge on the Pennsylvania Superior Court, and a former actor who played Carol on The West Wing for its full run, she brings mission, passion, and a network of like-minded people to the work of scaling up VTCs throughout the country.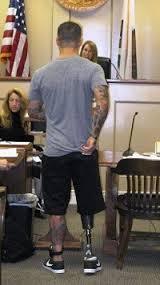 Exemplifying smart social, health, and economic policy the drug, mental health and veterans courts work: they restore lives; keep families intact; protect the public safety; and save money. Drug courts are perhaps the best studied -- with the clinical success noted above coupled with saving up to $27 for every $1 invested and $13,000 for every individual served.
VTCs are voluntary: A vet is assessed by an interdisciplinary court team and if accepted into the program, the vet can choose treatment over incarceration. But once the vet chooses treatment the judge makes sure they stick to it, or the vet is apt to find his way to prison.
The VTCs operate by combining a trained team of clinical and legal staff; a dedicated VA representative in every court to connect the vet to services and help assure access (VA access being a problem that has topped headlines this past year); and ongoing monitoring of treatment and compliance for the typical 18 months of treatment. This combination of expertise and voluntary choice -- but then mandatory treatment, access and continuous monitoring, are the ingredients of a variety of programs proven successful with people with serious mental and substance use disorders.
In That Which I Love Destroys Me we see two powerful scenes about recovery: one is the conversation between Jayson Floyd and his brother; and the other a clip from a gathering of soldiers competing in an American Heroes Challenge. Similia Similibus Curantur (like cures like) said the early 20th-century psychiatrist Harry Stack Sullivan. He was referring to how everyday people, including those with shared experience, brotherhood (and sisterhood), and having suffered themselves, are often the best catalysts and supports for recovery for those suffering from a host of disorders and traumas.
Congressman Tim Murphy (R, PA) appears towards the end of That Which I Love Destroys Me. Rep. Murphy is a Ph.D. clinical psychologist, a Lt. Commander in the Navy Reserve Medical Service Corps, and the author of the only mental health bill in Congress, "Helping Families in Mental Health Crisis Act."
He says that while "I have been to Iraq and Afghanistan... in a roll-over accident... it can't compare... I don't know what it is like to be where you are [referring to vets with PTSD] but I do know what it's like to be where we need to get you."
This article is a bit long and complex because it covers a film, a yearlong social action campaign, courts, and a congressional effort. Yet that's what it will take to make a difference -- to "return the service" to those who have served and deserve no less. The solutions are there. Failure should not be an option, in war and in peace.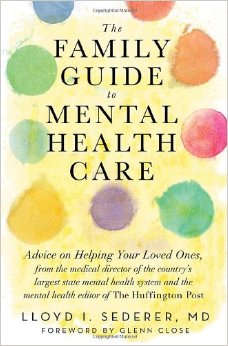 Dr. Sederer is a psychiatrist and public health physician. The views expressed here are entirely his own. He takes no support from any pharmaceutical or device company.
Related
Popular in the Community