As a rule, people don't like to receive bad news (especially if they are waging a campaign based on misinformation, disinformation, or carefully-scripted talking points that have no basis in reality). That's why skeptics and prophets are often ignored or ridiculed -- with tragic results.
In Greek mythology, Cassandra was noted for making predictions that were not taken seriously (her most famous one involved the fall of the city of Troy at the hands of Greek warriors who had been hidden within the legendary Trojan horse).
Julius Caesar's third wife, Calpurnia, tried to warn her husband about his imminent assassination (to no avail).
In the final scene of Das Rheingold (the first part of Richard Wagner's operatic tetralogy, Der Ring des Nibelungen), as the gods prepare to cross the rainbow bridge into their new home in Valhalla, their shape-shifting colleague, Loge, decides to remain behind rather than live off of ill-gotten gains.
Each of these mythological figures takes on the dangerous role of a skeptic, the person whose cynicism prevents them from running with the herd. Such actions can position someone as a heretic, an enemy of the people, or a crackpot.
However, one's willingness to attack a sacred cow is not much different from the experience of modern atheists. As I sat through a recent preoperative interview, a doctor cautioned me that all the vitamin supplements I take are basically useless. Given a choice between placing my faith in vitamin supplements or organized religion, I'll choose the vitamins every time.
As someone who was raised in a family of atheists (and whose father taught high school science), I often find myself standing on the sidelines as hordes of true believers abandon all objectivity and embrace a new technology, a cherished sport, or a form of corporate mythology with gusto.
In 2009, a Japanese animation studio released a remarkable full-length feature entitled Summer Wars, which showed what might happen if an omnipresent and extremely powerful social media engine were taken over by an arch villain. More than a quarter century after War Games had stunned viewers with computer simulations of a game called "Global Thermonuclear War," Summer Wars was equally impressive for its artistic values as well as its prescience.
At the time the film was released Facebook was only five years old, Twitter was barely three years old and their global reach was nowhere what it is today. A probing documentary by Ben Lewis entitled Google and the World Brain would not be released until 2013 (as would Cullen Hoback's bone-chilling Terms and Conditions May Apply). In June of 2013, Edward Snowden leaked critical documents showing just how acutely everyone's digital footprints were being monitored by the National Security Agency.
With Jeff Bezos fantasizing about using drones to deliver Amazon.com's shipments and Uber pouring money into research aimed at developing a driverless car service, the timing is perfect for the release of Brant Pinvidic's rowdy new documentary, Why I'm Not On Facebook (which was screened as part of the 2015 San Francisco Indie Film Festival).
In a world where privacy has become increasingly difficult to maintain (and potential employers can easily check out a job applicant's embarrassing party photos online), Pinvidic was spurred into action when his 12-year-old son asked a simple question: "Daddy, why aren't you on Facebook?" The film's publicity blurb describes Pinvidic's filmmaking adventure as follows:
"One man's soul-searching decision on whether or not he should join Facebook sets him off on an epic journey of self-discovery as he weighs the pros and cons of becoming a member of the world's largest social networking site. Along the way he talks with family, friends, total strangers and even celebrities whose lives have all been touched in one way or another by Facebook. From the long-lost high school friend who uses it to stay in touch with classmates, to the pick-up artist who trolls the site to score with women, to the criminal who tracks your every movement to know when to rob your house, the best and the worst of Facebook is on display."
Making a documentary was a radical change of pace for Pinvidic (who is executive producer of ABC's Extreme Makeover: Weight Loss Edition and Bar Rescue on Spike TV). While his career has mostly been in reality television, setting up a fake Facebook profile as "Steve Steel" allowed him to get in touch with the social network's huge personal rewards (especially for extroverts and narcissists) as well as its frightening potential as a tool for stalkers.
Why I'm Not On Facebook is a fast-paced piece of contemporary edutainment that will go down well with a bucket of popcorn. While Pinvidic's documentary contains plenty of laughs and examples of human folly, it also makes one wonder whether being active on Facebook should cause a person to lose sleep at night. Here's the trailer:
Before I describe the Berkeley Repertory Theatre's electrifying world premiere of X's and O's (A Football Love Story), let me state that I am not now (nor have I ever been) a football fan. If Facebook can be addictive and opera inspires irrational displays of diva worship, American football has had the bizarre effect of inflating a brutal contact sport into a national mythology whose cult-like following not only craves violence but may be in deeper stages of denial than people who refuse to accept mankind's contribution to climate change.
Now that the 2015 Super Bowl has come and gone, we can all (including God, if he even exists), sit back and chill out while relinquishing any childish fantasies about an old man in the sky giving a rat's ass about the outcome of a game. In short, we can attempt to get back to our daily lives. Or can we?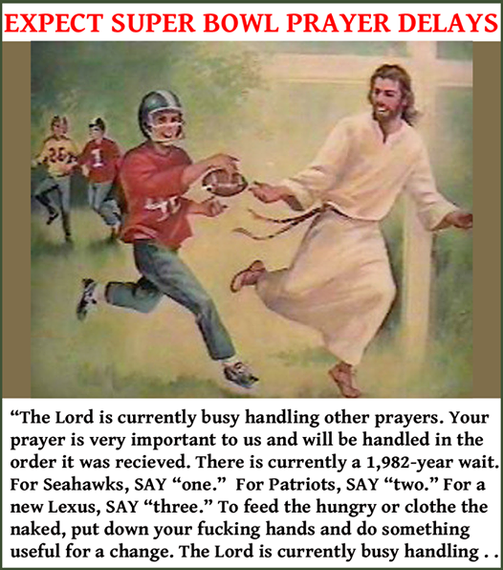 Written by KJ Sanchez and Jenny Mercein and exquisitely directed by Tony Taccone, this passionate and poignant new work was developed as part of Berkeley Rep's "Ground Floor" program. With a stark but effective unit set designed by Todd Rosenthal, sound design by Jake Rodriguez, and superlative lighting and projection design by Alexander V. Nichols, X's and O's (A Football Love Story) has something for everyone. Whether a person loves or hates football, is trying to wean themselves from its grip or recover from its injuries, this provocative drama mixes narrative vignettes of fans, athletes, coaches, and physicians with documentary footage of football's past and its increasingly litigious future.
While much of the controversial material in the play can be found in works like Is There Life After Football? Surviving the NFL, putting faces on the stories of injured players -- as well as the spouses of former athletes who have developed Parkinson's, Alzheimer's, or other fatal illnesses stemming from chronic traumatic encephalopathy (CTE) -- helps to provide audiences with the precise spoonful of sugar needed to help reality's cruel medicine go down.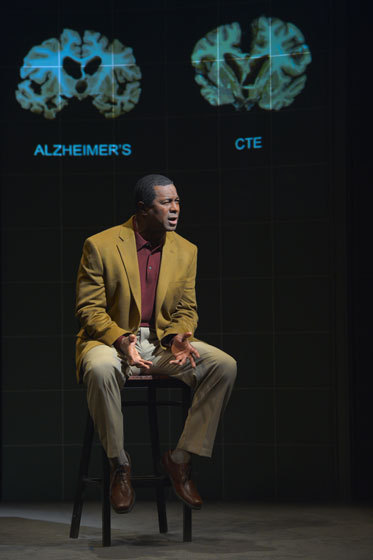 Two-time Super Bowl champion Dwight Hicks performs in
X's and O's (A Football Love Story) (Photo by: Kevin Berne)
The show is so tightly crafted and rivetingly paced that it's hard to believe that an ensemble of six actors (jumping in and out of various roles) are the only people appearing onstage. Making thorough use of the playing areas at Berkeley Rep's Thrust Stage, Taccone brings his actors out into the audience so that there is no escaping the human element which seems to matter so little to the National Football League's corporate executives and accountants.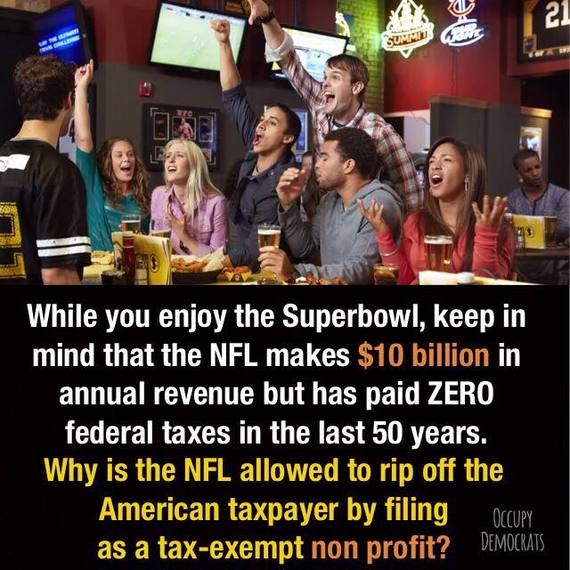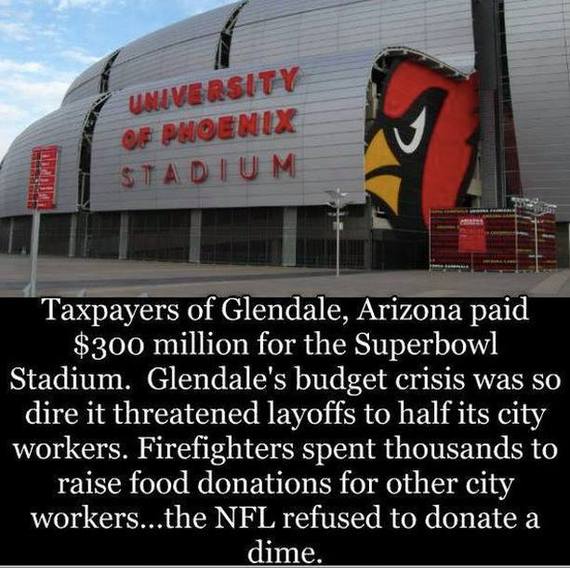 While former San Francisco 49er, Dwight Hicks, brings some serious professional credibility to the proceedings -- and Bill Geisslinger shines as both an aging coach and a retired player whose injuries forced him to have a leg amputated -- the strongest work comes from the always impressive Eddie Ray Jackson (who alternates between portraying an aspiring athlete and a nerdy football fan who is trying to adopt a more politically correct stance about the sport) and Marilee Talkington, whose powerful performances as a research physician and the wife of a former football star will haunt audiences long after they leave the theatre.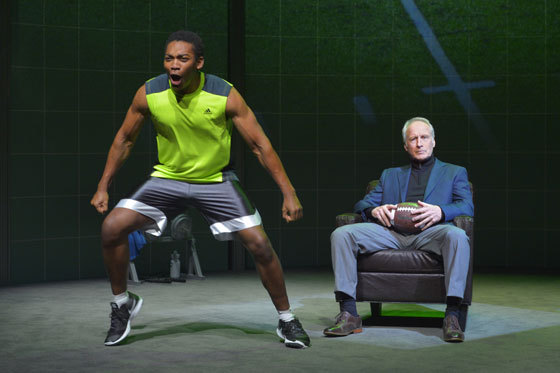 Eddie Ray Jackson and Bill Geisslinger in a scene from
X's and O's (A Football Love Story) (Photo by: Kevin Berne)
Additional support comes from Anthony Holiday and Jenny Mercein, who round out a talented ensemble that easily shifts between football fans gathered in a bar to watch a game and family and friends of players who have been chewed up and spat out by the National Football League in its quest for more power and bigger profits. The one thing missing from the script is any mention of the NFL's status as a nonprofit organization.
Whether you have little to no interest in football (like me) or can't live without football as a driving force in your life (like many others), this is a remarkably tight 85-minute docudrama which will thrill audiences. X's and O's (A Football Love Story) is not just an important contribution to contemporary American theatre, this play deserves a long life on numerous stages throughout North America. Here's a teaser:
REAL LIFE. REAL NEWS. REAL VOICES.
Help us tell more of the stories that matter from voices that too often remain unheard.