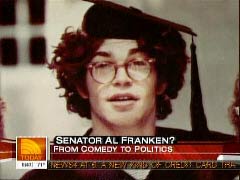 Finally, the state of Minnesota has its second U.S. Senator after an eight-month legal battle following the 2008 election. Al Franken, the former comedian, author and political talk show host, ultimately prevailed over incumbent Norm Coleman in a knock-down, drag-out fight that ended Tuesday in the state's Supreme Court. Franken will join 59 other Democrats next week as the party has its first filibuster-proof majority in thirty years. Of course, it's a great day for Franken, the party, Minnesotans and comedians everywhere.
I remember the 1970's well. Saturday Night Live ruled the day. Franken was one funny (albeit dry, sarcastic and intelligent) dude. But whoever thought that 30 years later he'd become one of the most influential people in the world, holding one of 100 exclusive seats in America's most powerful legislative body? So it got me thinking: who do we have among today's young comic performers who could one day be making law in the Senate's prestigious chambers?
Will Andy Samberg be the first politician to run for U.S. Senator armed with an array of provocative digital shorts starring him and singer Justin Timberlake? Will Sacha Baron Cohen run? And if so, as himself? As Borat? As Bruno? Or what about Jackass's Johnny Knoxville? Think about all the genital-abusing pranks he'd bring to Washington. Just sit back and close your eyes and dream a little. The possibilities are endless.
Calling all HuffPost superfans!
Sign up for membership to become a founding member and help shape HuffPost's next chapter