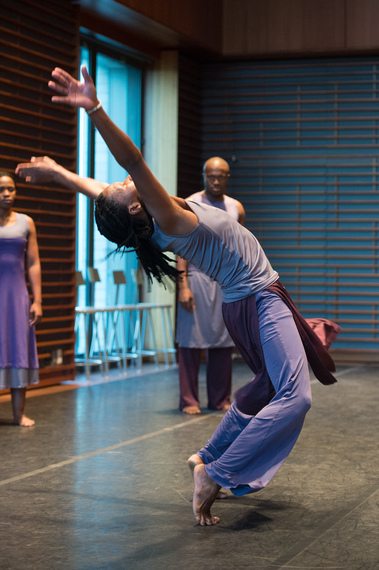 Flatfoot Dance Company's Mzamo Jabu Siphika, Sifiso Selby Khumalo, and Sifiso Thamsanqa Majola performing July 7, 2014 at the Reva and David Logan Center for the Arts| Photo by Ken Carl
In 2013, Chicago-based Deeply Rooted Dance Theater (DRDT) became the first American dance company to appear in the 15th annual JOMBA! Contemporary Dance Experience in Durban, South Africa. JOMBA!'s founder Lliane Loots first connected with Deeply Rooted through the tireless work of Lorna Johnson, a DRDT board member and consultant on international exchange programs. Last year's appearance, sponsored by the U.S. Consulate General in Durban with funding from the U.S. Department of State's Arts Envoy Program, marked the beginning of a three-year creative exchange that has since been further supported by a MacArthur Foundation grant promoting international collaboration. DRDT Artistic Director Kevin Iega Jeff and Associate Artistic Director Gary Abbott have both commented on the impact the trip made on them as dancers, and as people. "It will inform what I do for the rest of my life... I felt complete," said Abbott about his experience in Durban.
This year it's Flatfoot's turn to make the voyage across the Atlantic, and what has now been dubbed the JOMBA! Initiative took the shape of four special events in opposite corners of the city of Chicago. Over the course of two weeks, Flatfoot and DRDT have shown work and participated in community symposiums in Hyde Park, held an open house at the Old Town School of Folk Music in Lincoln Square, and presented Loots' 'the inheritance of loss' alongside DRDT's Summer Intensive performance at Lincoln Park's Athenaeum Theatre.
In 2015, DRDT returns to JOMBA! to perform a collaborative work with Flatfoot that signifies a culmination of the exchange. However, it might be said that the meat of this initiative is not as much in the dancing as in the dialogue taking shape between two seemingly disparate cultures.
What is possible in a cultural exchange between Americans and South Africans?
What can we learn about our commonalities and differences with regards to slavery in America and apartheid?
These questions may appear to be the stuff of sociologists, cultural anthropologists, historians, and activists. Instead, they were the basis of July 7th's opening symposium at the Reva and David Logan Center for the Arts on University of Chicago's campus in Hyde Park. My experience as an attendee was that two hours is not nearly enough time to even scratch the surface of these questions. Moreover, three years will likely not be enough time to fully explore the possibilities of what we have to gain from an exchange with South Africa. Is dance an appropriate or even possible venue to engage in this discussion? If I gained anything from July 7th's tiny, really tiny, chipping away at a monstrous topic, it would be absolutely yes. Dance, in fact, may be the perfect place to start.
DRDT's Artistic Directors first reflected on how visiting South Africa has informed their perspectives about the global dance community, and both companies performed excerpts from their respective repertories. The symposium then brought together the three artistic directors to discuss their roots, uncover the similarities in DRDT and Flatfoot's missions, with further insights revealed at a special Mandela Day Celebration at Arts Incubator.
Flatfoot's Artistic Director Lliane Loots grew up in apartheid South Africa, attended an all white school, and attended ballet class - "as a good young white girl does." In adulthood, Loots' growing awareness of and distaste for the politics in her country drew her away from the rules about what young white girls are supposed to do. "People were being shot in the streets, and attending ballet class somehow seemed inappropriate," she said, but never lost touch with movement as a source of communication and conversation. "Our bodies are political. Our hair, our gender, our food, our class, and our movement... Our art IS our activism." In 1994 (coincidentally, the same year apartheid ended), Loots began a training program with the goal, in part, of providing quality dance training for all citizens in her community. In the 20 years since, she founded Flatfoot Dance Company, created the internationally recognized dance festival JOMBA! and, perhaps most importantly, developed outreach programs for the outlying communities in her province of KwaZulu-Natal. Loots and the members of Flatfoot spend a significant amount of time teaching dance to people who will never become professional dancers, but see the program as an opportunity to engage with communities who struggle to access enough food, water, and education to thrive. Flatfoot provides structure, and a positive activity that is otherwise inaccessible to the individuals it reaches. Loots and her dancers care as deeply for their community initiatives as they do for world-class dance. "We are looking at art as a tool for transformation," she said. "It's not a band-aid, it's not a feeding program; it's a chance to self-actualize."
This article was originally published at artintecepts.org, and is reproduced for the Huffington Post with slight modification.
2) Flatfoot Dance Company's Artistic Director Lliane Loots | Photo by Ken Carl
Popular in the Community