In an age where immediate satisfaction and self gratification seem to permeate our culture, what does the long-term relationship look like in 2015?
"That's Not Us" is a compelling new film executive produced by and starring Mark Berger, who has previously worked as associate producer for the 2014 Broadway production of "Hedwig and the Angry Inch." The film follows three couples -- one straight, one gay and one lesbian -- as they travel to Fire Island for a vacation during the last days of summer. What is intended to be a relaxing vacation swiftly turns into an examination of the nature of love and what it takes to make love sustainable in the modern age.
"That's Not Us" is currently engaged in a Seed & Spark campaign in order to fund post-production. The Huffington Post chatted with Berger this week about this new film and his vision for the project.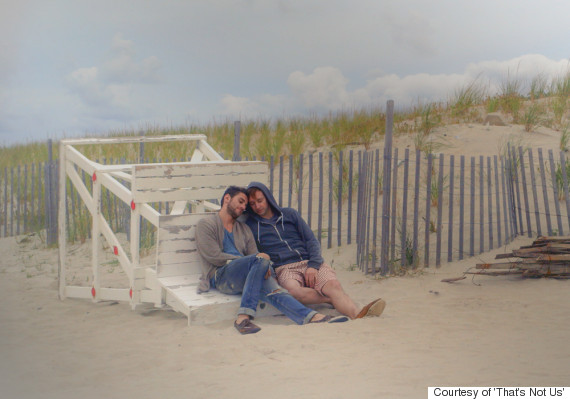 The Huffington Post: What is the concept for this film?
Mark Berger: "That's Not Us" is an improvised romantic comedy that follows three couples -- one gay, one lesbian, one straight -- as they travel to Fire Island to enjoy the last days of summer. But what should be a fun beach weekend actually shines a hard light on what it takes to make love last.
This is a film that portrays the different dilemmas that many relationships face. But rather than presenting the solutions to them, it explores the experiences -- the funny, the painful, the embarrassing, the sexy -- of working through them. Each character in this story has an experience of feeling separated, either physically or emotionally, from their partner. The process of rediscovering themselves and their partner is the essence of what the film captures. '
A cast and crew of 13 people went to Fire Island with a 20-page story. What happened on screen between the characters was completely improvised. Each moment on-screen has the possibility of leading to a different outcome; each step taken might lead down a different path. That immediacy and spontaneity led to greater intimacy and the truth of each of these relationships.
What are you trying to communicate about love among different kinds of relationships in this film?
The filmmaking couple behind the story, William Sullivan (director) and Derek Dodge (DP), wanted to reflect their own experiences of being in a committed relationship. While we all have different experiences with love, they felt like they weren't seeing a lot of gay couples in film and TV that they could necessarily identify with. Making love last in today's world isn't easy. All relationships have challenging moments when you have to choose between staying put and walking away. Those are the moments where we show our vulnerabilities, and where these characters truly reveal themselves.
What do you hope viewers take away from this film?
Everywhere you look there are stories about breaks-ups, affairs and one-night stands. The examination of the long-term relationship is something personal to us and important to share. We hope that all audiences will watch this movie and find something relatable in the characters and their experiences. We hope that the intimacy and truth displayed by the characters is both refreshing and familiar to the viewers.

What do you have on the horizon?
We are coming to the final days of our crowd-funding campaign on Seed & Spark, and the finishing touches of sound and music are being added to the film. We are thrilled that Xander Singh, formerly of Passion Pit, is writing an original score, as well as additional music by PigPen Theatre Co. We are also in the beginning stages of the festival circuit, focusing our attention on the amazing LGBT film festivals around the country and in Canada. These festivals have built incredible communities of filmmakers and loyal movie-goers, and we hope to share "That's Not Us" with them.
Head here to visit the "That's Not Us" Seed & Spark campaign.
Calling all HuffPost superfans!
Sign up for membership to become a founding member and help shape HuffPost's next chapter
BEFORE YOU GO
PHOTO GALLERY
22 Movies That Changed How We Felt About Ourselves As LGBT People