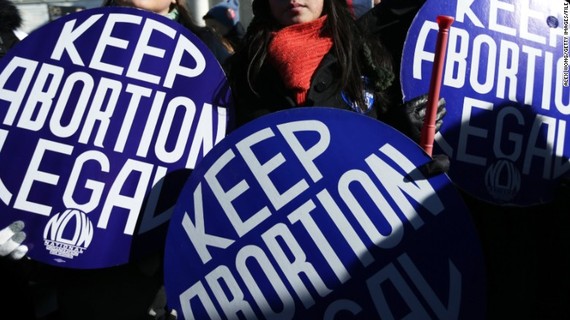 On September 19th, the day after the U.S. House of Representatives voted to defund Planned Parenthood, I told my Facebook feed that I'd had an abortion. My disclosure offered no justification for why I'd decided to end the pregnancy, nor was it padded with wistfulness, shame, or regret. I hit post, ran out the door, and texted my friend, feminist writer Lindy West. Lindy screen-grabbed my post and tweeted it to her 62K followers, adding the hashtag #ShoutYourAbortion and shouting her own.

By the end of the day, my Facebook feed was flooded with women disclosing their own abortions and Lindy's Twitter activity had opened the floodgates. All over the world, people began using the hashtag to share their own abortion stories, often for the first time. Within a few days, #ShoutYourAbortion had been used 250,000 times and seemingly every major media outlet was paying attention. For once, it felt as though women's voices were driving the national conversation about abortion.
One in three women in the United States has an abortion before the age of 45, but compulsory silence has always been the norm, even in pro-choice communities; even amongst people who are horrified by the ideological underpinnings of abortion stigma. As #ShoutYourAbortion took off, it became clear that many of us had intentionally made ourselves invisible. Beginning to see and relate to each other felt like a collective catharsis, long overdue.
#ShoutYourAbortion immediately took on a life of its own and I am not talking about viral internet culture--it was clear from the beginning that #ShoutYourAbortion was something culture was desperately ready for, a simple idea that many people wanted to rally behind in different ways. I put graduate school on hold and began working in Seattle to harness the energy and resources pouring from my community. With zero funding and an all volunteer team, we built a website, recorded dozens of abortion stories for our YouTube Channel, and hosted all sorts of events geared towards creating space for people to talk about abortion. I've witnessed an astounding ripple effect of change; from my vantage point, nothing will ever be the same.
I've watched countless women tell their stories using the digital and real life platforms that #ShoutYourAbortion has created. I've watched women reject shame that they carried for years but never felt that they deserved and I've watched as these women found support that they never knew they had. I have watched so many people get their lives back that it's made me mourn the time that we have collectively lost. How did things get so bad that simply talking about our experiences has become a radical act?
Those who oppose abortion rights have worked to maintain a cultural climate that is violently inhospitable to the voices of women who choose abortion. They've intentionally created a situation where doctors put their lives on the line to go to work and women who terminate pregnancies are faced with life altering stigma. And when people must risk everything in order to speak, many will choose silence. Although abortion has been a common, legal medical procedure for 43 years, our opponents have leveraged our fear in order to snuff out our voices. We have never owned our own stories. This is how they have gotten away with calling one in three American women murderers.
As is the case in so many conversations, the right has effectively maintained control over the parameters of political discourse on the subject of abortion by baiting us into defending our own humanity. The left has responded weakly, attempting to direct the conversation away from abortion and towards healthcare, a move which has institutionalized the expectation that those who've had abortions should best stay quiet.
What could possibly be a less progressive tactic than defending something on the grounds that it is an unfortunate and unseemly necessity? "Safe, legal and rare," is not a rallying cry, it is a plea for mercy. We have once again attempted political pragmatism and forgotten who in the hell we are dealing with; we have consented to a debate with people who bankroll and inspire domestic terrorists. How else does Cecile Richards end up wasting her time calmly defending her organization against heresy on the Senate floor?
Those fighting to repeal Roe are either driven by religious dogma that deservingly lies at the margin of public opinion or worse, are motivated to create the kind of society that will begin to crumble if women can build their own lives with intentionality. Our opponents are dinosaurs, armed with fake science and propaganda that is both ludicrous and incendiary. This fight is ours to lose. The only reason they have been able to keep us on the ropes for so long is by making sure that women do not feel safe talking about abortion on their own terms. We cannot fight for legislative progress while ignoring the cultural toxicity of silence and shame.
The United States is suspended in the sort of volatility that often directly precedes great change. As we move into this election year and towards the monumental SCOTUS decision in Texas, on the heels of Colorado Springs, in the midst of one of the most regressive years for abortion rights this country has ever seen, women are fighting harder than ever to carve out a space for their voices to exist. Our perspectives are transforming the landscape of mainstream culture and the opposition is terrified. They should be; all we need to do is drown them out with reality in order to force them into history, where they belong.
On January 22nd, the 43rd anniversary of Roe v Wade, #ShoutYourAbortion is undertaking our first nationwide action and helping people to get #TogetherForAbortion all over the country. We've worked to catalyze or connect with at least one abortion related event in all 50 states. There are storytelling events, film screenings and dance parties. There are teenagers making 'zines in Mississippi and philanthropic powerhouses hosting dinner parties in Brooklyn. By using social media and grassroots outreach, we'll be able to communicate with these groups and highlight the broader impact of this sort of collective action on this day.
#TogetherForAbortion will be taking place four months to the day after #ShoutYourAbortion went viral. Four months later, a woman posting a status update about her abortion is not just enough to stop the presses. Abortion is normal. Our experiences are ours to tell. The era of compulsory silence is ending.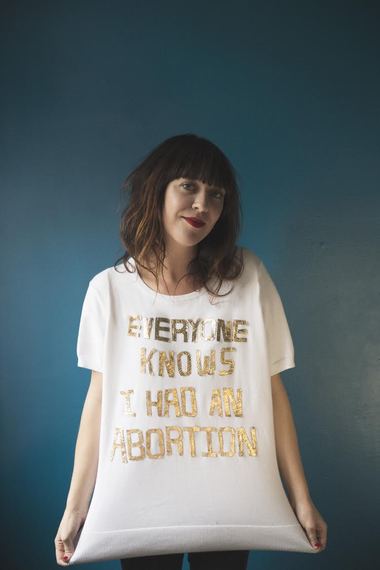 --Seattle-based activist and writer Amelia Bonow is the Director of #ShoutYourAbortion, an organization devoted to ending the compulsory silence around abortion. She has written for Salon, The Stranger, and City Arts Magazine. Follow her on Twitter @ameliabonow.
This post is part of a series produced by The Huffington Post and The Hammer & Chisel Awards, in conjunction with the upcoming release of Michael Moore's new movie Where To Invade Next in order to honor "individuals who have, in their own unique and courageous way, made America a better place for all." Where To Invade Next opens nationally on February 12th.
Popular in the Community