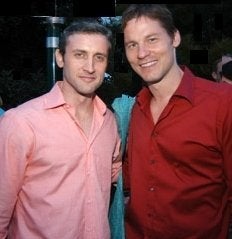 As is oft-noted on the internets, MSBNC's Dan Abrams is bestest pals with Men's Health editor Dave Zinczenko, but sightings of the pair have been limited to the corporeal world — until tonight. Tonight, the pair will be united for the first time on the telly, as Abrams welcomes Zinczenko to "Live With Dan Abrams" for the "Winners & Losers" segment of the show wherein Zinczenko will discuss 'The Worst Food in America' as per his new book, Eat This Not That (with MH Senior editor Matt Goulding), about, well, foods you should and shouldn't eat, which I suppose don't include repeat platefuls of chocolate-and-caramel-covered popcorn courtesy of the giant bucket in our office. Just a guess! Zinczenko is a frequent guest on the "Today" Show (as is Abrams, as NBC's chief legal correspondent) and is the bestselling author of the Abs Diet series. Hopefully he and Dan will engage in some manly crunch-offs and work up a friendly, competitive sweat.
Funfact: HuffPo bosslady Arianna Huffington will also be on Abrams' show tonight, but alas, she's in LA, so she can't sit on their backs while they do push-ups.
Photo courtesy of New York Social Diary. For the keen-eyed amongst you, yes that is Dan's arm disappearing behind the blue blob between them — which had formerly been pop star-turned-actress Mandy Moore, who, alas, had to be cut out. Oh, get over yourself, Mandy.