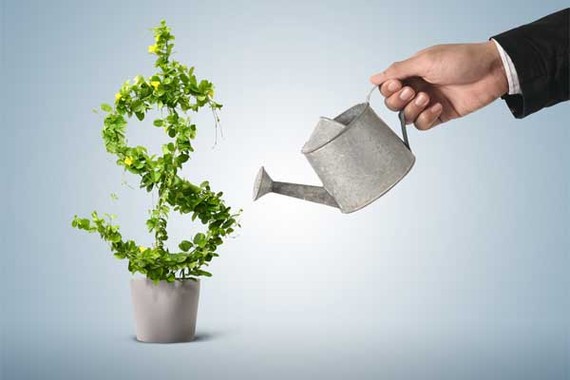 Doing more with what you have without reinventing the wheel is the essence of Business Model Innovation. It's about unlocking critical constraints to revenue using existing products, services, and technologies in existing markets.
As a Business Coach, I dive deep into my clients' numbers and examine cash-flow utilizing The 1% Formula. It's a 10 step formula that scrutinizes everything from customer acquisition expenditures to revenue to cost of goods sold (COGS) through bottom line profits. The name comes from augmenting any number at any step in the formula by 1%, which usually results in a 10-15%+ impact on the bottom line.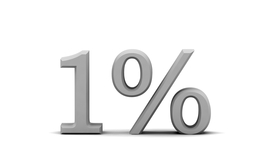 The 1% Formula provides an opportunity for even the best-run businesses to identify activities they can Start, Stop and Continue to improve bottom line profits. Often times it shines light on the most effective customer acquisition strategies, the biggest cost incurred by the company, and the products and services that are most profitable.
Case in point: I have a client in the professional services industry. They sell and support a high-end product. They considered adding new products, but The 1% Formula showed that the ROI wasn't there. They're growing, topline revenue is up, but so were the COGS. One concern around growth was that some of the employees shared offices, resulting in a drop in productivity for those individuals.
Another concern was revealed when one number stood out on the balance sheet- the rent. They were leasing the same space for over 20 years and the incremental increases snuck up on them over time. But it became hard to ignore as a stand-alone number exposed by The 1% Formula.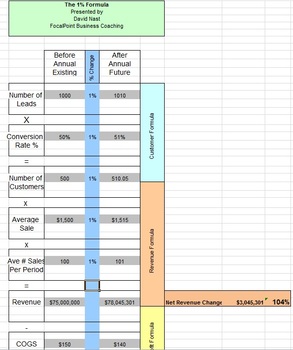 The core profit center was the support services billed as consulting time after a sale was made. The consultants go onsite to implement, customize, and train on the product. Whenever the consulting team hits a 90% utilization rate, they hire someone new. Sales grew each year and they added new staff every 18 months.
Turns out that 70% of the consultants' time onsite was training, while the other 30% was implementing and customizing. The training was almost identical for each customer after the implementation and customization was complete.
Utilizing The 1% Formula led to the Business Model Innovation of having customers come to them for group trainings. They bought a building large enough to have a dedicated training room. And everyone has their own office now, as well. Productivity and morale are up while travel expenses are down.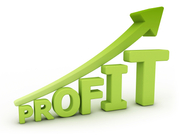 The utilization rate for the consulting team has dropped more than 25%. They can service new customers without having to hire and train any new staff for a while. EBITDA went from 21% to 39%.
And they have a tenant across the hall whose rent almost completely covers the mortgage while they're building equity in the real estate for their exit strategy, but that's another article...
Thanks for reading - If you enjoyed this article, please click the Like button above and let me know! (and if you like it, why not share it?)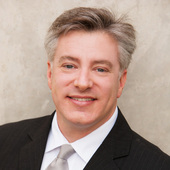 Related
Popular in the Community