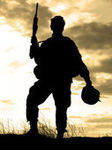 The war stole Foto's childhood.
The Eritrean said growing up in a war made him feel like a 30-year-old man, when he just was 16.
"War matures you," he told me.
Eritrea was at war with neighboring Ethiopia fighting for its independence, ultimately winning it in1991.
But in 1977, when Foto was 16, he decided he had endured enough brutality for a lifetime, and made a monumental decision.
Foto planned to flee his country with the hope of joining his brother in America. After sad goodbyes to his family, he set out to cross the desert to Sudan solo.
He took as much water as he could carry, supplementing his supply at villages along the way. It took him seven long days, but he made it.
Once in Sudan he had to grapple with a new language, and find a way to earn money as a laborer.
Six months later Foto was on his way to America, where he joined his brother in Florida. At 53, Foto now lives in San Diego where he's a cab driver, and happy to live in peace.
I heard Foto's gripping account when he was my cab driver. His story is surreal. It's hard to imagine a 16-year old setting out alone to cross a desert.
He had to forfeit his youth because of the cruelty of war.
For a true childhood, one full of innocence and adventure, peace is crucial. Many of us have been lucky to grow up without the horror of war.
Can you imagine having your childhood stolen?
Calling all HuffPost superfans!
Sign up for membership to become a founding member and help shape HuffPost's next chapter