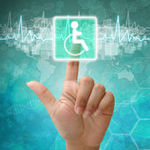 Lauren Anderson, a woman with one limb, has this advice: "Breathe deep and let the emotions pass. Once you calm down, you can deal with the situation in front of you."
This pragmatic advice comes from someone who has had more than her fair share of emotion.
Anderson was born with one limb. Her right arm extends fully, but her hand only has two fingers.
There's no medical explanation for why she stopped growing in her mother's womb. But at 27, Anderson has not allowed her disability to define her. She's ridden horses competitively, and drives a van rigged with handbrakes.
"I could spend the rest of my life being miserable, but where would that get me?" Anderson asked, with an easy laugh. "You could have all your limbs, and still have a really hard life."
Anderson's focus has always been on adapting to life. She doesn't have time to pity herself.
"My life has been a creative solution," said Anderson. "The question has always been: 'How can I make this work?'"
Developing a positive mindset takes discipline, but it's crucial, Anderson explained.
"I've never had a choice in the matter," she said. "I won't wake up tomorrow and grow limbs. I may have a hard day, but I cry or get angry, and then go on."
Anderson is a woman who has conquered impossible odds with grace. It's why her advice is so moving.
If Anderson can breathe, and let emotions pass ... so can we.
Calling all HuffPost superfans!
Sign up for membership to become a founding member and help shape HuffPost's next chapter