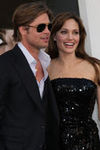 Angelina Jolie and Brad Pitt have been moonlighting for years, filling their off hours with goodwill.
They have traipsed the world over, donating time and money to the less fortunate. They have created a family of world citizens in the process.
The secret wedding on Aug. 23 at Chateau Miraval in France made their relationship official. Their bond seems deeper than most couples, because they have the same heart: altruistic.
I perused a slideshow of Angelina and Brad's good deeds, and the photographs spanned countless countries where they've made a difference. Here's a glimpse of their generosity: They donated $2 million to help fight HV/AIDS in Ethiopia, building a medical center, which they named after their daughter, Zahara. They also went to a refugee camp in Chad in Central Africa to help fight disease. Closer to home. Brad created the foundation "Make It Right" to help rebuild New Orleans after Hurricane Katrina.
As I watched the whirlwind slideshow, it was clear their efforts were not only genuine, but a long-standing commitment to charity. I'm grateful for this couple who have been gifting good for decades.
Seeing their brood of six in the photographs was equally inspiring. Angelina and Brad have shown us a new model, one that is inclusive by adopting three children from less fortunate circumstances.
Mother Teresa has said, "It's not how much we give but how much love we put into giving ... Love is not patronizing and charity isn't about pity. It's about love. Charity and love are the same ..."
The newlyweds have a strong marriage that will, no doubt, endure.
Their bond is built on charity and love.
Calling all HuffPost superfans!
Sign up for membership to become a founding member and help shape HuffPost's next chapter