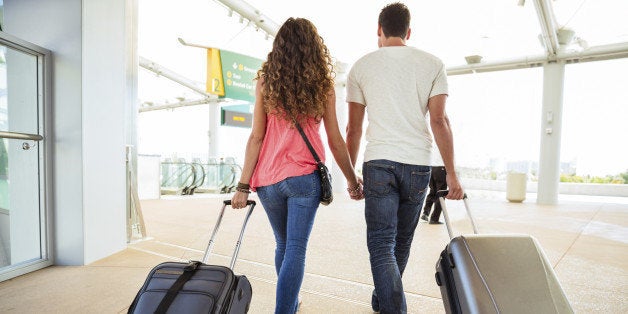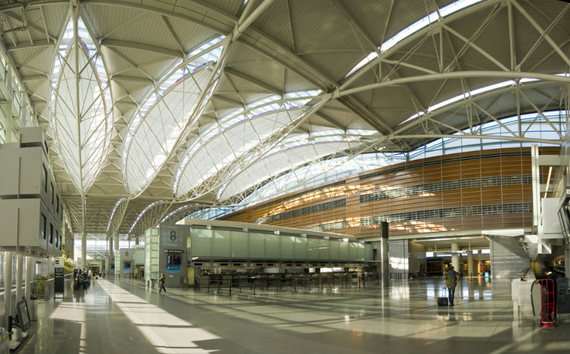 Sometimes, spending time in the airport isn't so bad. At least, not if you have yoga rooms ... or free Wi-Fi ... or express train service to one of the most happening cities in the U.S.
Skytrax recently rounded up their list of the world's best airports, so Hopper found the 10 best airports in the United States on that list. While none of them crack the top 10 worldwide, these airports still boast awesome amenities, convenient transportation, and plenty of routes all over the map.
10. Chicago O'Hare International Airport (ORD)
Just squeaking into the top 100 worldwide at the number 92 spot is Chicago O'Hare. It's the busiest airport in the world by number of takeoffs and landings, a major hub for American Airlines and United Airlines, and a focus city for Frontier and Spirit. With so much airline service, you would expect some world-class amenities, and O'Hare doesn't disappoint, with a yoga room, an urban garden, and outposts of top local restaurants for passengers to enjoy.
9. Logan International Airport (BOS)
Boston's Logan International Airport is often known for its dramatic landings (passengers seem to hover precariously over the nearby Massachusetts Bay before landing safely on its six runways). But this airport, the largest in New England, is also known as being one of the United States' best. It's a focus city for JetBlue as well as a top departure point for many European destinations, with cheap service from Norwegian Air Shuttle and Icelandair. One of the top airport hotels in the country plus quick service to downtown Boston on the city's MBTA are much-loved features.
8. Minneapolis-Saint Paul International Airport (MSP)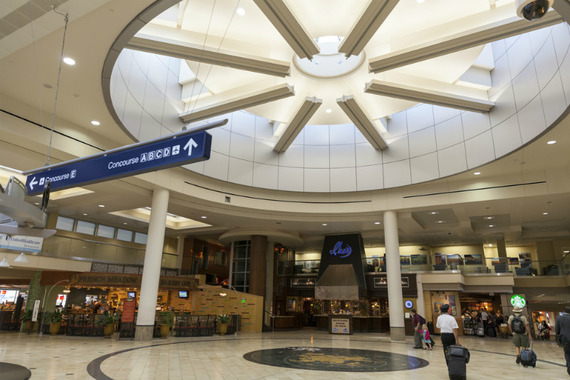 Number eight on the list of the best airports in the U.S. is Minneapolis-Saint Paul International Airport, a joint civil-military airport located about 10 miles from the Twin Cities. It's the hub for Sun Country as well as a focus point for Delta, which accounts for about 80% of MSP's traffic (which means if you're flying across the country, you may just stop there!) A long-term vision plan includes major expansion efforts, while an arts-and-culture program has been bringing programs, exhibits, and performances to MSP's modern terminals since 2008.
7. Dallas/Fort Worth International Airport (DFW)
The primary airport for the Dallas/Fort Worth metroplex is also the largest hub for American Airlines, who bases its operations there. The ninth busiest airport in the world by passenger traffic, DFW is a major launching point for some 55 international destinations. On the ground, its terminals are built for inevitable expansion and include some top amenities and services, including 100 shops, 120 restaurants and bars, multiple airline lounges, children's playgrounds, Wi-Fi hot spots and spas.
6. John F. Kennedy International Airport (JFK)
New York City's international hub, based just 15 miles from Manhattan in the borough of Queens, comes in at number six for best airports in the U.S. Some 53 million passengers pass through JFK's terminal gates each year and drop big dough on its world-class amenities and luxury shops, from Cartier to Michael Kors. Best of all, its AirTrain connects to the NYC subway system and the Long Island Rail Road (LIRR), keeping JFK accessible for city slickers and suburbanites alike.
5. Seattle-Tacoma International Airport (SEA)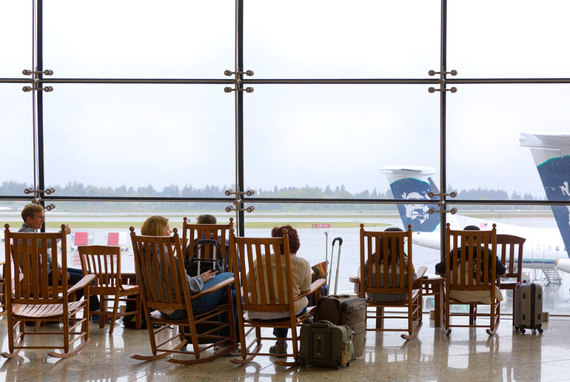 Ranking 54th overall in the world and fifth in the United States, Seattle-Tacoma International Airport (or Sea-Tac for short) is up next. It's the largest airport in the Pacific Northwest, a hub for Alaska Airlines, and an international gateway for Delta, who runs much of its Asia service here. A ton of new investment has made Sea-Tac one of the fastest growing airports in the United States, and services like its Sea-Tac Music Experience, a music-streaming program featuring local artists and live concerts, have kept Sea-Tac cool.
4. Hartsfield-Jackson Atlanta International Airport (ATL)
It's the world's busiest airport by passenger traffic, and it's also one of the best in the U.S. Atlanta's Hartsfield-Jackson is unbelievably large, covering some 6.8 million square feet and servicing well over 22 million passengers per year. It's a Delta hub, which explains the traffic. And what explains itss best-airport status for 2015? Plenty of amenities, from shops to spas, a super-speedy inter-terminal transport system, and free Wi-Fi access for all.
3. San Francisco International Airport (SFO)
Local restaurants and artisanal eats: What's more San Fran than that? The international airport is known for its curated selection of cafes and shops, but the amenities don't end there. A complimentary yoga room, an aviation museum, an interactive flight deck, and rotating art exhibitions courtesy of the SFO Museum round out the eclectic offerings. San Francisco International is the seventh busiest airport in the United States and a hub for Virgin America and United, so it's likely you'll fly out of there soon.
2. Denver International Airport (DEN)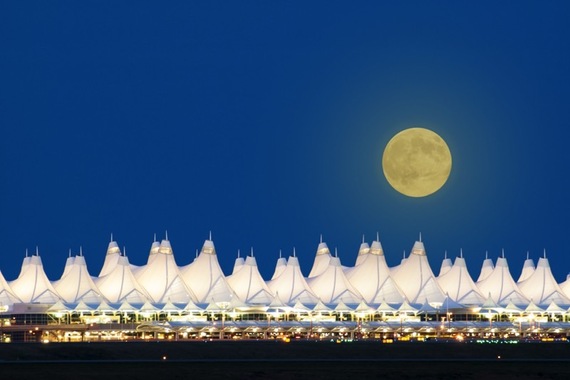 Denver's airport clinches the number-two spot for best airport in the U.S., and it's not hard to see why. The airport features some 140 shops and restaurants plus an incredibly quirky art program that's hailed as the best in the nation, with rotating exhibits of painting, sculpture, and photography. On top of that, Denver is one of the busiest airports in the U.S., featuring non-stop service to more than 20 international destinations. Not half bad for this Mile High airport.
1. Cincinnati/Northern Kentucky International Airport (CVG)
And the number-one spot goes to ... Cinci! Ranking second overall in North America and 30th in the world (the highest for a U.S. departure point this year) is this airport located in just across the state line in Hebron, Kentucky. One of the best things about this airport is its extremely handy and user-friendly website, which not only updates you on security wait times but even tells you how many parking spots are available. CVG's tech-savvy investments have clearly paid off, as it claims the title of best airport in the U.S.
This article originally appeared on Hopper.com, home of the flight-prediction app that tells you when to fly and buy. Currently available on iPhone, Hopper for Android is launching later this summer.