Now that it's September and we're not afeared of turning the ovens on, it's time to make cake for everyone we know. Seriously, birthdays seem so crazily clustered around the period from September to November we wondered what was happening nine months before...
And since all celebrations, not just birthdays, call for cake, it's cake and cupcakes that we're baking. Perhaps a friend is moving out of town, or maybe someone from out of town has arrived. New roommate? New job? Cake. Some celebrations call for towering, icing-topped cakes, and some yearn for casual make-your-own cupcakes. A refined Sunday brunch might end with an elegant Lemon-Almond Cake, with candles stuck in, and no rowdy Saturday barbecue party is complete without a Watermelon Ice Cream Cake. We made the Coconut-Three-Layer Cake for our blog's first birthday and invented the nostalgic Raspberry Cupcakes wtih Peanut Butter Buttercream when Jordana reached the ripe old age of twenty five. Whatever the occasion, you'll find a cake (or cupcake) below that's totally celebratory, yet easy enough to make in a small kitchen. Now go blow out those candles!
1. Carrot Cake
Ah, carrot cake. As good as it is for dessert, please leave a slice for the morning after. This baby makes for a breakfast of champs.
2. Coconut Three-Layer Cake
This rich, white triple-decker is the kind of cake birthday dreams are made of. So long as you love coconut you'll be happy to know that the cake batter even contains coconut milk, while the icing is covered with Almond Joy levels of the sweetened shredded stuff.
3. Chocolate Chip Cookie Cake
For the novice baker or the true cookie lover, this pizza-like cake never fails to impress. Best of all, the shape keeps the cookies ever so slightly underbaked, just how we like them.
4. Moosetracks Cupcakes
If you haven't spent a lot of time eating ice cream in Maine, I'm not 100% sure that you'll know what moosetracks even means. Besides, of course, the obvious. The answer: chocolate and peanut butter cups, which dot the icing of this divind cupcake.
5. Pecan-Espresso Birthday Cake with Coffee Icing
This cake is a serious feat of baking: a decadent, icing-covered cake that doesn't have dairy. Make this showstopper for the lactose-intolerant or kosher partiers in your life.
6. Raspberry Cupcakes with Peanut Butter Buttercream
The classic sandwich of childhood gets a makeover in these, becoming the classic childhood dessert: cupcakes. A platter of these tends to be gone in about 0.2 seconds.
7. Rich Chocolate Celebration Cake
The birthday cake of Cara's childhood, this is luscious chocolate on chocolate. Decorate it with chopped nuts, shaved bittersweet chocolate, or a pattern of M&Ms.
8. Lemon-Almond Cake
If you're the type of person who throws a brunch party for your birthday, then this cake is for you. Ladylike yet intense, it's not too heavy to follow a meal that consists of pancakes, bacon, and eggs.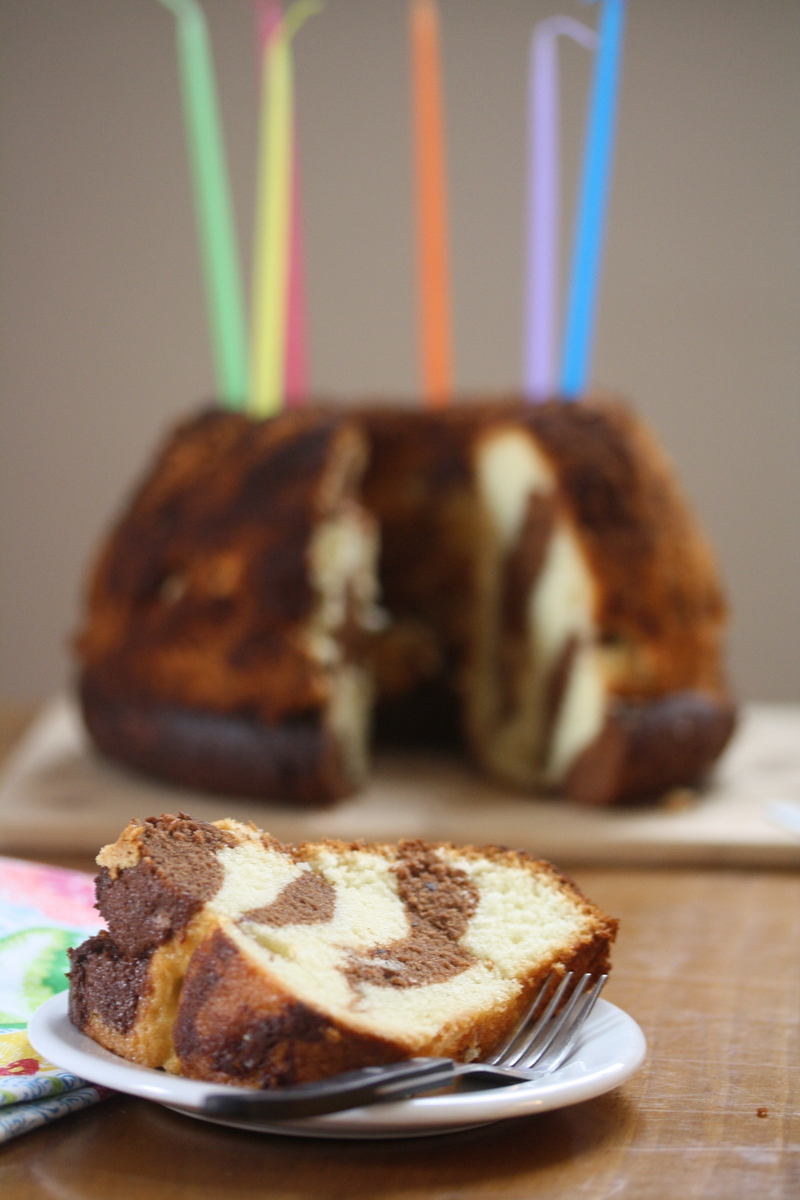 9. White & Black Pepper Marble Cake
Another cake for a sophisticated palate. This one contains savory ingredients olive oil, black pepper, and white pepper. Rather than making the cake peculiar, they give a mysterious twist to an old favorite: marble cake.
--Cara Eisenpress and Phoebe Lapine of Big Girls, Small Kitchen

Calling all HuffPost superfans!
Sign up for membership to become a founding member and help shape HuffPost's next chapter