SPECIAL FROM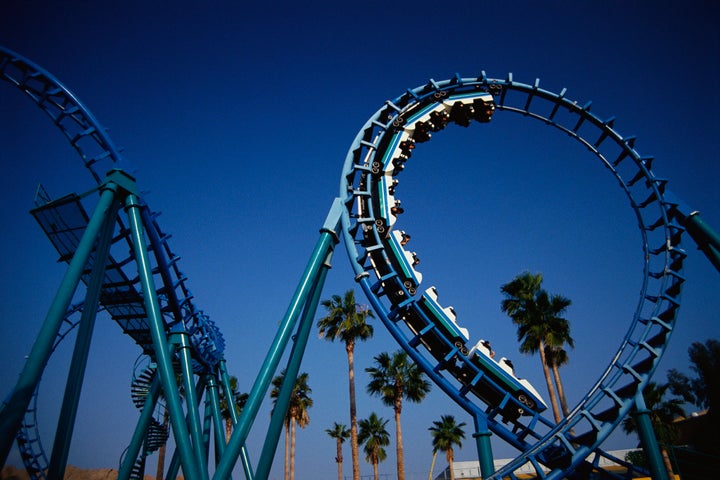 Forget Six Flags, Universal, and, for the time being, any amusement park based on a cartoon mouse—because right now, we proudly present 10 frequently overlooked alternatives that guarantee good times, often for lower prices. These family-friendly facilities aren't just great values, though; they're wonderful places to make memories for years to come. Read on for our picks. 
All prices are current as of July 2016.
Dutch Wonderland
Where: Lancaster, Pennsylvania
Medium-sized, moderately priced, and immaculately maintained, Dutch Wonderland is a delightful option for younger grandchildren, and—thanks to its Amish Country location—ideal for older tourists, too. Kids will enjoy the cartoony medieval theme, as well as the copious attractions; the grounds boast more than 30 rides (25 okay for kids under 36 inches), a modest water park, and about a dozen daily shows, all for a reasonable gate price of $41 per person. (Compare that to the $65 gate price at nearby Sesame Place.) An adjacent campground means you can keep accommodation costs low, too.
Bonus tip: Don't miss the diving shows. The finales are jaw-dropping, whatever your age.
Learn more:
Dutch Wonderland
Knoebels
Where: Elysburg, Pennsylvania
"Family friendly," "old-time, in the best possible way," and straight-up "awesome" are how longtime fans describe this 90-year-old gem, located in the wooded heart of mid-eastern Pennsylvania. In addition to its six roller coasters (including the gorgeous Twister, pictured) and 60 additional rides, Knoebels is renowned for its food, cleanliness, and value. And oh, what a value! Admission, parking, and shows are all free—the park offers tickets and all-access wristbands for rides—so thrill-averse family members can enjoy the day without worrying about the cost.  
Bonus tip: Wanna check out Knoebels' layout before you go? Take a virtual walk-through with Google Maps. It's something you can do for almost every park on this list. 
Learn more:
Knoebels
Holiday World & Splashin' Safari
Where: Santa Claus, Indiana
Drinks, parking, sunscreen, and wi-fi cost absolutely zero at Indiana's best-loved amusement park, but that's not where the fun ends. The super-clean, pleasantly staffed, 125-acre park is split into four holiday-themed areas (Christmas, Thanksgiving, Halloween, and 4th of July), each featuring an array of rides and several top-notch roller coasters.  What's more, a world-class water park—the titular Splashin' Safari—can be found right on the grounds. Check out its insanely long water coasters, Mammoth and Wildebeest, and you'll understand why the park ranks among the greatest.
Bonus tip: The food in Thanksgiving is rumored to be the best in the park. (You can probably guess why.)
Learn more:
Holiday World & Splashin' Safari
Silverwood Theme Park
Where: Athol, Idaho
Positioned in northern Idaho, right next to Coeur d'Alene National Forest, Silverwood isn't quite as accessible as other amusement parks. But don't let that stop you from visiting, especially if you're around nearby Spokane, Washington. In addition to a water park, a much-loved steam train, and two highly ranked wooden roller coasters, Silverwood boasts Aftershock, one of just five giant inverted boomerang coasters in the world. The pretty landscaping and affordable food choice receive high marks from tourists, as well.
Bonus tip: Rumor has it that area Costcos offer discounted daily admission tickets for well below the online price.
Learn more:
Silverwood Theme Park
Adventureland
Where: Altoona, Iowa
If you've ever waited more than an hour for a 45-second ride, Adventureland will be a welcome change of pace; but short lines aren't its only pluses. Situated just outside of Des Moines, the park—revamped in recent years—offers over 100 attractions for all ages, including a solid selection of lower-key flat rides for kids. Water park aficionados will especially love Adventure Bay, a 2008 addition with 10 separate features, including splash pads, multiple slides, and an extensive lazy river. Plus, as many reviewers report: You won't find a friendlier staff anywhere. 
Bonus tip: To maximize your rides, start towards the back of the park first thing in the morning and work your way forward. You'll get fast access to bigger roller coasters like Outlaw and The Dragon, and can hit other, less popular attractions later.
Learn more:
Adventureland
Lake Compounce
Where: Bristol, Connecticut
For the U.S., 1846 was a pretty big year. James K. Polk was president, the Thornton Affair kicked off the Mexican-American War, and Lake Compounce opened in the heart of New England. Now, 170 years later, the nation's oldest continuously operating amusement park is consistently ranked among the best in the land, thanks in large part to a total overhaul in the 1990s. Thrill-seekers young and old can enjoy 44 different rides, including Boulder Dash, a top-ranked wooden roller coaster, and the newest addition: Phobia, a 15-story, 65mph coaster guaranteed to elicit a scream or two. Family prices are reasonable—especially the season pass—and seniors 60-plus cost just $20.49. 
Bonus tip: There are hydration stations located throughout the park, where guests can grab a cold drink for free.
Learn more:
Lake Compounce
Morgan's Wonderland
Where: San Antonio, Texas
Inspired by his daughter, who was born with cognitive and physical delays, Texas businessman Gordon Hartman created Morgan's Wonderland, the world's first theme park devoted to kids with special needs. And what a wonderful land it is: The six-year-old, 25-acre facility includes more than two dozen wheelchair-accessible attractions, including a carousel, Ferris wheel, sensory playground, and train ride. Performances featuring puppets and costumed animals are regularly scheduled throughout the month, highlighting inclusion and imagination. Admission for kids with disabilities is free, and adults get in for just $17 ($11 for seniors/military). 
Bonus tip: The park's accessibility makes it an excellent choice for older adults, too. Senior Fridays happen twice a month and cost $8.
Learn more:
Morgan's Wonderland
Knott's Berry Farm
Where: Buena Park, California
Discussions of California theme parks tend to begin and end with Disney, Universal, and Six Flags—with one notable exception: Knott's. The former berry farm (thus the name) was family-owned from 1920 to 1997, and still retains many of its traditional attractions, from western themes to the exceptional, craft-and-home-centric marketplace. The (fairly) new owners have made their mark, though, adding brain-scrambling thrill rides—the Xcelerator roller coaster gets a big thumbs up—and a large water park. While wait times and higher food prices can be frustrating, Knott's history, charm, and solid ride selection is worth a trip.
Bonus tip: If you can't make it this summer, try going around Halloween, when the month-long, wildly popular Knott's Scary Farm event lives up to its blood-curdling reputation.
Learn more:
Knott's Berry Farm
Carousel Gardens
Where: New Orleans, Louisiana
While other parks on this list are must-see destinations, Carousel Gardens, located in the middle of New Orleans' City Park, is more of a wonderful side trip in one of the greatest metropolises on Earth. Named after its magnificent, 110-year-old carousel—featuring 53 hand-carved and -painted horses (pictured)—the Gardens offers 17 clean, kid-friendly rides and a shady respite from the intense Louisiana heat. You won't spend more than a few hours, but lines are short, meaning you can hit rides multiple times. Highly suggested for families with young children. 
Bonus tip: You can pay per ride ($4), or opt for an unlimited admission day pass ($22). Trust us—get the day pass, or look for online deals from Groupon, which occasionally offers big discounts.
Learn more:
Carousel Gardens
Cedar Point
Where: Sandusky, Ohio
Okay. So, with 3.5 million visitors per season, Cedar Point isn't exactly unknown. But to recommend another local attraction (King's Island, anyone?) is to risk being yelled at by legions of livid Ohioans, who talk about the park like most people talk about their grandchildren. So, Cedar Point it is.
Located on a Lake Erie peninsula halfway between Cleveland and Toledo, the massive, 365-acre compound is a Buckeye State treasure, up there with sweet corn and LeBron James. It lays claim to a jaw-dropping 18 roller coasters among its 70-plus rides, including the top-ranked coaster in the U.S., Millennium Force. Add in shows, putt-putt, an animatronic dinosaur playland, and 27 eateries, and the $65 gate price is more than worth it. (Don't worry, though; serious discounts are available by purchasing online.)
Bonus tip: Before you go, make sure to download Cedar Point'sfree app, which includes ride wait times, a map, and lots of special offers.
Learn more:
Cedar Point
Read more from Grandparents.com:
10 Historic Sites All Grandkids Should See
REAL LIFE. REAL NEWS. REAL VOICES.
Help us tell more of the stories that matter from voices that too often remain unheard.
BEFORE YOU GO
PHOTO GALLERY
World's Most-Visited Theme Parks