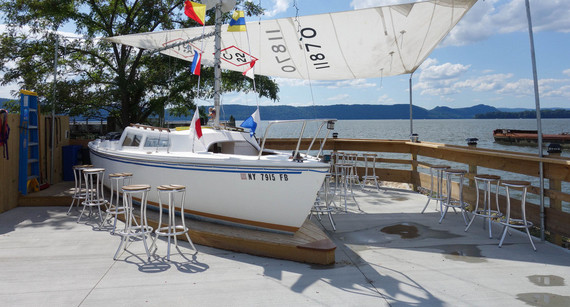 The journey to get to these 10 waterfront restaurants in Westchester is as rewarding as the dining destinations themselves. This weekend, leave the noise, the familiar neighborhoods and crowded foodie nooks to feast your eyes on one of these culinary adventures -- all easily accessible without the car. Whichever place you land first, after one outing, you'll be inspired to work your way down this list all summer long.
For spectacular sights and bites, ride the rails to Xaviars X2O, part of Peter X. Kelly's award-winning Xaviars Restaurant group. Perched over the Hudson River, here you'll find dishes incorporating classic French cooking techniques with heavy Spanish, Italian and Asian influences, such as the Thai-spiced grilled Portuguese octopus over fregola and the Iron Chef-winning grilled cowboy rib-eye steak with brown-sugar-cayenne crusted béarnaise. In the Dylan Lounge, chefs slice sushi rolls into edible works of art -- try the jalapeño hamachi with pumpkinseed oil. Top off your meal with the green tea crème brûlée or the warm Valrhona chocolate cake. How to get there: Take Metro North Hudson line to Yonkers, about 32 minutes ($15 round trip). Walk 3 minutes south to Water Grant St.
Dolphin is X2O's trendier and more accessible neighbor just down the dock. Taste fresh seafood fare like the miso-glazed Atlantic cod or the lobster ravioli with scallops and shrimp in a cognac lobster sauce. If you're in the neighborhood on the early side visiting Untermyer Gardens, come for brunch and order the crabby omelet. How to get there: Take Metro North Hudson line to Yonkers, about 32 minutes. ($15 round trip)
From the flavorful locavore menu to the sprawling riverfront space, Harvest on Hudson is a breath of fresh air. Pop in on a Thursday at 7 p.m. for the "Adult Swim" event in the lounge area, featuring a rotating cast of music styles including modern Cuban, jazz, salsa, Latin jazz, world music, bossa nova, and Brazilian music. Thursdays also mean half-off brick oven pizzas and $3 beers all night. How to get there: Take Metro North Hudson line to Hastings-on-Hudson, about 40 minutes. Walk 5 minutes north on River St. toward W Main St. ($17 round trip)
Eleven years ago, the Jim Parker and Mary Beth Dooley left their posts as movie producers to start a restaurant. As culinary directors, they wanted to "create theater" within an elegant and fun-spirited atmosphere that could "bring a bit of Manhattan to the suburbs." Much of the menu changes seasonally, so if you go this summer, try the Benjamino sandwich for lunch, the garlic mussels or the swordfish for dinner, the "egg, bacon & toast" salad for Sunday brunch, and the lemon teacakes for dessert. Look out for the new swordfish and lobster sandwiches coming out in the coming weeks. If you reserve a table for a Wednesday night, you'll be able to enjoy some classy live jazz music while you dine along the river. How to get there: Take Metro North Hudson line to Irvington, about 40 minutes. ($17 round trip)
Indian food fans will discover there is more to love about Irvington than Washington Irving's Sunnyside house. Dishes like chicken tikka, lamb vindaloo, eggplant salaam and Punjabi samosa all hit the mark at this red-bricked restaurant near the Hudson River. Summertime means "Tandoori Nights," when you can witness the nan being freshly made in a portable tandoor outdoors. The bistro is also planning a major upgrade soon: a massive west-side deck for Punjabi feasting with an unobstructed view of the water. (Currently, only a few of the tables have a view of the river.) You can always get a to-go bag for your dessert (kesari phirni, a saffron infused-rice pudding) and head over to the adjacent Matthiessen Park to catch the sunset over the river. How to get there: Take Metro North Hudson line to Irvington, about 40 minutes. ($17 round trip)
For a special occasion, bring your date to this upscale restaurant with impeccable views and a warm and relaxing ambiance. Dine outside on the patio with a glass of rosé sangria and the lobster mac and cheese. How to get there: Take Metro North Hudson line to Dobbs Ferry, about 48 minutes. ($17 round trip)
This nautical, beach-inspired taco joint is a real catch among the crowded Port Chester restaurant scene. Bite-sized soft-corn tacos are their specialty, so be sure to try the crispy baja fish or oyster tacos (local favorites), the pork-belly taco (manager's favorite), and the curry shrimp taco (my favorite). Top it all off with some can't-miss churros with chocolate and a "Port Chester Reviver" or two (or three, if you plan to stick around for the DJ bar scene that picks up around 10pm). Know this: if you want immediate access to the best seaside tables on the gorgeous deck, get there when the doors open at 11:30am. After noon on a summer weekend, be prepared to wait a bit. Look out for the new lobster taco coming out in the next few weeks. How to get there: Take Metro North New Haven line to Port Chester, about 50 minutes. Walk 5 minutes to Willett Ave. ($18 round trip)
The main dining room looks out over the Hudson River and Tappan Zee Bridge so you can take in the Palisades all the way up to Hook Mountain State Park. This summer, head over to the tiki bar and outdoor grill area for the same great views of the Hudson with a more casual atmosphere. Try the pescatore dinner, the tuna tartare with seared ahi tuna loin and Japanese cucumber, or the fig jam, prosciutto and goat cheese sandwich on Italian bread. How to get there: Take Metro North Hudson line to Tarrytown, about 45 minutes. Walk 9 minutes the Washington Irving Boat Club. ($19.50 round trip)
This small, independently owned restaurant has a dock dining area that overlooks the Westerly marina and a nifty "boat bar" that has been converted into a full-service station. You'll get more-than-generous portions on pasta orders, so make sure you take some of their famous "Angry Val" home with you. And all entrées are under $25 a head--sunset views included. How to get there: Take Metro North Hudson line to Ossining, about 1 hour. Walk 4 minutes toward Quimby St. and turn left. ($19.50 round trip)
A trip to the Thayer Hotel's Zulu Time Rooftop Bar is the perfect way to round out a day trip to the West Point area, be it with drinks, snacks, or a full meal. Surrounded by spectacular river-meets-mountain views, enjoy the coriander ginger shrimp or the sliced prime rib sandwich with their signature "Double Tap" drink special--a 16oz beer, a shot of tequila, and a souvenir cup and t-shirt. And if you happen to be a USMA grad, show off your class ring on Thursday nights to get a free drink. How to get there: Take Metro North Hudson line to Garrison, about 1 hour 12 minutes ($26.50 round trip). Then take a 17-minute cab ride to the Thayer Hotel.
Photos: The Boathouse, mozzarellahead, Harvest Group, Chutney Masala Indian Bistro, Harvest Group, laissezfare, Sunset Cove, Thayer Hotel
Related
Popular in the Community