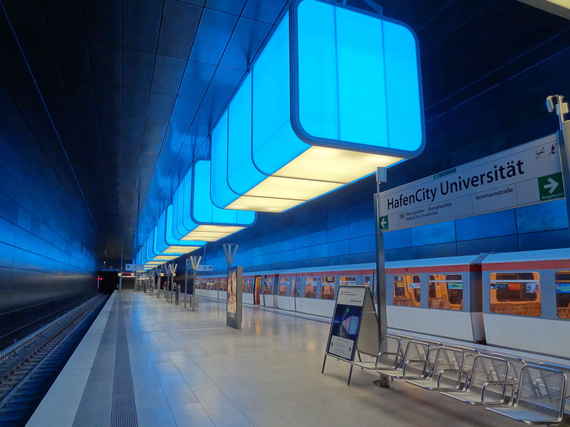 Credit: Flickr/Jamie Moore
New Yorkers spend most of their time on the subway either stressing over train delays or wondering why the dude manspreading next to them is wearing a velour jumpsuit and eating a full plate of spaghetti. Straphangers abroad have similar woes, but with an added bonus: Many of their subway stations are actually nice to look at!
And to prove just how good other subway riders have it -- at least in terms of aesthetics -- we scoured the world's metro tunnels to find the 10 coolest subway stops on Earth.
SPOILER ALERT: Times Square - 42nd Street didn't make the cut.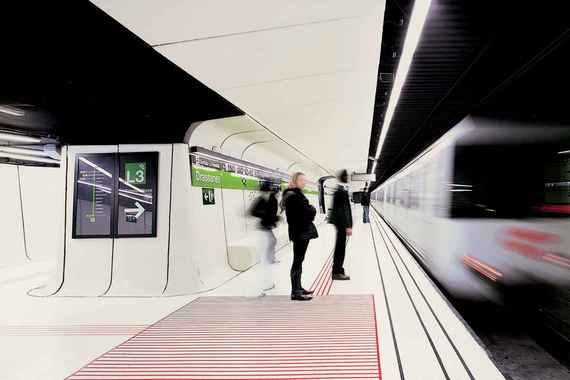 Credit: on-a Architecture Lab
Drassanes Station
Barcelona, Spain
It might look like a set from Tron or Star Wars, but that wasn't always the case. Drassanes station's proximity to the Port of Barcelona resulted in some pretty serious flooding problems a while back, and as a result, the station was remodeled in 2007. Architectural firm ON-A led the charge and wanted the space to emulate the look and feel of a train car, with glass-reinforced concrete panels and zig-zagging overhead lights.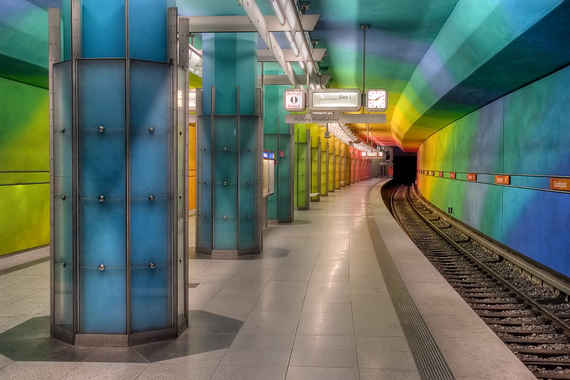 Credit: Flickr/Achim Lammerts
Candidplatz
Munich, Germany
This stop on the Munich U-Bahn was named after a 16th-century Flemish painter and, as such, has an artsy feel; the walls, ceilings, and pillars are all bathed in the colors of the visible light spectrum. It's a captivating sight to behold, unless you're colorblind.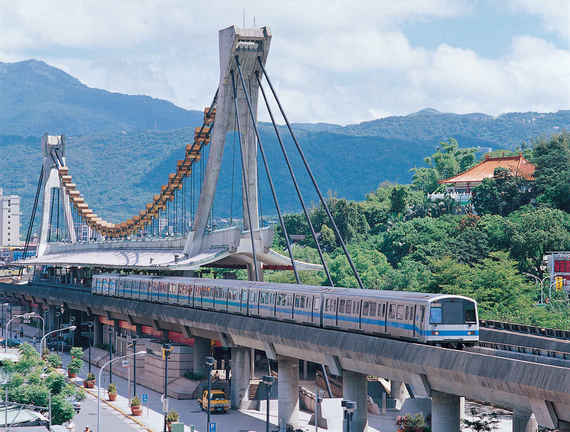 Credit: Wikimedia Commons user Yulu
Jiantan Station
Taipei, Taiwan
Arguably the most striking Metro station in Taipei, Jiantan received almost instant recognition for its distinctive design, a blend of modern minimalism and traditional Chinese dragon-boat styling. Jiantan is often packed with evening travelers thanks to the nearby Shilin Night Market -- one of the busiest in the city.
Burj Khalifa/Dubai Mall Station
Dubai, UAE
One of the Dubai metro's busiest stations, it opened to the public on the same day as the nearby Burj Khalifa and is a prime example of the uniform design implemented throughout the metro system. It also features a climate-controlled, 2,690-foot footbridge that allows people to visit the Dubai Mall without having to take a bus. How walking the equivalent of nearly 10 football fields is any better than taking a bus, though, is anyone's guess. Even if it does have A/C.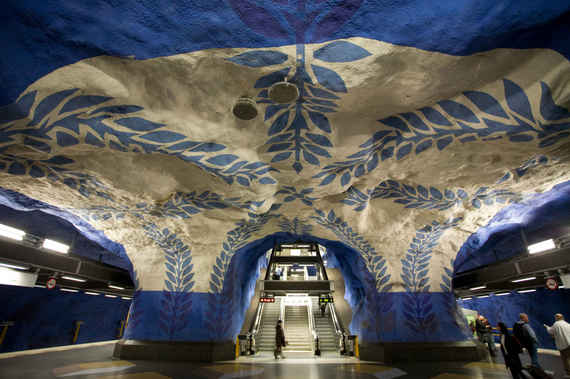 Credit: Flickr/Milton Correa
T-Centralen
Stockholm, Sweden
Sitting, as the name would suggest, at the center of Stockholm's metro system, T-Centralen serves as the crossroads for all three of the city's subway lines. Like several other stops on the Blue Line, T-Centralen is noteworthy for its painted bedrock ceilings and walls that make you feel like you're in an actual cave -- albeit a well-lit, and intricately painted one.