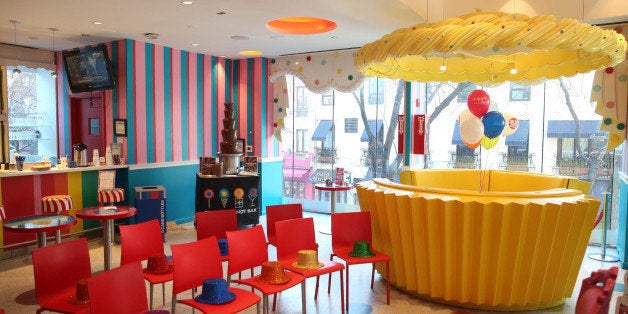 Whether you have a taste for the sweet stuff or simply love vibrant design, our slide show of dazzling candy shops will satisfy your craving.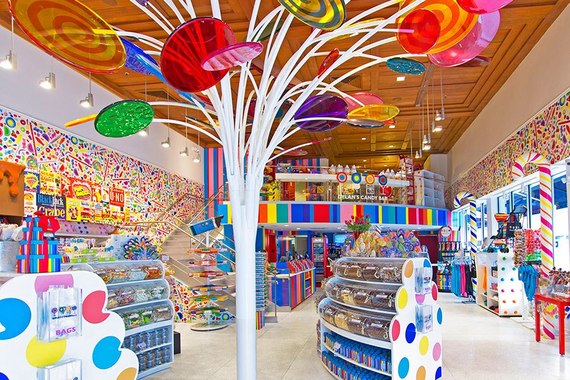 Candy mogul Dylan Lauren--daughter of fashion designer Ralph Lauren--brought her popular treat emporium south in 2013. A lollipop tree stands in the center of the main floor, candy cane columns surround the perimeter, and cases are adorned with oversize candy buttons. Lauren collaborated with Gensler on the design for the space in the landmarked building and kept the original wood ceilings, which she thought looked like chocolate bars. 801 Lincoln Road, Miami; dylanscandybar.com.
THE CANDY ROOM, MELBOURNE, AUSTRALIA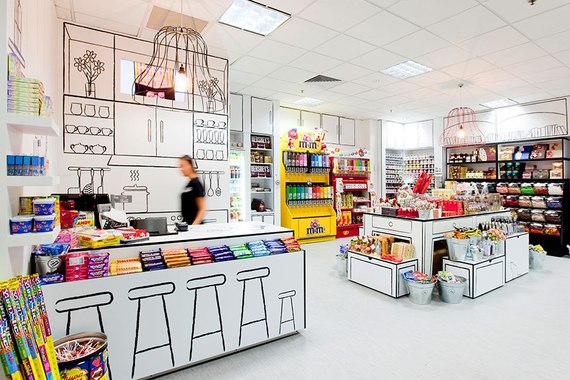 Local firm Red Design Group used line drawings to create the playful two-dimensional surroundings of the Candy Room. The black-and-white interiors look like a child's artwork come to life, with bursts of color supplied by the shop's wide selection of candy. 1/155 Queen Street, Melbourne; 011-61-39-670-7665.
CANDYLAWA, RIYADH, SAUDI ARABIA
Pronounced "candy lover," Candylawa is a cartoonlike wonderland of sweets. Created by Redesign Group, a New Zealand firm, the two-level store is divided into several sections, including stations for design-your-own lollipops or marshmallows and a French patisserie for parents--or kids--with a more sophisticated palate. Panorama Mall, Takhassusi Street, Riyadh, Saudi Arabia; candylawa.com.
SUGARFINA, BEVERLY HILLS, CALIFORNIA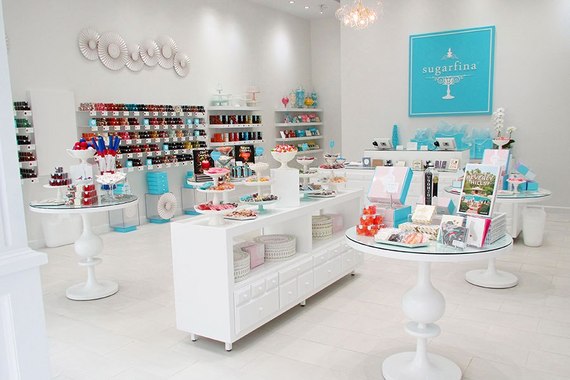 Rosie O'Neill and Josh Resnick wanted to create a candyland for adults when they opened Sugarfina. Specializing in international sweets, the shop includes more than 125 varieties, two-thirds of which aren't available anywhere else in the U.S. The signature turquoise bento boxes can be customized with different candy cubes (the store's candy consultants pass samples to help you make your selections). 9495 South Santa Monica Boulevard, Beverly Hills, California; sugarfina.com.
At Resorts World Sentosa, Singapore's answer to Las Vegas, Candylicious offers 9,000 square feet of sugary treats. Trees dripping with candy flank the entrance to the shop, and the walls are lined with over 250 pick-and-mix varieties. The store also offers more than 5,000 different products from well-known brands such as M&M's and Hershey's. 26 Sentosa Gateway, Resorts World Sentosa, Singapore; candyliciousshop.com.