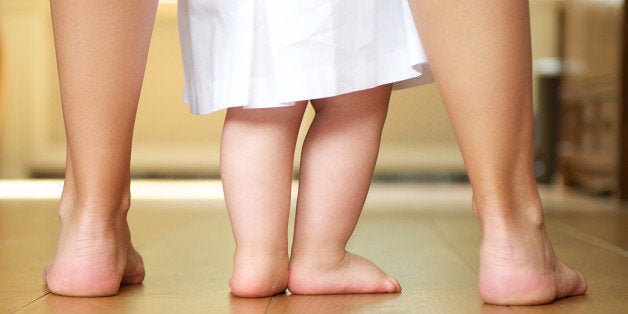 In June of 2015, Abby Williams and her husband took their sweet 2-year-old son, Wyatt, to the pediatrician after a minor fall. Although their son wasn't eating or drinking as he normally does, the pediatrician wasn't too concerned. The Williams had no idea their lives would drastically change in 24 short hours.
The bruising on his ear was a bit unusual, so the pediatrician ordered some blood tests to check for anemia. The tests revealed their son's platelets were low, so a visit to the local ER was recommended. After further tests were done at the ER, the Williams received the shocking diagnosis that their tiny toddler, who loved playing outside poking bugs with sticks and seemed perfectly healthy, had Acute Lymphocytic Leukemia.
Naturally the Williams were shocked, but had little time to digest the news as immediate treatment was necessary. These parents who took their toddler to the pediatrician just to be on the safe side now found themselves being introduced to an oncology staff at a nearby hospital. The staff greeted the family warmly and treated them with the compassion two parents whose lives have been turned upside down would expect. The staff knew the shock and devastation of the diagnosis was only the beginning of their journey.
Within a week of admittance, little Wyatt had surgery to place a port to begin chemotherapy. Like most toddlers, lying in a hospital bed wasn't his idea of fun. So the Williams spent much of those nine days at the hospital just walking laps in the hall trying to occupy their bored toddler, Wyatt's IV pole trailing behind.
"I often found myself sneaking back to his hospital room where I would close the door and just cry alone," said Abby, recalling those first days. "My perfect baby boy. How does this happen?"
The Williams left the hospital with a schedule of his outpatient treatment. Within only days, their son began spending more time sleeping as his blood cell counts plummeted. He lost his sandy brown hair within weeks, revealing a perfectly round head, which accentuated his adorable, cherubic features.
By day 29 of his treatment, the cancer went into remission. More than one year later, Wyatt is a spunky little boy with neatly trimmed brown hair and a beautiful, infectious smile. Although he is in remission, Wyatt still has a long battle ahead of him. He'll need two more years of chemo. His tenacious parents' worries are not over, as the risk of relapse and the late effects of treatment are an unfortunate reality they hope not to face.
"My son, my little hero will be a cancer survivor before he reaches elementary school," said Abby. "I remember driving to work in the past when the local 'kids cancer radio-a-thon' would come on. I listened to those families tell their stories and shake my head in disbelief, wondering how they do it. We're now that family. Our whole life changed in a heartbeat."
Abby's fighting too. When faced with the nightmare of her child being diagnosed with cancer, a group of moms could empathize with her like no one else could because her nightmare was also their reality. The group-- Momcology-- provided a secure place to seek support and remind moms like Abby that she's not alone, no matter how isolated she may feel. These extraordinary moms are fighting especially hard this September, during Childhood Cancer Awareness Month. There's so much about childhood cancer we all need to be aware of and help fight this battle alongside them.
Here's what they want us to know:
1.Be positive. Don't tell them about those you know who died from cancer. (Does that really need to be said? Come on, people.) Don't stare. Smile. Be friendly. Everyone in a family affected by cancer could use a hug.
2.The fight is not over when chemo ends. Families affected by childhood cancer are constantly plagued with the fear of relapse and the late effects that can occur months or even years after treatment.

3.Childhood cancer research is severely unfunded. The taxpayer-funded National Cancer Institute spends about 4 percent of its annual budget on childhood cancer. Children are dying every day while waiting for advancements in treatment that lack funding.
4.There are not special treatment options to combat childhood cancer. You know an adult who suffered the horrific effects of chemo? Toddlers with cancer receive the exact same treatment. Imagine how difficult that must be for a small child and for the family to watch their baby endure such pain.
5.They need you. They're pleading with you, their friends and family, not to abandon them. I understand the horror of the diagnosis may make you uncomfortable and you may not know what to say. But, they need you now more than ever before. Just be there for them.
6.Don't ask if they need help, of course they need help! Start a meal train. Drop off a gas card to help offset expenses. Surprise them by paying a utility bill. Mow their lawn. Bring them coffee. Take the initiative and help. Don't forget about the siblings either. They need extra love and attention too.
7.They need to take mental health days. As you can imagine, they're mentally taxed from thinking about and discussing everything related to their child's cancer. If they get more information related to their child's prognosis, they may not be ready to discuss. They'll update you when they're ready.
8.They don't want to hear your "miracle cures." If coconut oil really cured leukemia, they'd be buying barrels of it. They have few options in terms of effective treatment and their child's health is of the utmost importance. Unless you're a physician on the child's medical team, do not give medical advice.
9.You may see a child with cancer laugh, smile or have a head full of hair. That child is still sick. The child's family sees them on their bad days and knows this, which is important to remember.
I challenge you to make a difference this month in the fight against childhood cancer. Do it for Wyatt. Do it for the children lying bored and lethargic in hospital beds across the country. Do it for the Momcology moms like Abby who want to be heard. Do it in memory of children like Kate Rhoades, whose mom won't be taking a back to school photo this year after Kate died of cancer. Do it for all the children who have yet to be diagnosed. Make a difference this month, even it is by sharing this article.
Popular in the Community