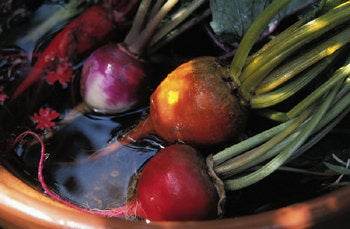 They may not be the prettiest things you'll find in your local produce aisle, but beets, or beta vulgaris as the plant is known scientifically, can do some beautiful things to your health. You'd never know it from its unassuming appearance, but the beet may well be nature's multivitamin, loaded with nutrients like potassium, vitamin C, fiber, iron, antioxidants and betaines, which help fight inflammation. No surprise then that studies have found that consumption of beets can help lower the risk of heart disease and some cancers.
There's a good chance that beets aren't the first things that come to mind when planning your week night meals. But there are actually endless ways to work beets into your diet without any trouble. They're simple to roast, steam or boil and they're great in everything from salads to desserts. Yes, dessert! Beets are naturally sweet and moist, which makes them a perfect addition to cakes. And while you probably don't think much of drinking beet juice, research shows that doing so might help your blood pressure. Plus they mix well with other fruits and vegetables.
You can find beet juice recipes -- and many more -- in the new book The 10 Things You Need to Eat and you can watch a tip for preparing beets in the video below.