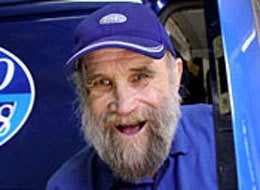 Already Britain's oldest employee, 101-year-old Buster Martin now aims to become the world's oldest marathon runner by completing the London Marathon and celebrating with a pint of beer and a cigarette.
Sprightly and bearded, he completed a half marathon at the weekend in five hours 13 minutes. The former Army physical training instructor works three days a week for a London plumbing firm and says he has trained for the April 13th race in his spare time.
Update: It looks like we're going to have to declare Buster the official hero of the Living page. In March of last year, Buster fought off a gang of teenagers who tried to mug him as he walked home from the local pub.
'Then they pushed me on the floor and I went mad. I was lashing out on the floor and then I stood up and was kicking them all.
'I pushed one and kung fu kicked the other one between the legs and he let out a scream. They ran off scared after I did that and I still had all my money.'
...He even turned up to work the next day despite needing hospital treatment for a bruised rib and a bump on the head.
Popular in the Community