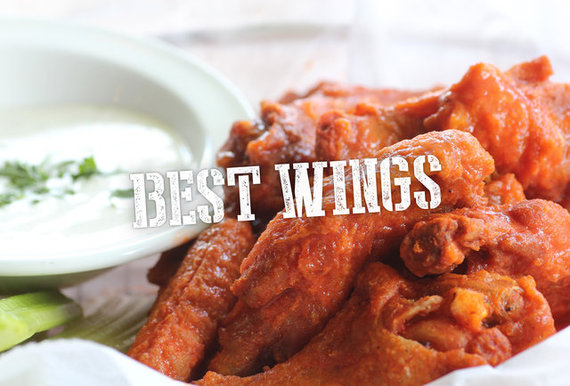 We've done our own due diligence on chicken wing research (check the best in NYC, Chi-town, and SF), but when it comes to dedication to sauce-drenched Buffalo wings, the dude behind The Great Chicken Wing Hunt (in theaters and online Jan 14) truly is a rare bird.
Documentarian Matt Reynolds amassed a ragtag crew of fowl fanatics (including a competitive eater named Thor) and spent three weeks hitting over 75 wingstaurants in the "Wing Belt", an area comprised of upstate NY, Pennsylvania, Vermont, and Ontario.
With a scoring system developed by University of Michigan scientists (presumably to the dismay of their superiors), the wing hunters rated each wing and crowned an experimental champion who shook the idea of a Buffalo wing to the bone. To celebrate, here're ten of Matt's favorite spots from along his travels, though you'll have to watch his film to find out which of these he liked the most.
Atomic Wings
Various locations
"All things every wing chain should be. Consistently good, with an array of heat levels, including three high-heat sauces: abusive, nuclear, and suicidal. The owner claims (and from what we can tell it's all true) that he pretty much introduced Buffalo wings to NYC in the 1980s, having gone to school in Buffalo and apprenticed at the legendary wing house Duff's, one of the first places to make wings after the Anchor Bar."
Abigail's
Geneva, NY
"Tucked away in a small town in New York's Finger Lakes region, Abigail's is home of wing genius Marshall Grady, inventor of more than 100 types of wings, many of which are solid, but ultimately unmemorable. The exception is his take on Buffalo sauce, which he calls 'Bleu Bayou', and which might just be the next big thing in wing sauces."
Dorato's, Sutter's Mill, and Across the Street Pub
Albany, NY
"The Wing Hunters called these the 'Albany Triumvirate' -- just solid, solid, solid across the board. Albany is a very strong wing town and these three epitomized how to do it right: fresh, never frozen wings. Change deep-fryer oil frequently. Fry at temperature and at length such that skin is crispy and meat is tender and juicy (but never pink!)."
Mudville 9
New York City
"A well-appointed, but not especially memorable, sports bar in NYC's financial district. Not memorable except for the wings -- consistently good across the board, with a great, great ultra-hot hot sauce made with fresh peppers. Wing Hunt focused on Buffalo wings, but it's worth mentioning their fine array of novelty wings, including one of the best honey-mustard sauces out there."