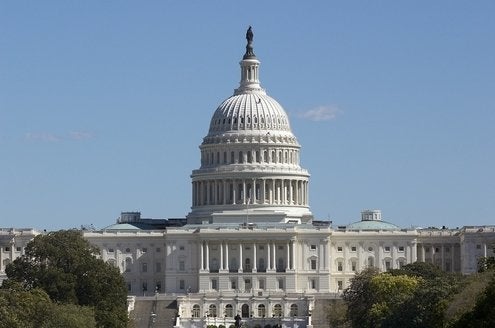 The members of the 111th Congress are being sworn in today, and there are quite a few new faces. The incoming freshman class in the House of Representatives has 54 members, as well as two freshmen delegates:
John Adler, N.J.; John Boccieri, Ohio; Bobby Bright, Ala.; Gerald Connolly, Va.; Kathleen Dahlkemper, Pa.; Steve Driehaus, Ohio; Alan Grayson, Fla.; Parker Griffith, Ala.; Deborah Halvorson, Ill.; Martin Heinrich, N.M.; Jim Himes, Conn.; Mary Jo Kilroy, Ohio; Ann Kirkpatrick, Ariz.; Larry Kissell, N.C.; Suzanne Kosmas, Fla.; Frank Kratovil Jr., Md.; Ben R. Lujan, N.M.; Michael McMahon, N.Y.; Daniel Maffei, N.Y.; Betsy Markey, Colo.; Eric Massa, N.Y.; Walt Minnick, Idaho; Glenn Nye, Va.; Thomas Perriello, Va.; Gary Peters, Mich.; Chellie Pingree, Maine; Jared Polis, Colo.; Mark Schauer, Mich.; Kurt Schrader, Ore.; Harry Teague, N.M.; Dina Titus, Nev.; Paul Tonko, N.Y.
Steve Austria, Ohio; Anh "Joseph" Cao, La.; Bill Cassidy, La.; Jason Chaffetz, Utah; Mike Coffman, Colo.; John Fleming, La.; Brett Guthrie, Ky.; Gregg Harper, Miss.; Duncan Hunter, Calif.; Lynn Jenkins, Kan.; Leonard Lance, N.J.; Christopher Lee, N.Y.; Blaine Luetkemeyer, Mo.; Cynthia Lummis, Wyo.; Tom McClintock, Calif.; Pete Olson, Texas; Erik Paulsen, Minn.; Bill Posey, Fla.; Phil Roe, Tenn.; Thomas Rooney, Fla.; Aaron Schock, Ill.; Glenn Thompson, Pa.
Pedro Pierluisi, D-Puerto Rico; Gregorio Sablan, I-Northern Mariana Islands.
The Senate has nine new members, seven Democrats and two Republicans. The new Senate is unfortunately mired in controversy as there are myriad issues that remain unresolved. In a chaotic scene at the Capitol this morning, Roland Burris, appointed by Illinois Governor Rod Blagojevich to fill President-elect Barack Obama's Senate seat, had his credentials rejected by the secretary of the Senate, which means he may not be seated. It remains to be seen how this will play out, but experts doubt the Senate's constitutional authority to deny seating Burris. Al Franken has claimed victory against Norm Coleman in the Minnesota Senate race, but Coleman has vowed to challenge the election results in a lawsuit, so the race is not officially over.
Two senators, Hillary Clinton of New York and Ken Salazar of Colorado, are resigning their seats in order to serve in Obama's cabinet. Neither have officially resigned yet, instead waiting until they are confirmed in their cabinet posts, Clinton as Secretary of State and Salazar as Secretary of the Interior. New York Governor Paterson has yet to pick a replacement for Clinton, and Colorado Governor Bill Ritter has chosen Michael Bennet to replace Salazar once Salazar resigns his seat.
Here is some information about the new Senate members from the AP:
Democrats (7):

_Mark Begich, Alaska. Begich, 46, is a two-term mayor of Anchorage who defeated 85-year-old Ted Stevens, the longest serving Senate Republican, by less than 4,000 votes. Begich wasn't declared the winner until two weeks after the election, securing the seat in the GOP-dominated state after Stevens was convicted on corruption charges. His father, Nick Begich, who was Alaska's only congressman in 1972, was killed when his plane disappeared over the Gulf of Alaska with then-House Majority Leader Hale Boggs of Louisiana.

_Kay Hagan, North Carolina. Hagan, 55, captured a closely contested race against Sen. Elizabeth Dole. She went into banking after earning a law degree. Hagan won a seat in the state Senate 10 years ago, quickly rising to become a chief budget writer. With her influence over state spending, Hagan actively pushed for more funding for education and became one of the most powerful women in Raleigh, rising through leadership usually dominated by men. Her late uncle, Lawton Chiles, was a senator and then governor of Florida.

_Jeff Merkley, Oregon. The 52-year-old Portland Democrat defeated incumbent Sen. Gordon Smith. The first member of his family to go to college, Merkley began a "100 towns for change" tour in June in Myrtle Creek, the southern Oregon timber town where he was born and where his father earned a living as a mill worker. He received a master's degree in public policy from Princeton and a bachelor's degree in international relations from Stanford. In the mid-1980s, Merkley worked as a national security analyst for the Pentagon and the Congressional Budget Office. First elected to the Oregon House in 1998, Merkley served as House minority leader from 2003 to 2006 and was elected speaker in January 2007.

_Jeanne Shaheen, New Hampshire. The first woman elected governor of her state became its first female senator in her second race against Republican Sen. John Sununu. In 2002 she lost to Sununu by 4 percentage points. Shaheen, 61, won the first of her three two-year terms as governor in 1996. Before that, she had served six years in the state Senate. Before entering politics, she worked as a university administrator, campaign aide, jewelry store owner and teacher.

_Mark Udall. Colorado. Udall, 58, was in the Colorado House for two years and served in the U.S. House for a decade before his election to the Senate. He is expected to concentrate on environmental and energy issues in the Senate, as he did in the House. His father, the late Morris Udall, represented Arizona for three decades in the House. Mark Udall will be joined as a Senate freshman by his cousin, Tom Udall of New Mexico.

_Tom Udall, New Mexico. Udall, 60, succeeds New Mexico's longest-serving senator, Republican Pete Domenici, who announced his retirement after 36 years in the Senate. Udall has spent a decade representating his district in the House after serving as New Mexico's attorney general for seven years. He still wears cowboy boots under his business suits, a habit that reflects his upbringing in a ranching family that once drove cattle across territorial New Mexico. His father is Stewart Udall, a former Arizona congressman and Interior secretary.

_Mark Warner, Virginia. After getting a law degree from Harvard, Warner, now 54, moved to Washington, where he earned as little as $350 a week as a Democratic fundraiser. He turned to business, making millions by obtaining licenses to radio frequencies that would one day link millions of wireless telephones. In 1996 he spent $10 million of his own money in a close but unsuccessful attempt to unseat GOP Sen. John Warner (no relation). He was elected Virginia governor in 2001 and explored but later abandoned seeking the Democratic presidential nomination in 2008.

Republicans (2):

_Mike Johanns, Nebraska. Johanns, 58, comes to the Senate with a wealth of government service. Switching from Democrat to Republican and entering local politics in 1983, he was mayor of Lincoln from 1991 to 1998, served as governor from 1999 to 2005 and was the Bush administration's Agriculture secretary from 2005 to 2007. He succeeds Republican Chuck Hagel, who retired.

_Jim Risch, Idaho. Risch, 65, succeeds Larry Craig as Idaho's Republican senator. Like other Western Republicans, he is a fiscal conservative who supports gun rights, opposes giving amnesty to illegal immigrants and supports greater development of U.S. energy resources. He won his first election, as a local chief prosecutor, at age 27. That was the first of 31 campaigns that would eventually make Risch a state senator, two-time lieutenant governor and governor before his election to the Senate.
Roll Call has a nice article detailing the deep loss of legislative experience in Congress, as "Election-day defeats, retirements and departures for jobs in Obama administration will leave Democrats and Republicans without key legislative dealmakers in the 111th Congress."
Democrats unanimously re-elected Nancy Pelosi as Speaker of the House, solidifying her power within the party.
USA Today reports that when it comes to religious affiliation, this Congress is very diverse, much like the populations they represent.
ABC News details the seating arrangements of the new the Senate, and has a fun interactive feature that allows you to see who sat where in the past and their signatures on the inside drawer, a long-time Senate tradition.
The New York Times notes that while this new Congress is diverse, it is a decidedly moderate group, made so by an influx of moderate Democrats.
Watch Cheney swear in a group of senators.
<0--6534723001--hh>0--6534723001--hh>
Watch Pelosi sworn in as Speaker of the House.
Watch the chaos as Burris arrives at the Capitol.
<0--6526044001--hh>0--6526044001--hh>
Calling all HuffPost superfans!
Sign up for membership to become a founding member and help shape HuffPost's next chapter