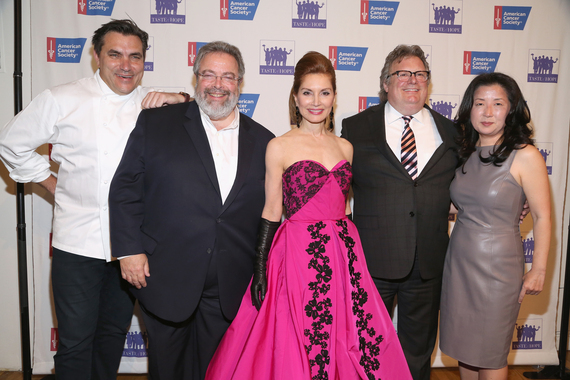 Todd English, Drew Nieporent, Jean Shafiroff, David Burke, EVP of American Cancer Society Kris Kim

"There is no love sincerer than the love of food", said George Bernard Shaw. What was not to love at the Annual Taste of Hope. For the 11th year the best chefs and epicureans gathered at the Metropolitan Pavillon to indulge their love of great cuisine and cocktails to support The American Cancer Society. On Wednesday, May 25th, 800 guests were greeted at the door with a selection of Bombay Sapphire cocktails. Guests enjoyed a walk-around tasting where they had the chance to sample trademark dishes, premier wines and spirits, and inventive cocktails.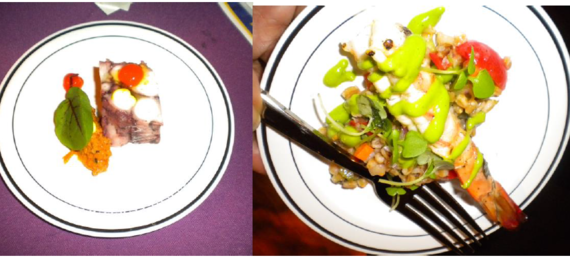 Sea Fire Grill Mediterranean Octopus Terrine and Rock Center Café Grilled Shrimp and Farro Salad
Restaurants and chefs included cancer survivors Eric LeVine of Morris Tap & Grill and Chef Antonio Prontelli of Rock Center Café. Dishes served ranged from savory delicacies such as Fish Tacos from Almond, Mini Pulled Pork Sliders from Dinosaur Bar-B-QUE and Watermelon Gazpacho with Lobster Salad from La Fonda Del Sol. A few standout savory plates were by Chef Max Miami's Coffee-Braised Pork Butt with Grilled Pineapple, Chef Todd English's Crispy Duck Buns with Grilled Five Spice Duck Breast, Nobu New York Chef Ryo Hasegawa Tuna Sashimi with tofu Aioli and Ben & Jack's Steakhouse Chef Admir Alibasic's Tenderloin over Garlic Truffle Mashed Potatoes topped with Fried Onion Strings.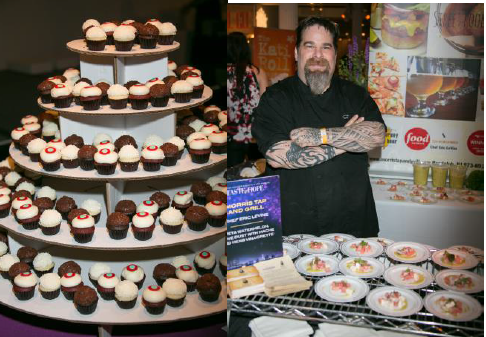 Sprinkles Cupcake Tower and Chef Eric LeVine
Almost 50 participating restaurants and beverage sponsors were represented at the event which included: AG Kitchen, Alidoro, Almond, BLT Prime, Calle Ocho, Fresco By Scotto, La Fonda Del Sol, Luke's Lobster, Magnolia Bakery, Nobu New York, Rock Center Café, STK Downtown, Todd English, Triomphe, Voilà Chocolat and many more. The desserts were imaginative and decadent to the sweet Southern Style Cupcakes from Doc's Cake Shop and Banana Pudding from Magnolia Bakery. Serendipity 3 Frrrozen Hot Chocolate and Voila Chocolat Gourmet Chocolate Truffle Bar to name a few. Bountiful premier wines and spirits were for tasting from Takara Sake, Domaine Paul Mas, Concannon, Benzinger, Zardetto, Wente Family Estates, Super Bock Pale Lager and Don Q Rum. Generous corporate sponsors of the event were Allstate, Don Q Rum, Eurostruct Inc, Freshdirect, Gentle Giant, Halstead Property, Sabert, Tito's Handmade Vodka, UHY LLP, Umenoyado, Vinitaly International and Wine Spectator. A silent auction boasted great swagg of an exclusive Hamilton theater package, a Fiddler on the Roof theatre package, a Martha Stewart cooking kit, a Knicks pre-game ballkid experience and a golf tutorial by a PGA Tour superstar instructor. An hour into the event, event chairs Mark D. Friedman & Jamie Koff took to the stage to introduce the 2016 event host Chris Wragge as well as this year's honorees David Burke, Drew Nieporent and Jean Shafiroff. Friedman thanked the guests and honorees for coming and for their generous donations to the American Cancer Society and its work. Koff continued on to thank the event committee for all their hard work and dedication to the ACS mission. Hosts CBS news anchor Chris Wragge and actor Richard Kind kept the evening in full swing. Philantrophist Jean Shafiroff was honored for dedicated service to the organization fight against cancer. So many lives had been challenged by cancer. Co-Event chair Mark D. Friedman spoke of his lovely spouse, " My wife is a survivor and we lost her sister and brother to pancreatic and prostate cancer. I started (volunteering) with a friend and client who I closed on a property. This is now what I do when I'm not being a real estate broker. In the interim my mother got cancer. It's all personal and touched everyone I know". Culinary honoree and award-winning celebrity chef David Burke shared, "I had a relative and friend die from cancer. My Dad had melanoma. My grandfather died from cancer and it's sad he's not here to see what I do. The big picture of the benefit tonight is it's nice to take the talent and use it to raise money." Corporate Honoree and Owner of Myriad Restaurant Group Drew Nieporent had his own personal memory of a love one's lost, "I think everyone's family is affected by cancer. My mother developed lymphoma and that really hit home. She passed away in 2000. Everyone has to do their part and this event really helps out. The American Cancer Society is a class act".




Guests David Alan Basche and Alysia Reiner, Ruben Santiago-Hudson, Host Chris Wragge, Event Co-Chairs Mark D. Friedman and Jamie Koff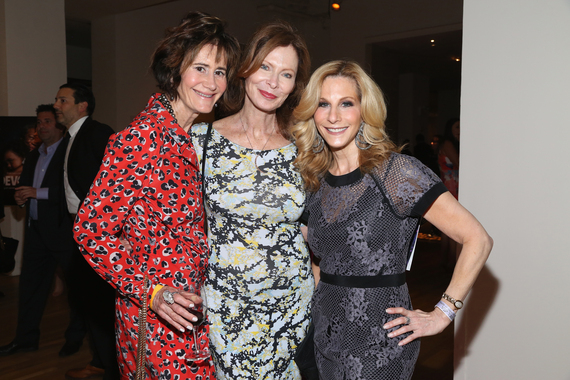 Guests Lee Fryd, Nancy Noondes, Randi Schatz
The evening netted $200,000 to support the American Cancer Society's mission and goal of eliminating cancer as a major health problem. The Society is currently investing more than $450 million in over 50 types of cancer research, with 103 new extramural grants that will go into effect this July. A delectable evening was had for a good cause. Everyone who wasn't stuffed left with Goodie Girl Cookies for later.
All Photos Patrick McMullan
REAL LIFE. REAL NEWS. REAL VOICES.
Help us tell more of the stories that matter from voices that too often remain unheard.