Saturday Night Live returns for its first show of 2017 this Saturday, January 14 at 11:30/10:30c on NBC. This will mark the midway point in Season 42, which has proven to be one of the most popular and impactful seasons in recent years. In addition to the memorable impressions, original characters, and music videos, all of the political sketches were on point this past year, which is typically true for SNL in election years, but there was something particularly alluring about the on-screen hilarity that ensued in an otherwise unfunny year. This is partly because Alec Baldwin returned to the show to play Trump in an impression so accurate that the now president-elect has taken it upon himself to send out multiple tweets insulting Baldwin's performance, partly because Emmy award-winning Kate McKinnon created the definitive comedic impression of Hillary Clinton, and partly because comedic masterminds Chris Kelly and Sarah Schneider were promoted to co-head writers of SNL this season. To celebrate this well-deserved success, below is a roundup—and another contribution to the conglomerate of articles—chronicling the best SNL sketches of the 2016 year.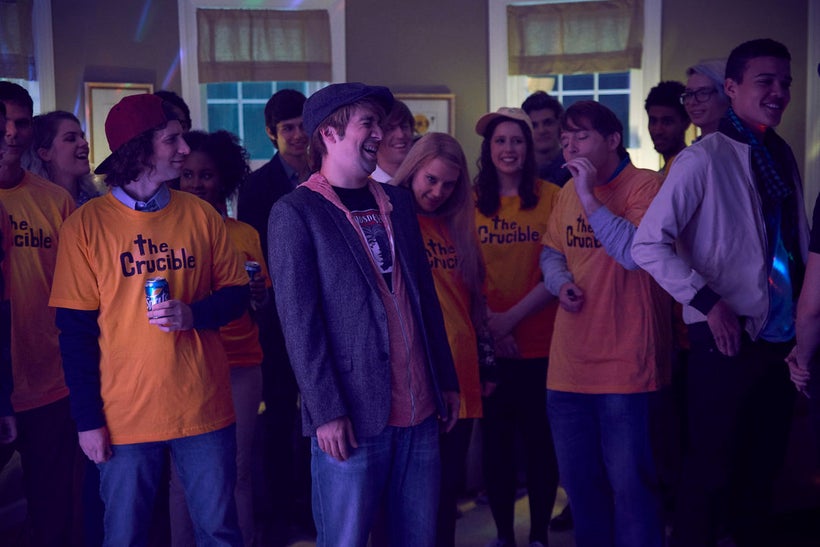 "Feat. Lin-Manuel Miranda" is reason enough to watch the music video, but it's also one of the most accurate parodies of a middle school/high school musical production. Between the constant singing, the cliché musical references that the students manage to work in throughout night, the flirting disasters and hookup failures, the poor adult who has to host the cast party, and, of course, Miranda's Hamilton-esque rapping, the sketch is a must-watch.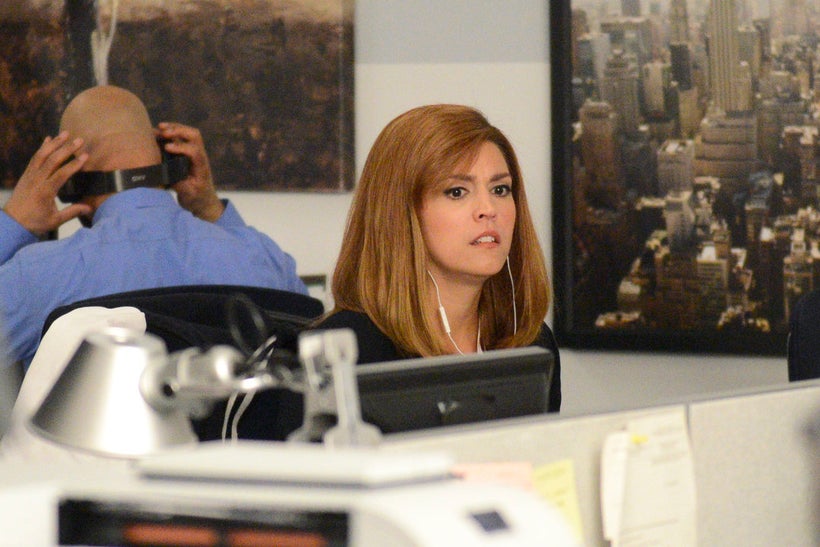 The fake movie trailer to "The Day Beyoncé Turned Black" perfectly captures white people's reaction to Beyoncé's Super Bowl performance, where she debuted "Formation," which represents a sort of anthem for the Black Lives Matter movement. It's a wonderful song, but not one that white people are able appropriate for themselves. "What about 'Single Ladies'?" one person asks Kenan Thompson's character. "She was black in that," he says. "What about 'Jumpin,' Jumpin''?" she asks, with furthering panic. "She was black in that, too," he says. "What about the Pink Panther movie?" she finally asks, to which he pauses, smiles, and admits, "OK, yeah, she was white in that."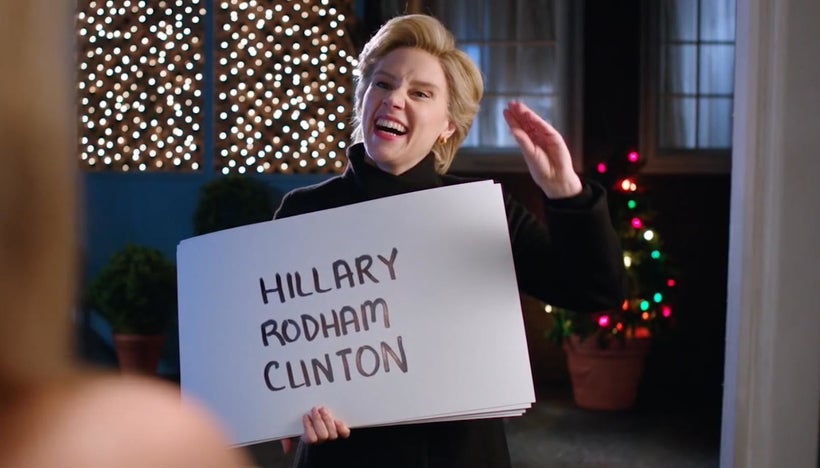 From the last episode of the year comes a skit that ties together the wit, satire, and underlying compassion unique to Saturday Night Live's special brand of comedy. After acknowledging that she lost the election, Hillary holds up a sign that reads: "but I still care about this country," before offering a loving smile that had viewers, and Cecily Strong's elector character, swooning. Former cast writer and head writer Seth Meyers summarized it perfectly when he tweeted, "So much to love here from premise to jokes to perfect performances from Kate and Cecily," capping off a stunning year for SNL.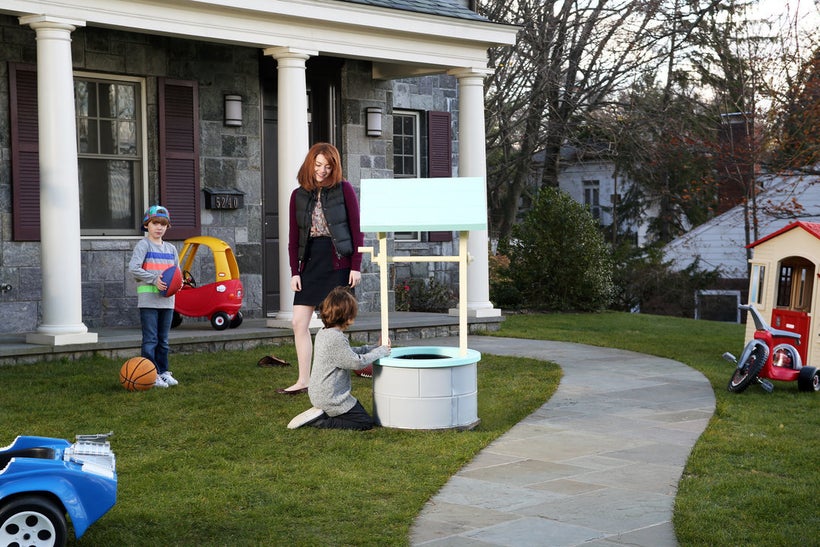 The Fisher-Price well, "for sensitive boys," is such a weird and wonderful sketch. Emma Stone's take on a concerned mother, who just wants to have "one thing" for her son that he can really enjoy, is stellar, as is the boy who stars in the skit. The commercial, narrated by Cecily Strong, goes on to describe other items from the "sensitive boy line," which include "balconies for when they're ready to announce something, or a shattered mirror to examine the complex contradictions of their being."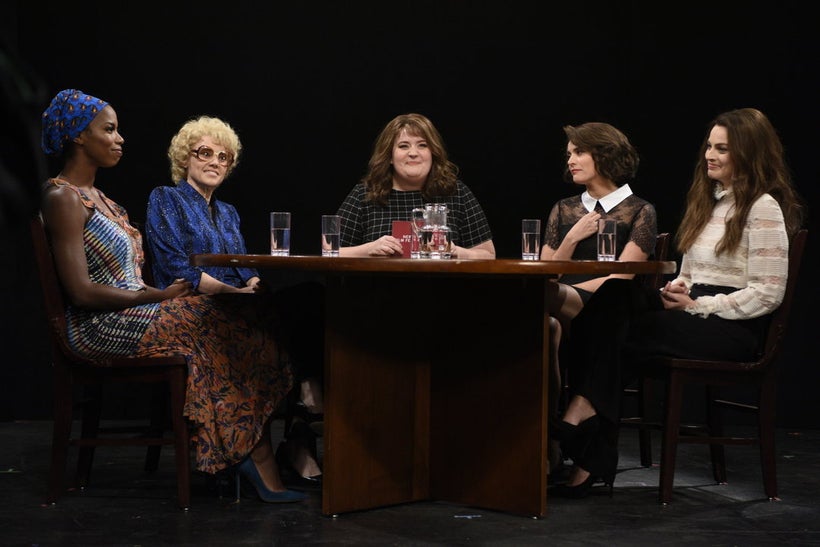 Roundtables are always entertaining to watch, but throwing in Kate McKinnon's fictitious old Hollywood starlet, Debbette Goldry, was a smart move that payed off, as she spends the sketch playing off of the other "real" women perfectly. Between butchering Lupita Nyong'o's name ("Little Peter No No"), Margot Robbie's inability to stop laughing, and the Glamour editor's horror with each increasingly insane story told by Debette, the sketch handles Hollywood's sexism issues in an ingenious way that only SNL can pull off.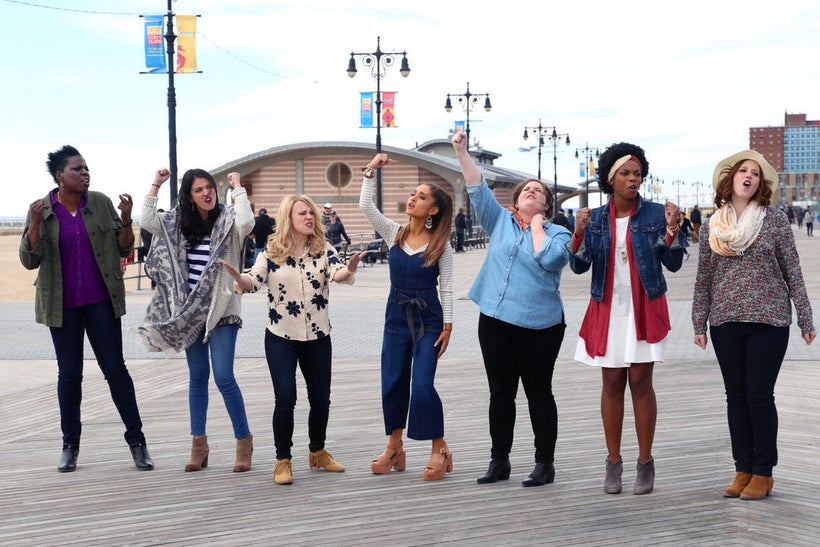 Once again starring the ladies of SNL, as well as Ariana Grande, the premise of the video is that the group wanted to write a feminist anthem, "but this is pretty nuanced stuff and putting it all in one song is tough," so they wind up with a catchy song that is not, in fact, what is traditionally considered feminist. "This Is Not A Feminist Song" is at once self-deprecating without tearing down women as a whole, with shots of "an old woman's hands," before backpedaling in the song to say "not to call a woman old, or judge a woman's hands… we know a woman shouldn't be reduced to just her hands." The sincerity of the group's intention matches the hilarity of the sketch, much like other music videos produced by this generation of SNL cast members. "This is not a feminist song. We're just women singing a song," they sing while clapping on a beach, all realizing something at once. "But doesn't that make it a feminist song? I guess this was feminist all along." The song is inherently self aware, and ultimately comments on the warped perception that many people have of feminism, in that it's not women trying to rise above men, but instead simply wanting to be equal.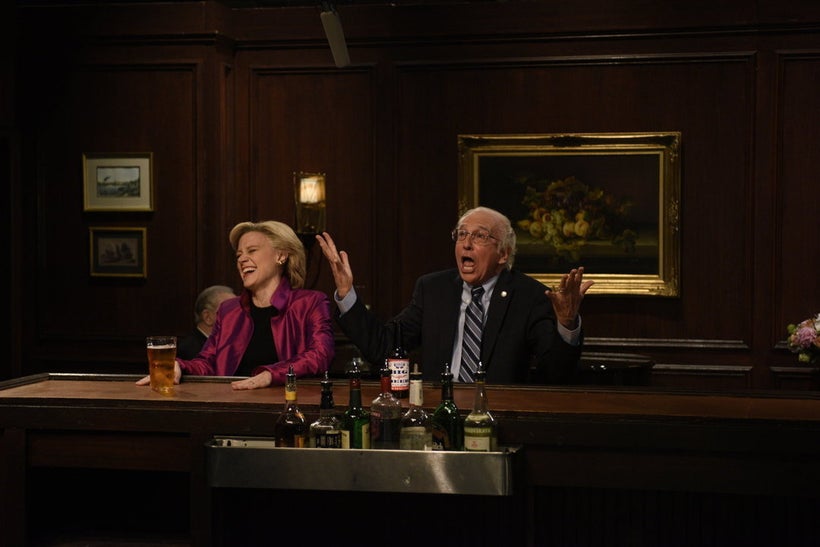 It's hard to choose the best Clinton v. Trump sketch, since they're all top-notch performances, so the one-of-a-kind finale for the Hillary and Bernie showdown naturally stands out as one of the year's best scenes. Between the return of Larry David's wonderful Bernie Sanders impression to Hillary and Bernie's one last drink together (Bernie: "I'll have a beer, a new brand that people are flocking to. Something refreshing and revolutionary, something that draws huge crowds." Hillary: "And I'll have whatever beer no one likes but gets the job done.") to the gentle roasting between the two (Hillary: "I love your suit, by the way. Looks old." Bernie: "And I love your suit. Looks like you were just elected to the Galactic Counsel.") Their not-so-subtle-subtext leads to a final dance together, where they travel through Studio 8H together with Hillary leading, of course, before finally pushing Bernie into an elevator, all executed to the music of Tchaikovsky.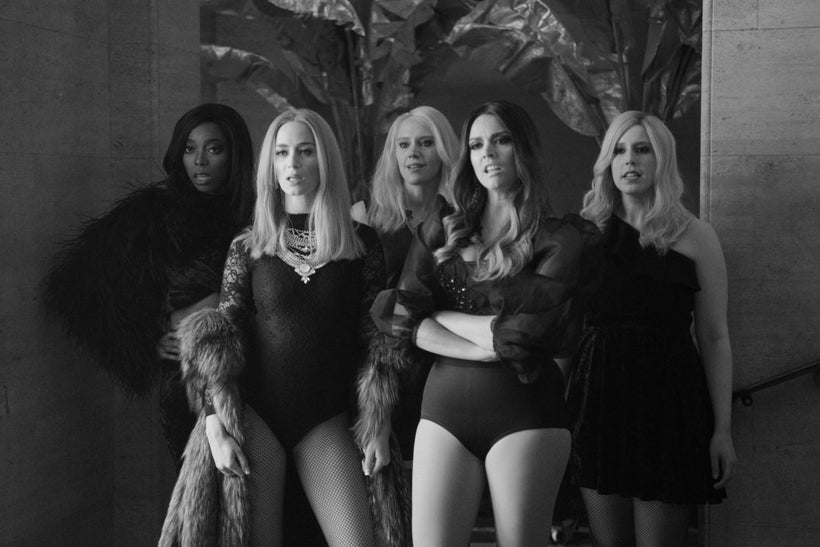 In a brilliant parody of Beyoncé's "Lemonade," the women in Trump's life have had enough with him and rebel. Melania, Ivanka, Kellyanne, Omarosa, and Tiffany introduce themselves as "your wife, your daughter, your mouthpiece, your one black friend, your other daughter," respectively. Cecily Strong's impression of Melania Trump has been a fan favorite on the show, a constant in the many Trump impressions that came before Alec Baldwin's. It's always fun when the host can actually do on point impressions, and Emily Blunt matches the success of the cast with her Ivanka Trump impression.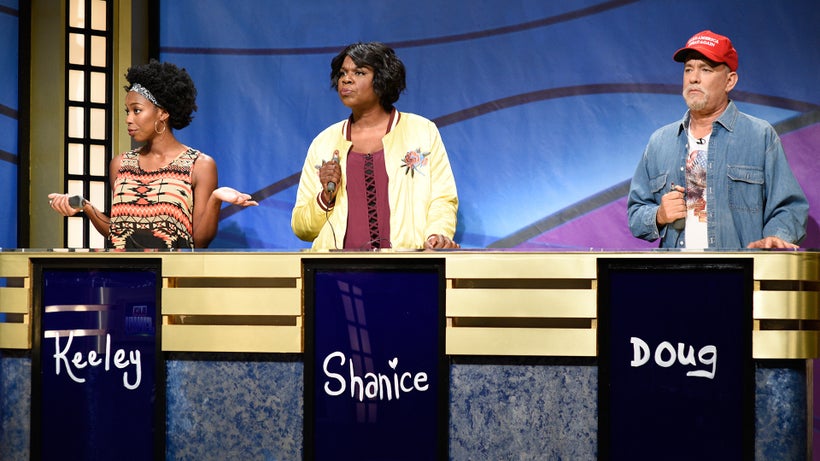 Tom Hanks's ninth time hosting SNL is one for the records. The brilliance of this installment of the "Black Jeopardy" recurring sketch is that the writers turn it on its head with a Trump supporter, of all people, competing. Audiences watch as he proceeds to get the answers right, and slowly develop a relatively friendly rapport with the host and other contestants. The group has a surprising amount of things in common, like Hanks's character's response to Tyler Perry's Madea movies: "If I can laugh and pray in 90 minutes, that is money well spent."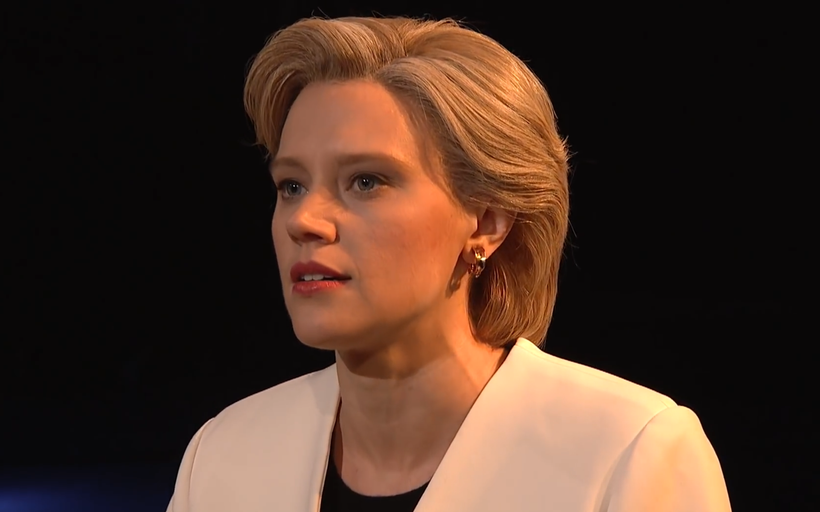 At this point, pretty much everyone has seen Kate McKinnon's homage to the late Leonard Cohen and the concept of democracy as a whole, which served as the cold open of the first Saturday Night Live to air after the election. In it, she sings and plays the piano as an incarnation of Hillary Clinton that, at the time, we hadn't yet been privy to. Gone, or at least covered up, was the bullet proof woman who was ambitious to a society-dubbed fault, the hardened political force that audiences watched win each debate, both in real life and on SNL. In her place was a woman who simply wished she could have done better, despite having done her best.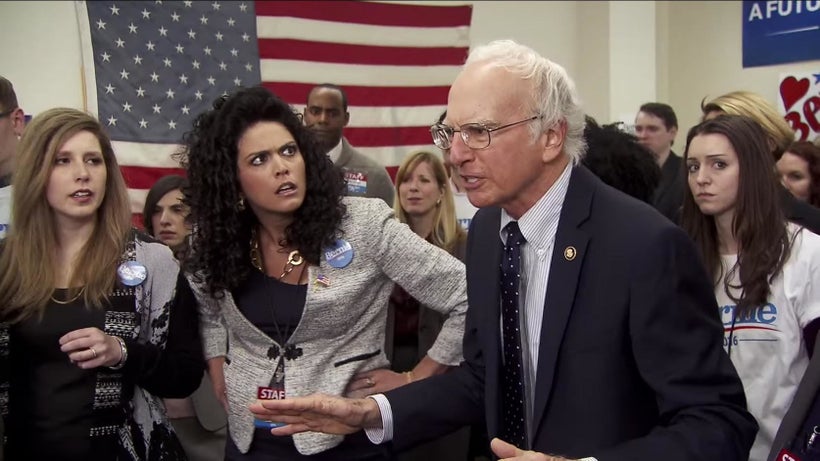 Larry David's Bernie Sanders will go down as one of SNL's most memorable political impressions, with the pinnacle moment coming when he actually hosted the show. Spoofing his own HBO show, Curb Your Enthusiasm, audiences see the "real" reason that Bernie lost the Iowa caucus, as well as his struggle to find whole milk for his coffee, instead of 2%. Jay Pharoah's Leon and Vanessa Bayer's Jane are stellar, but Cecily Strong truly makes the skit with her depiction of "Susie," most likely meant to represent Susie Talevski, Sanders's national delegate at the DNC.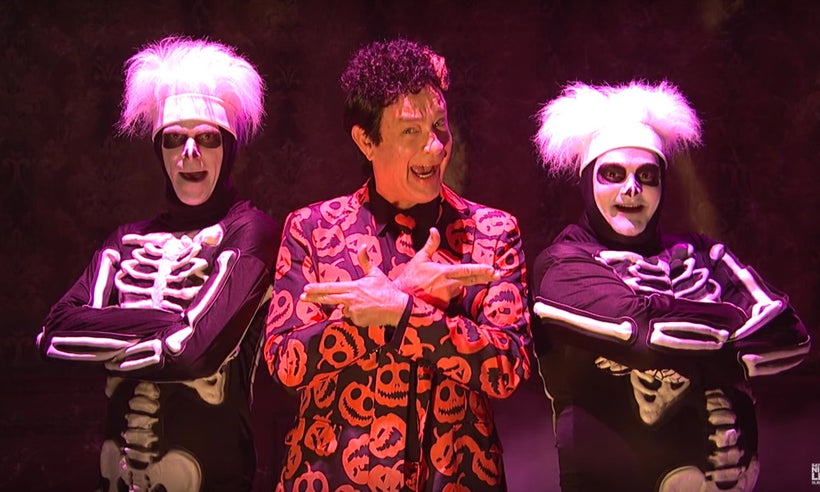 The Tom Hanks/Halloween episode is brilliant all-around. Written and created by Bobby Moynihan and Mikey Day (the skeletons), as well as Streeter Seidell, David Pumpkins ("David S. Pumpkins") has already become one of the most iconic characters in Saturday Night Live's history. The dedication applied to the sketch is the kind typically attributed to SNL's political skits, as no one throughout the skit even comes close to breaking character (despite the hilarity of the whole thing) and instead completely invests themselves in the strange universe of David S. Pumpkins. On the surface, the sketch is similar to a well-received FBI simulator skit from earlier in the year, but while ridiculous, David S. Pumpkins stands out with its inherently self-analyzing manner and decision not to explain the why of David Pumpkins. "I'm David Pumpkins," he says. "I know, but, like, who are you?" asks one of the haunted elevator's passengers. "I'm David Pumpkins, man," he replies again. "OK, yeah, yeah. And David Pumpkins is...?" the other passenger prompts. "His own thing," David Pumpkins answers. "And the skeletons are...?" asks a passenger. "Part of it!" the skeletons exclaim. "Why are you apart of this ride?" an exasperated passenger asks, one last time. "To do... this," David Pumpkins says, before the the trio's music starts to play again. The surprising ending is simply an additional jolt of joy in the sketch as a whole.
Calling all HuffPost superfans!
Sign up for membership to become a founding member and help shape HuffPost's next chapter
This post was published on the now-closed HuffPost Contributor platform. Contributors control their own work and posted freely to our site. If you need to flag this entry as abusive,
send us an email
.