James Comey may be notorious for throwing cold water on Hillary Clinton's campaign just days before the 2016 election, but after reading his prepared testimony for the Senate Intelligence Committee, he's getting us all hot and bothered. If Comey can't lock down a future career in public service, he can always write romance novels. With titles like, "On My Honor, Or Yours?," "Serving At The President's Pleasure," "Passion Under Oath," "Highly Sensitive Material," or "Oval Office Confidential."
For now, though, we'll have to be satiated by this actual testimony, which ― mark our words ― the porn biz will parody at some future date.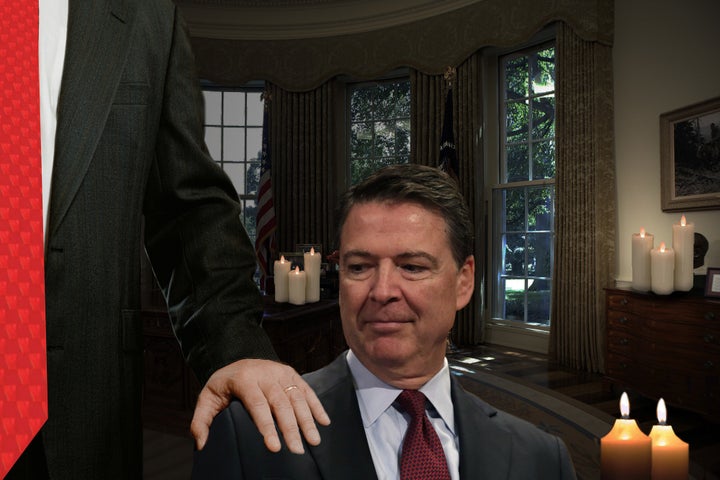 1. Just me, the president and "personally sensitive aspects."
"At the conclusion of that briefing, I remained alone with the President Elect to brief him on some personally sensitive aspects of the information assembled during the assessment."
"We also agreed I would do it alone to minimize potential embarrassment to the President-Elect."
3. Moved by the tense encounter.
"I felt compelled to document my first conversation with the President-Elect in a memo. To ensure accuracy, I began to type it on a laptop in an FBI vehicle outside Trump Tower the moment I walked out of the meeting. Creating written records immediately after one-on-one conversations with Mr. Trump was my practice from that point forward. This had not been my practice in the past. I spoke alone with President Obama twice in person (and never on the phone) – once in 2015 to discuss law enforcement policy issues and a second time, briefly, for him to say goodbye in late 2016. In neither of those circumstances did I memorialize the discussions. I can recall nine one-on-one conversations with President Trump in four months – three in person and six on the phone."
4. Again, it was just the two of us.
"The President and I had dinner on Friday, January 27 at 6:30 pm in the Green Room at the White House. He had called me at lunchtime that day and invited me to dinner that night, saying he was going to invite my whole family, but decided to have just me this time, with the whole family coming the next time. It was unclear from the conversation who else would be at the dinner, although I assumed there would be others.
"It turned out to be just the two of us, seated at a small oval table in the center of the Green Room. Two Navy stewards waited on us, only entering the room to serve food and drinks."
5. The president wanted a patronage relationship.
"My instincts told me that the one-on-one setting, and the pretense that this was our first discussion about my position, meant the dinner was, at least in part, an effort to have me ask for my job and create some sort of patronage relationship."
6. He could count on me for something, but not for that.
"And then, because the set-up made me uneasy, I added that I was not 'reliable' in the way politicians use that word, but he could always count on me to tell him the truth."
7. The president needed "loyalty."
"A few moments later, the President said, 'I need loyalty, I expect loyalty.' I didn't move, speak, or change my facial expression in any way during the awkward silence that followed. We simply looked at each other in silence."
8. But he'd only get "honesty."
"He then said, 'I need loyalty.' I replied, 'You will always get honesty from me.' He paused and then said, 'That's what I want, honest loyalty.' I paused, and then said, 'You will get that from me.'"
9. The door closed, and the president began.
"The President signaled the end of the briefing by thanking the group and telling them all that he wanted to speak to me alone. I stayed in my chair. As the participants started to leave the Oval Office, the Attorney General [Jeff Sessions] lingered by my chair, but the President thanked him and said he wanted to speak only with me. The last person to leave was Jared Kushner, who also stood by my chair and exchanged pleasantries with me. The President then excused him, saying he wanted to speak with me.
"When the door by the grandfather clock closed, and we were alone, the President began by saying, 'I want to talk about Mike Flynn.'"
10. The president needed more time with me.
"After he had spoken for a few minutes about leaks, Reince Priebus leaned in through the door by the grandfather clock and I could see a group of people waiting behind him. The President waved at him to close the door, saying he would be done shortly. The door closed."
11. He told me he was "not involved with hookers."
"He said he had nothing to do with Russia, had not been involved with hookers in Russia, and had always assumed he was being recorded when in Russia. He asked what we could do to 'lift the cloud.'"
12. Some guys are only about "that thing."
"He said he would do that and added, 'Because I have been very loyal to you, very loyal; we had that thing you know.' I did not reply or ask him what he meant by 'that thing.' I said only that the way to handle it was to have the White House Counsel call the Acting Deputy Attorney General [Dana Boente]. He said that was what he would do and the call ended. That was the last time I spoke with President Trump."
Calling all HuffPost superfans!
Sign up for membership to become a founding member and help shape HuffPost's next chapter
BEFORE YOU GO
PHOTO GALLERY
Best Photos From Trump's First 100 Days