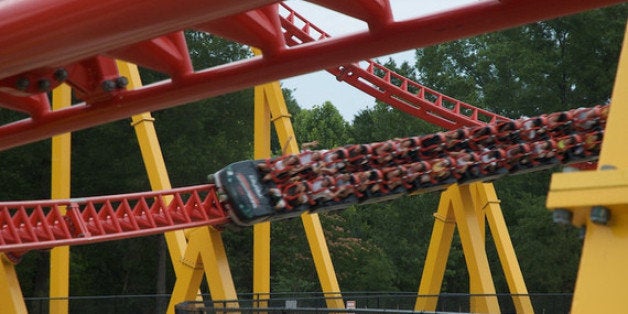 "Pfft. Roller coasters are for kids, right?" is what you're probably thinking. Well, some are, but unless they're some kind of freakishly tall mutant children, they most likely wouldn't be allowed on the following über-exhilarating (and often terrifying) coasters, for whom the words "DOOM," "FURY," and "CANNIBAL" are commonplace descriptors (for some reason).
Without further ado, here are the 13 scariest roller coasters in America -- hold onto your hats, thrill-seekers. Or just leave them with your buddy who was too afraid to go.
Cannibal
Lagoon Amusement Park
Farmington, UT
Scariest feature: A 116-degree drop. Yup.
Height/max speed: 208ft/70mph
Cannibal isn't even open yet, and it's already scaring the bejesus out of us (seriously, can we borrow some of your bejesus?). Its 116-degree drop is one of the world's steepest, and it careens passengers directly through a tunnel that dives headlong into a 208ft tower.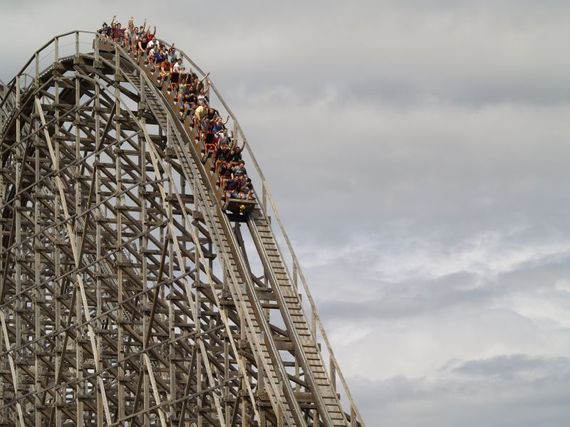 Credit: Flickr/Jeffrey Kontur
El Toro
Six Flags Great Adventure
Jackson, NJ
Scariest feature: Multiple instances of what's called the "headchopper" effect
Height/max speed: 181ft/70mph
You'll be seeing red after riding wooden powerhouse El Toro (and possibly nothing at all during it; your eyes might close due to sheer exhilaration), and there's no denying that its 70mph speeds are impressive, especially since you'll feel weightless for so much of the ride (wooden roller coasters are good at this sort of thing).
Fury 325
Carowinds
Charlotte, NC
Scariest feature: Tallest traditional chain-lift roller coaster in the world at 325ft
Height/max speed: 325ft/95mph
Fury 325 is so-named because it's 325ft tall (and not, in fact, because it tried to get the AIM screen name "Fury" and was told it had already been taken), and the first ascent feels like an eternity, partially owing to the fact that the older chain-lift technology really amps up the feeling of anticipation. Once you're barreling down the first 81-degree drop at 95mph, though, you'll become immediately aware of how much precious time you have left on this thing.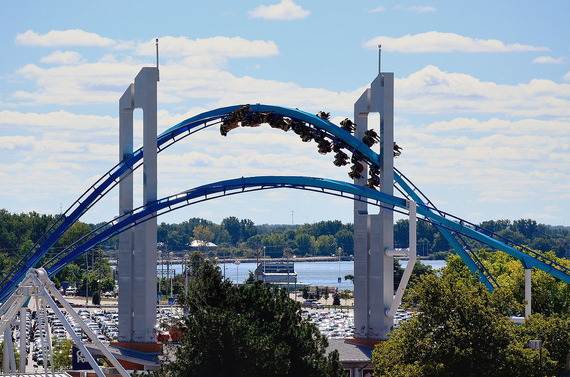 Credit: Flickr/CliffMuller
GateKeeper
Cedar Point
Sandusky, OH
Scariest feature: Tallest and fastest wing coaster, with six inversions
Height/max speed: 170ft/67mph
The wing seats of GateKeeper at Cedar Point (the Mecca of roller coasters in America) flare out on either side of the vehicle, so you're basically flying already as you navigate the myriad twists and turns of this coaster. You'll also pass through two extremely narrow keyholes, so if you're Shawn Bradley, maybe sit this one out.
Goliath
Six Flags Great America
Gurnee, IL
Scariest feature: At 180ft and 85 degrees, the longest and steepest drop of any wooden roller coaster
Height/max speed: 165ft/72mph
Goliath, in addition to the stats we listed above, is the fastest wooden roller coaster out there, has two zero-gravity stalling areas, is quieter than most drape runners, and has much better branding than any of the rides at Six Flags "Pretty Good" America could even dream of.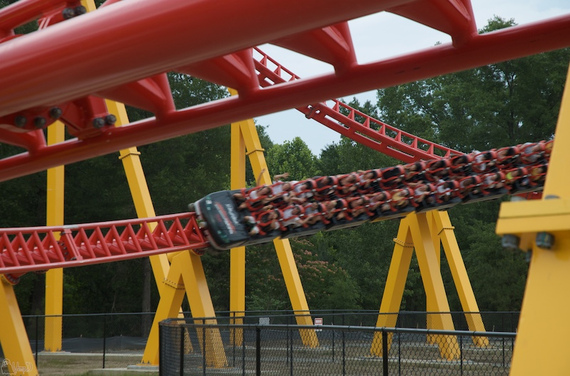 Credit: Flickr/vmpyr_david
Intimidator 305
Kings Dominion
Doswell, VA
Scariest feature: Multiple low-to-the-ground hairpin turns
Height/max speed: 305ft/90mph
Fortunately for all of us, the Dale Earnhardt-themed Intimidator 305's design is pretty dissimilar to a NASCAR track. Its longest drop is 300ft at an 85-degree angle, but its real fear factor lies in its banking ability, which is on full display when it stops just short of the ground to veer off in any number of directions.