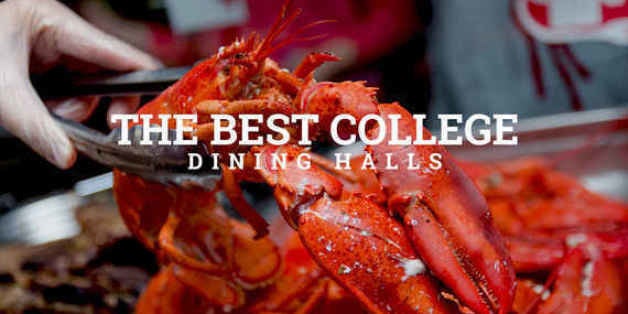 Gone are the days of mystery meat, "red sauce", and stale oatmeal raisin cookies in our nation's college dining halls. A new epicurean era has dawned on campuses across America, temporarily making college kids forget about the lifelong debt they're accruing.
We spoke to lucky students at schools consistently on top college food lists, and found out they're probably eating better than everyone on the outside. Your attempts to stifle bitterness will be futile.
BOWDOIN COLLEGE
Brunswick, ME
Constantly scoring the coveted number one or two spot on finest foods lists, it's a little too easy to mistake this college for a giant clambake full of really smart people. "The seafood around here is all fresh so when we have fish, mussels, clams, it's all tasty. And we had a lobster bake during orientation, and I think there are a couple more planned throughout the year." For reference, my orientation had a subpar barbecue.
If you're weird and don't want to eat seafood whenever it's available to you, you can occasionally go for Asian tacos cooked by "Korean chefs who come in and make authentic beef and chicken, and there are a bunch of side dishes and condiments so that we can put together our own taco-type things." We don't know what taco-type things are, but we want some.
NORTHWESTERN UNIVERSITY
Evanston, IL
Every college serves cookies. Northwestern does 'em better with a weekly hot cookie bar. Warm, still-gooey, and fresh out of the oven, "you have to scoop them up from the tray with a giant spoon, and they melt right in your mouth. Combined with a little bit of ice cream and chocolate sauce, they taste like what I imagine everything is going to taste like in heaven."
Now throw in homemade fries that are "so good that I can almost forgive myself for the disgusting amount of them I always take" and fresh bread sticks "which are basically what I picture the lovechild of a passionate affair between Pizza Hut and Olive Garden would be like -- warm, doughy, and cheesy in the middle."
Wash it all down with chocolate milk that any cow would be proud to create. "It's the best chocolate milk I've ever had in my life. My family used to have a fu**ing milkman that would bring us bottles of fresh chocolate milk straight from the farm and that wasn't even close to as good as this."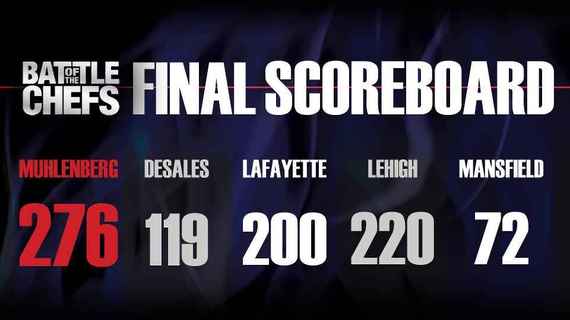 Credit: Muhlenberg College Blogs
MUHLENBERG COLLEGE
Allentown, PA
While you might experience some tasty licks at a Battle of the Bands, this Battle of the Chefs will actually fill your belly. Culinary pros from neighboring colleges duke it out by preparing "small portions of really good food", with students voting on a winner. Past themes include music, movies, tailgating, and the Seven Wonders of the World. One college kid raved, "It's the one time of year I would get in line and wait to eat dinner at 4:30 for cafeteria food. The amount of students waiting was amazing. I think Muhlenberg won every year."
ROGER WILLIAMS UNIVERSITY
Bristol, RI
Consider pickpocketing a clueless freshman for their ID just so you can eat here. There's a lobster and steak dinner (collegiate surf & turf, if you will), where "you can get a whole lobster or steak, baked potato, etc., those lobster cracker things and bibs and bowls for the table." And ambiance is key: "they cover the tables in paper like you were at a lobster or crab shack."
They also put on a Thanksgiving feast that is "amazing, like balls to the wall so good" featuring a carving station, classic Turkey Day favorites, bread cornucopias, and dishes served in freaking pumpkins. The holiday fun continues on Valentine's Day, when they break out "chocolate fountains with white, milk, dark, Rice Krispies, pretzels, and strawberries." And studying in the Ocean State has its perks when it comes to the Eat Local Challenge, which includes oyster shucking. Oh, and local wine and beer tastings.
JOHNS HOPKINS UNIVERSITY
Baltimore, MD
Once a month, JHU students get to brunch in style, complete with a live jazz band, at their Sterling Brunch. During this event, they "serve the fanciest sh*t, like baked brie, shrimp cocktail, and bananas Foster". This caf is so indulgent that former favorites just don't taste like they used to. "Every day there's a machine that makes fresh-squeezed orange juice. It's so good that now we're spoiled -- I can never have Tropicana again." Think about that while you buy your $5 cup of OJ from the deli. And let's not forget the time they had "HUGE 14oz steaks for every person." Is this a college or a Ruth's Chris?
Related
Popular in the Community