It's our favorite time of year, folks! That magical season where everything that happened over the last 365 days gets whittled down and presented to us in numerical order of greatness. From a famously divided Congress that finally agreed on something (Sunny Obama is adorable!) to two international sporting events whose execution proved more entertaining than the actual sport, 2014 definitely did not disappoint us in terms of buzz-worthy events. Given that our wheelhouse lies in the realm of pop culture, however, we furrowed our brows and came up with a list of the most entertaining moments from the past 12 months.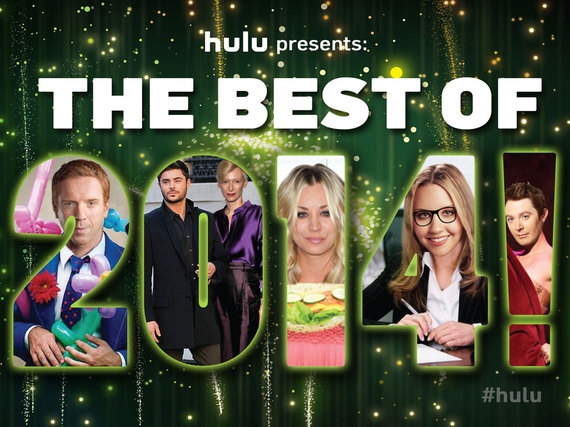 1. NBC Was All About The Musicals
In response to 18 million viewers "tune"-ing into The Sound of Music Live! last year, 2014 was the year of the musical on NBC with Broadway-esque productions beamed into American homes each month this year. Not straying too far from their winning formula, each of the 12 spectacles featured a beloved American musical and the anarchistic casting of an Idol alumn in starring roles. Highlights included Chris Daughtry's royal performance in The King and I, Clay Aiken in the titular role of Gypsy, Justin Guarini in Godspell, Fantasia Barrino in Flora the Red Menace, and William Hung starring in Peter Pan. NBC's ultimate controversy occurred when they combined The Biggest Loser finale with the hippy rock musical Hair, where Ruben Studdard and cast did their big weight-loss reveal in the infamous nude scene at the end of Act I. -- Richard Ogawa
Wanting to spice up the 30th season of The Bachelorette (ABC ran twenty seasons of the show over the month of January), ABC cast gifted actor Daniel Day-Lewis as the new Bachelorette after he promised to bring new depth to the role of a lovelorn damsel. While the contestants (and audience) initially were taken aback by the presence of the Oscar winner, eventually they were able to look past his enormous mustache to truly see a young woman in search of a life mate through Day-Lewis' brilliant acting. It also helped that other contestants were only in it for fame and were willing to do pretty much anything to make it to the end of the competition... anything.
When the show concluded, no one was shocked yet again when Topeka lawyer Clark Wharton won Daniel's heart and they actually fell in love. Tabloids went crazy when Day-Lewis left his family for Wharton and they filmed the Emmy-winning reality show Lewis & Clark: 2 Heartz Beat as 1, only to later reveal that it was all research for Lewis' role in a movie that he filmed to be viewed only by himself and the winner of another reality show he shot in Denmark. Not understanding the reality of reality TV anymore, Wharton went on to become a successful stage actor, honing his experiences from the shows into a whimsical one-man show, I Gave My Love a Rose. -- Martin Moakler
3. Holly Became Our New Favorite Drama
While Better Call Saul made a solid showing in 2014, it was another Breaking Bad spinoff that really grabbed the ratings right by the Ozymandias. Holly features Walter White's youngest offspring three years in the future, as the most powerful toddler in the Albuquerque preschool community. Already renewed for an unprecedented seven seasons, the show centers around the 4-year-old Baby Heisenberg starting her first day of school and quickly learning there was major cash to be made by creating a black market for her classmates being weaned off pacifiers by their parents but still very much in need of their "fix" during class nap time.
Season 1 delivered everything we've come to expect from a Vince Gilligan action drama and more. From the opening scene featuring Holly fleeing the cops in her battery-powered pink Barbie Jeep to the season finale cliffhanger in which Holly robs a "Babies-R-Us" for a barrel-full of binkies and gets chased down by the ruthless 'Toys-R-Us' mascot Geoffrey the Giraffe, Holly proved that toddler dramas may be the next great TV frontier. -- Liz Brown
4. Amanda Bynes Staged an Incredible Comeback
2013 ended with Amanda "Drake, Please Murder My Vagina" Bynes being released from rehab, going to Disneyland, and enrolling in fashion college to get a fresh start for the new year. It seemed to do a world of good as 2014 quickly became the Year of Amanda, in all the right ways.
Her new line of sophisticated and stylish cheek studs took off like wildfire, landing in the dimples of youths everywhere. And with wiser management behind her, she invested her money, name, and rampant Twitter following into legitimate businesses: Rise and Bynes, her popular twerk-out fitness YouTube channel; Read Between the Bynes, her successful Twitter PR consulting firm; and the 2015 release of She's the Man 2 with Channing Tatum. One-time Degrassi actor Drake also signed on for a small role in the comeback film, but no word whether murdering or her vagina are involved. See, it is possible for a celebrity train wreck to become a golden carriage back on the rails! -- Mallory Carra
5. ABC Hit Another Emotional Chord with Concern

From the creators of Scandal, Revenge, and Betrayal, ABC had another one-word hit on their hands with Concern. Alexis Bledel stars as Sophia Sharp, a beautiful and successful young woman with a mysterious past. The show dazzled audiences with titillating stories of scandal, revenge, betrayal, and yes, concern. The show ultimately won an Emmy for a ground-breaking episode that began with concern, which bubbled over into betrayal, that lead to revenge, and ended in scandal (and a same-sex kiss).
In addition to record ratings, the show became a fixture in the tabloids as co-stars Calista Flockhart, Adam Brody, Matthew Fox, and Leighton Meester (playing members of the wealthy and secretive Van Portson de Shire family) began feuding on the streets of Los Angeles and on Twitter. -- Courtney Hyde
6. James Franco Hosted The Oscars Again.... Because No One Else Could
We'll never forget the tragic event that almost caused the cancellation of the 86th Annual Academy Awards. A dance party, organized by Oscar host Ellen Degeneres, was underway at the Sundance Film Festival when throngs of celebrities (including the entire short list of Oscar host hopefuls) were bombarded by a monstrous avalanche. "I haven't seen that much snow since I visited Robin Williams on the set of Mork and Mindy," said perennial hosting favorite Billy Crystal from his hospital bed.
With no other options, the Academy was forced to resurrect James Franco to host this year's ceremony, despite major concerns that he would repeat his medicinally sedated performance from 2011. Crowds were surprised and pleased, however, with Franco's electrifying musical numbers. "His tap-dance with Amy Adams was adorable with a capital A," said actor & director Clint Eastwood. Angelina Jolie, who was first to rise for Franco's standing ovation, commented that "He was energetic, poised, and funny to boot! He really nailed that solo during 'Send In The Clowns'."-- Rudy Martinez
7. L.L. Bean Launched Dexter-Inspired Lumberjack Apparel
When the Dexter series finale aired way back in 2013, plenty of fans were angry and confused that the show ended with an out-of-left-field twist in which the eponymous hero started a new life as a lumberjack. In 2014, we finally got some insight into what inspired the show's ultimate woodsy turn. Michael C. Hall and the production team had signed an exclusive, long-term flannel shirt endorsement deal with mail order giant L.L. Bean. When the company announced the line of Dexter-inspired lumberjack apparel this spring, pre-order sales crashed the store's website and inspired droves of shoppers to flock to the normally serene Freeport, Maine in Woodstock-like fashion in the hopes of getting shirts straight off the production line.
Whether the bulk of the buyers were hipsters in search of the ultimate ironic apparel, actual lumberjacks, or mere fans of big red shirts didn't really matter. What mattered was that the Dexter line of flannel made everyone who slipped into them feel warm and fuzzy, just like we all did back when Dexter used to chop someone up who was getting away with being a big old creep. -- Liz Brown
8. Supernatural Blew Up Tumblr and the Minds of Shippers Everywhere
On The Night Tumblr Exploded, shippers, fan artists, fan fic aficionados, and aspiring ghost hunters alike got their minds blown when the producers of CW's Supernatural finally bent to the whims of obsessed teenagers everywhere and aired an episode in which all three main characters feverishly make out.
While working a mysterious case in the small town of Cynthiana, KY, the Winchester brothers and their angel pal, Castiel, fall under the influence of the disgruntled and disenfranchised Norse goddess of love. One thing leads to another, and the trio's customary testosterone-fueled bickering morphs into passionate embracing and declarations of undying love. Literally undying, since it is nearly impossible to actually, permanently die on this show.
This out-of-nowhere episode made national news, and the show's viewership that night came close to one-fourth that of a repeat of "Two and a Half Men" on syndication, possibly helped by #Wincest trending on Twitter. The best thing to come out of the event? Universal Studios green lit a film inspired by Supernatural fan fiction, A Boy and His Angel (working title). Josh Hutcherson is rumored to be attached. -- Naivasha Dean
9. Homeland Took The Title of Worst Series Ending Ever
Amid allegations of the cast dabbling in water boarding, pranking the crew with real suicide vests, and snorting prop lithium behind the scenes, Showtime was forced to pull the plug on Homeland midway through Season 4 production, leaving the writers scrambling to tack on a series ending.
(*SPOILER ALERT*) Just as Carrie triggered the Capitol Hill bomb that -- like the CIA explosion she secretly masterminded in Season 2 -- would devastate the US government, the screen suddenly cut to black. Then, a series of scenes floated by: naked-faced Saul in a postman's uniform delivering mail; jolly clown Brody crafting balloon animals in the park; stylish pop star Dana performing to a sold-out arena; US president Abu Nazir giving a speech on TV. Finally, an adult Angela, née Chase, slowly woke up in her four-poster suburban bed next to husband Jordan Catalano: "Honey, I just had the strangest dream! I think our mailman was in it, and that pop star on TV, and that clown we saw at the park..."
Was this the twist ending the Homeland characters deserved? Fans of the show were up in arms, but long-patient My So-Called Life shippers screamed a resounding YES. --Kristin Knox
10. AMC Made A Comeback with Madder Men
In the absence of Breaking Bad and subsequent canceling of Low Winter's Sun at the end of 2013, AMC's 2014 offerings looked kind of like the short bus of original programming: small town security guards and taxidermy nerds galore. But in a bold move aimed at holding onto a shred of creative dignity, the network found a surprise hit in their Mad Men spinoff, Madder Men. Set in an office environment fraught with substance abuse, muted racism, and inappropriate relationships between management and the secretary pool, the hour-long period drama follows the unglamorous yet crucial roles of the overworked HR department at SterlingCooperDraperPrice. Mitigating disputes between moody creative directors, trying to quell rumors of pimping co-workers to clients, and really just surviving the fiscal year, this small but scrappy team got into some office-inappropriate drama of their own and won a place in all our hearts. -- Raef Harrison
11. Katherine Heigl Revealed That She's Actually A Lovely Person
Fresh off a heartwarming turn as Rested Sleeper #7 in a string of successful Zquil commercials, audiences were stunned when special guest Katherine Heigl revealed during a hard-hitting interview on The Arsenio Hall Show that her insufferable behavior over the last seven years has all been character research in preparation for the role of a lifetime. "You know, people never criticized Marlon Brando, Heath Ledger or Daniel Day-Lewis for the lengths they went to for a role. I think I can count myself among the greats. At least my mom tells me so," Heigl said with a deferent smile. When pressed by Arsenio about how her 2008 tell-all Vanity Fair exposé, with its stinging critique of media darling Judd Apatow, may have alienated her from other filmmakers taking a chance on her, Heigl simply stated "Look, when you and your mom co-own a production studio, you don't really have to worry about what other people think, now do you?"
Heigl's upcoming magnum opus will be an autobiographical rom-com based off the true story of her romance with now-husband Josh Kelley, as played by The Sound of Music's Stephen Moyer. Produced by Nancy Heigl at Abishag Productions, this 1-hour special will air on Lifetime Network in February, 2015. -- Matt Horn
12. Tilda Swinton and Zach Efron Became America's Favorite Couple
2014 was the year of the "Swinfron" as indie darling Tilda Swinton and frosted-tipped-triple-threat Zac Efron made waves as the hottest couple in Hollywood. (Who didn't run out to purchase the now infamous Ladies' Home Journal that featured Zac cupping his betrothed's chest on the cover?) Even the most chilly and cynical of hearts melted a little when E! featured live coverage of the couple's whirlwind nuptials in April. Yes, true love does exist (especially at 10,000 feet when being officiated by a little person in a polar bear costume). Some say the couple's love became a little too "transparent" when Ryan Seacrest hosted the live birth of baby Ho-Ho-Kus Swinton-Efron. Suspended in a glass cube over the ice skating rink at Rockefeller Center, Tilda labored for 19 hours as Americans tweeted their guess for the exact second of the child's birth for a chance to win $25,000. -- Courtney Hyde
13. Blue Ivy and North West Star in a Remake of The Simple Life
America's hip-hop princesses, North West and Blue Ivy, made their small screen debut in "The Simple Life: Bringing Up Baby." In this remake of the show starring former besties Paris Hilton and Nicole Richie, North and Blue traded in their Hermes booties for something machine-washable from OshKosh B'gosh and slummed it with the glue-eating plebeians of Gymboree. We can't wait till North gets old enough to ask how Mommy made her entrée on the pop culture scene.-- Katherine Rea
14. GoDaddy Switched Super Bowl Strategies
For the better part of a decade the web-hosting company GoDaddy has been upping the flesh count in its now-infamous string of Super Bowl ad spots. But for 2014 the company decided to cover up a little and show the world how much they've 'matured and evolved'. No more Danica Patrick sprawled over a race car or Bar Refaeli tongue bathing people. Gone are the hot girls falling into pools or dancing suggestively in heels.
But in what felt like a possible overcompensation by the boob-loving web company, their 2014 ad was a bit of a head scratcher: Kaley Cuoco and Danica Patrick in GoDaddy track suits putting together what appears to be a salami sandwich on whole wheat. The big "Go Online" reveal? It was actually pastrami all along. -- Raef Harrison
Popular in the Community