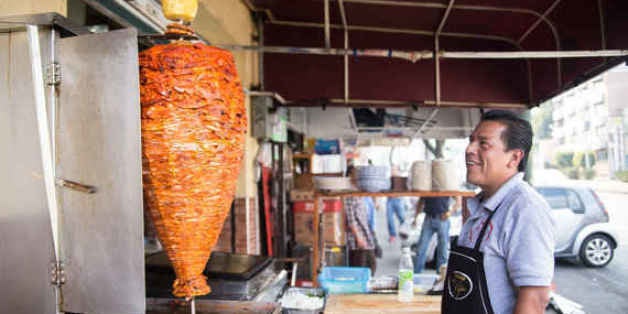 Sometimes the finest dining a country has to offer isn't in a Michelin-starred restaurant -- it's within a few feet of spinning Michelin tires. Street food is the true fuel of the people, and there's no better way to get to know a country's cuisine than by hitting up a food stall and digging into a home-style meal. With a combination of personal experience, advice from experienced travelers, and research on cultural food traditions, we've put together a ranking of the 16 best street-food cities in the world.
And while basically every major city in Southeast Asia had a shot at being #1, read on to find out whether the city that serves tacos, dumplings, or grilled cow udders is the king of the street-food world.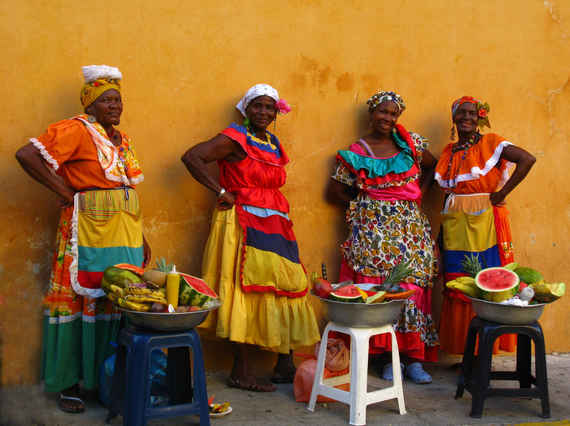 Credit: Flickr/Luz Adriana Villa
16. Cartagena
Colombia
This walled South American treasure has one of the fresher street-food scenes on this list. Juice, fruit, and macheted coconuts are everywhere, as are little plastic cups of sugary Colombian coffee. Ceviche and shrimp cocktails remind you that you're on the coast, and arepas and empanadas have the savory pastry game on lock; for the gluttons, they deep-fry everything from cheese to pig feet. Although it's all delicious, Cartagena's place on this list would rise if they had more variety and ways to distinguish themselves from the rest of South America.
Known for: Empanadas, arepas, shrimp cocktails, fresh juice and fruit, kebabs
15. Rio de Janeiro
Brazil
Eating in Brazil can be surprisingly expensive, but luckily street food comes to the rescue. Brazil's most sleeper snack is pão de queijo, warm little balls of cheese bread that are found just about everywhere. The city revolves around the beach, so naturally there'd be some killer eats along the waterfront. Vendors pace along the beach screaming out their offerings, which range from skewered shrimp, to savory fried pastel pastries, to hunks of cheese roasted to order on tiny grills.
If you've ever been to a Fogo de Chão, you know Brazil loves its grilled meats, and you'll see plenty of multi-meat kebabs outside bars here. Wash them down with a cup of superfruit in the form of acai, but be sure to ask for a small or else you'll end up with a bowl as big as your head.
Known for: Pão de queijo cheese balls, fried savory pastries, tapioca crepes, kebabs, acai smoothies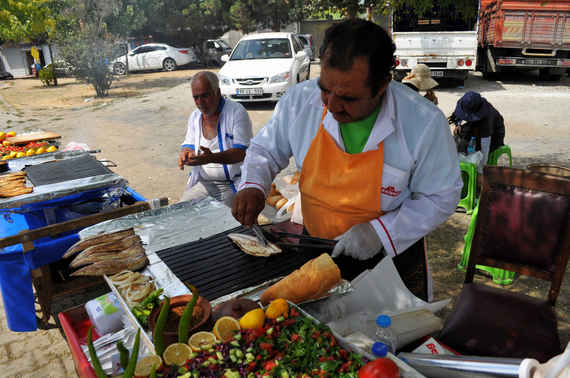 Credit: Flickr/tomislav medak
14. Istanbul
Turkey
Doner kebab might be Turkey's greatest export (or Germany's greatest innovation depending on who you ask), but there's plenty more to the streets of the city formerly known as Constantinople (been a long time gone, Constantinople). Istanbul's close relationship with their neighboring seas is evident in balik ekmek sandwiches, which top a grilled filet of mackerel with greens, onions, and a squeeze of lemon. More fruit of the sea comes in the form of rice-stuffed mussels, while those looking for a funkier meat might turn to kokoreç, aka spitted lamb intestines.
Then there are the equivalent of dollar slices, a thin-dough pizza called lahmacun that's spread with a mix of minced beef, lamb, and peppers that you roll up and stuff into your face. This would've placed higher if Berlin didn't have the doner kebab game on lock.
Known for: Doner kebab, sesame simit bread, balik ekmek fish sandwiches, Turkish-style lahmacun pizzas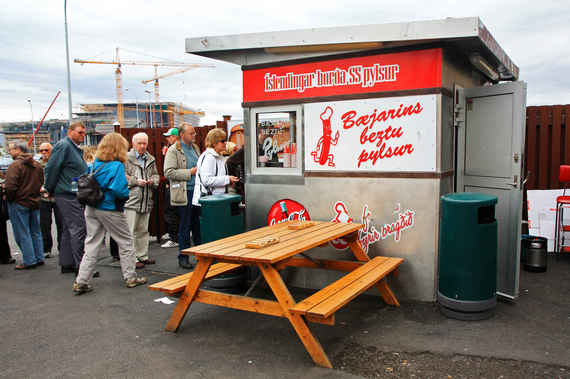 Credit: Flickr/Andrea Schaffer
13. Reykjavik
Iceland
Iceland might not be known as a street-food mecca, but they've got one secret weapon that earned them a solid place on this list. It's Bæjarins Beztu Pylsur, which translates roughly to "the best hot dogs in the universe," a distinction not only noted by its sign, but also by the Michelin Guide. It's common lore that every Icelander has eaten one, as well as some famous American gluttons like Bill Clinton and Anthony Bourdain. Part of the secret is a small amount of free-range lamb, as well as crispy fried onions and a stripe of remoulade. Sure, it's just a hot dog. And a space shuttle is just a plane.
Known for: Hot dogs, hot dogs, and more hot dogs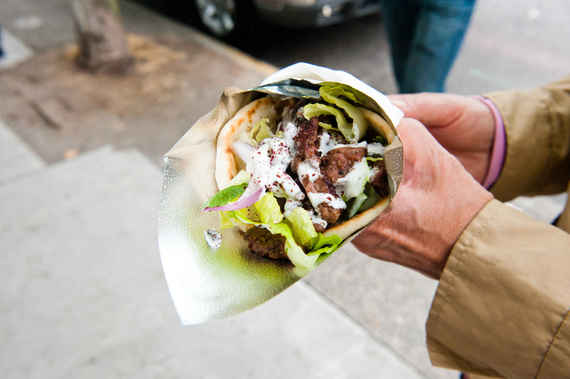 Credit: Flickr/star5112
12. Portland
Oregon
You could make a case for New York's hot dogs, halal carts, and street meat, or Chicago's dragged-through-the-garden red hots, but Portland has so embraced the concept of street food that it's become a way of life. It helps, too, that most of the hundreds (estimates range from 400-700 operating on any given day) of food carts out there aren't limited to slinging meats simmering in dirty water or roasting on an exposed spit for days. In fact, Portland's street-food scene is like a staging ground for the restaurants of the future, as evidenced by numerous carts that worked out their culinary kinks before opening great restaurants.
The carts are often clustered together in "pods," where there's often beer and sometimes cocktails. And the variety of foods on offer is astoundingly diverse. Where else can you get a foie gras burger, Ethiopian food, steak frites, lobster rolls, lesser-known Thai delicacies, octopus balls, burritos, fried pies, pasta, cake, cheese plates, Mauritian curry, wood-fired pizza, hand-churned ice cream, poutine, porchetta, tandoori chicken, arepas, sushi, or a waffle cone stuffed with pulled pork all in one neighborhood (and for under $10)? Oh, and if you really, really need some halal food, street meat, or a Chicago dog, well, they've got those too.
Known for: Everything, really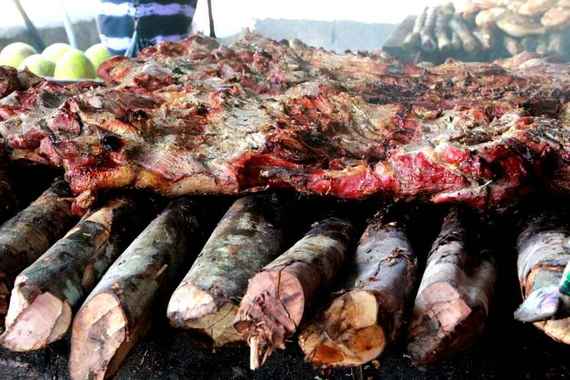 Credit: Flickr/linda sellers
11. Kingston
Jamaica
Black, green, gold, and more green may be the colors of the Jamaican flag, but jerk is the undisputed color of the chicken. Charcoal is king, and its queen is long sticks of green pimento wood that instill a signature smoky flavor that complements the all-spice and Scotch bonnet pepper rub. Expect a side of rice and peas, and maybe a cup of oxtail stew. You'll also find crazy-good curries, sweetened bread called "festival" that's a common late-night snack for its ability to right a stomach full of rum, and super-savory beef patties.
There's also a surprising thread of Asian flavors showing up in the form of Sichuan-style chicken dishes reggae'd up with the same Scotch pepper you'll taste in the jerk. Kingston earns bonus points for the fact that all of this is eaten with a side of tropical climate and reggae music.
Known for: Jerk and curried chicken, oxtail stew, sweetened bread called "festival"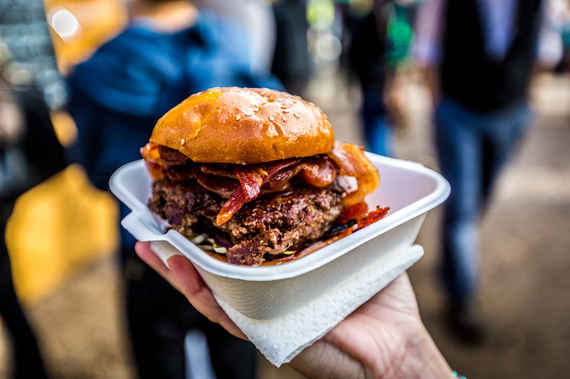 Credit: Flickr/Davide D'Amico
10. London
England
When you consider that the most popular British-invented dish is chicken tikka masala, it comes as no surprise that London's street food follows a similar route of adopting food cultures, then sternly-but-lovingly raising them on homegrown produce. The various markets (and more recently, food trucks) are lined with stalls from virtually every nation under the sun, slinging spice-fueled tacos, juicy brats, steaming bowls of pho, packed lobster rolls, and more -- and the packed crowds of tourists & locals alike attest to their quality.
Known for: Appropriating virtually any other national cuisine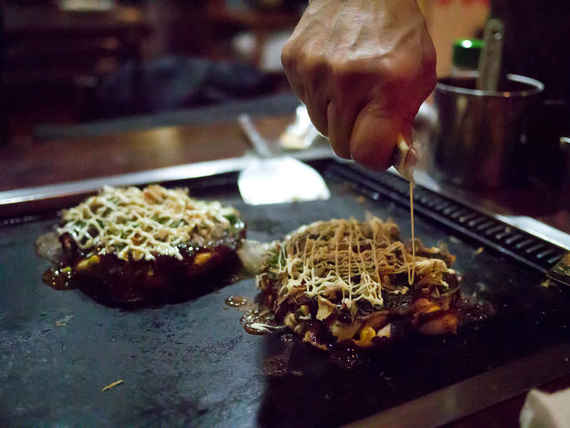 Credit: Flickr/Hajime Nagahata
9. Tokyo
Japan
Tokyo would place higher if there wasn't a stigma against eating on the move, but that doesn't stop them from having two massive outdoor eating amenities: next-level vending machines and the Tsukiji market. Just the fact that you can score a beer out of a vending machine takes Tokyo up our list a few places, but the true gem is Tsukiji, which very roughly translates to "seafood heaven." Sashimi samples, raw oysters, and massive nigiri rolls are all incredible.
Despite the street-eating stigma, any time a festival is going on you'll find an army of vendors slinging the best pancakes in the world. Or go simple, by waiting alongside a busy line of Tokyo businessmen for a bento box.
Known for: Okonomiyaki pancakes, bento boxes, weird vending machines, anything from the Tsukiji market