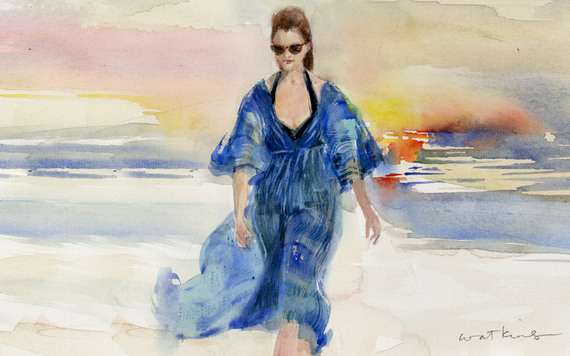 In the '80s, one of my first assignments as a fashion editor at Vogue was to cover the swimwear market. As a Jersey girl, born and raised just miles from the beach (we never called it "the shore," that was for day trippers!), this was like getting paid to eat ice cream! It was my responsibility to visit the showrooms of swimwear designers -- Norma Kamali, Liza Bruce, Gottex, Cole of California, Body Glove, among others -- to identify the latest trends and select the most exciting styles for the magazine's stories.
At that young age, I was a triangle-bikini devotee personally, but I developed an eye for new shapes and an appreciation of swimwear construction and fabric developments. It became a kind of obsession. When Summer came around, I couldn't help subconsciously identifying the brands of all the suits worn by women I saw on the weekends, strolling on the sand, sunbathing by the pool.
Later, when I became Fashion Director at Glamour, we would hold big swimsuit try-ons in the fashion closet with the promise of finding every women her "perfect suit." It's amazing what a difference a few details, such as adjustable straps or a seamless leg, can make in such a small piece of fabric on the body. I often found myself surreptitiously eyeing women at our pool club and second-guessing whether their bathing suits were the best choice for their various figure types. Their cover-ups also captured my attention.
While I continued to wear bikinis (though not triangles) well into my 40s, I knew those days were, for me, numbered. That is not to suggest that women can't wear two-pieces after a certain point (remember that famous picture of Helen Mirren a few years back rocking a red bikini in her mid-60s? Wowza!).
But I discovered that, compared to bikinis, one-pieces can be just as sexy, flattering and often even more chic.
So here are some of my favorite one-pieces and cover-ups as well as a few tips I've picked up along the way:
Construction counts: If you have a large chest, for example, look for built-in bras, wider straps and halter necklines, which are more supportive. If you have a tummy, many suits have control panels or a higher percentage of Lycra. Seamless arm- and leg-holes provide a smooth silhouette that doesn't squeeze you in the wrong places. Read the fine print before you purchase.You can learn a lot.
Figure-flattery red flags: By now, you probably know that dark colors minimize and light or bright ones attract the eye. This is true. But some suits scream, "I am trying to draw attention away from my hips" too obviously. A little detail on the upper body -- a strappy back, piping at the neck, for example -- can do the trick but try to avoid styles that have obvious padding or crazy geometric color-blocking pointing to your chest. An all-over print, such as a floral or polka-dots, can keep the eye moving and balance proportions with more subtlety. And, counter-intuitively, you don't necessarily want to put the most coverage on your biggest body part. Wearing a skirted suit over wide hips only makes them look larger; a bigger top and smaller bottom on this figure-type can actually look better, as long as you are comfortable with the amount of coverage.
Geometry lessons: Vertical stripes and details can lengthen your silhouette, but that isn't always a good thing. You need to know your body's proportions. If you have a long torso, for example, horizontal patterns can be your friend. Ditto if your thighs are large in relation to your waist; horizontals make your hips and torso appear wider and help balance. If you have a short waist, by all means, go for up-and-down designs, high necklines or one-shoulder shapes. Illusion details (such as sheer mesh inserts) can also be used to direct the eye -- and add the suggestion of skin without baring it all.
Cover-up coaching: What you wear when you emerge from the surf or the pool counts. Think of it as an outfit vs. just wrapping a big beach towel around you. Still, you may not want to get too matchy-matchy, as in wearing a print maillot with a coordinating item. To me, that seems like you are trying too hard in a situation that is supposed to be relaxed. I prefer pairing a tunic, beach pant and sarong in a similar color palette, complementary print or mood (such as an embroidered caftan over a feminine maillot, or a sporty board short with an athletic tank suit) instead. Be cognizant of what you want to cover up!
One of my all-time favorite and affordable cover-ups? A man's oversize cotton shirt. So simple, so chic. Add a Panama hat ... and you're done.