The 2009 Scotiabank Giller Prize
Last night the 16th annual Giller Prize celebrated excellence in Canadian literature, reminding us all of the incredible dedication, passion and talent with which authors in this great nation write. The Giller Prize was born in 1994 to bear the name of revered businessman and philanthropist Jack Rabinovitch's late wife, literary journalist Doris Giller and is the largest prize for literature in the country. Since it's inception over a decade and a half ago, the Giller has been one of the most influential forces in promoting Canadian literature both at home and abroad.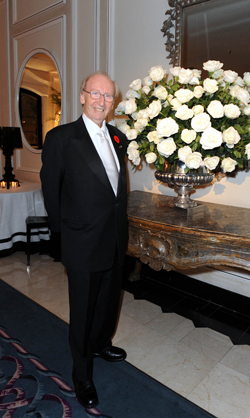 (Jack Rabinovitch)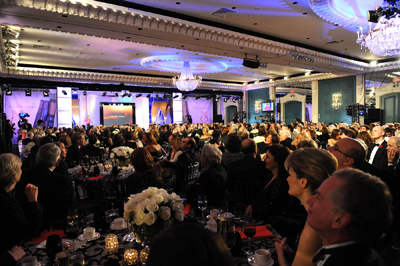 (The 2009 Scotiabank Giller Prize at The Four Seasons Hotel Toronto)
The excitement in the room was palpable, the accolades for the five finalists abundant and there was a tangible frisson in the air as shortlisted authors past and present, judges and guests mingled and speculated about who would win the Giller and take home $50,000. More than simply receiving a large cash prize, winning the Giller elevates an author to eminence both commercially and culturally; it bestows a glorious triumvirate of success: an internationally esteemed literary reputation, skyrocketing sales and a greater freedom with which to continue writing. Of the five fantastic shortlisted works of fiction, Kim Echlin's The Disappeared, Annabel Lyon's The Golden Mean, Linden MacIntyre's The Bishop's Man, Colin McAdam's Fall, and Anne Michael's The Winter Vault, the jury chose investigative journalist and writer MacIntyre's novel about "the sexual abuses perpetrated by Catholic priests on the innocent children in their care" as the 2009 Scotiabank Giller Prize winner. In his gracious acceptance speech he profoundly thanked Jack Rabinovitch for 'making people read books', and left us with a powerfully compelling quote from Emerson that epitomizes why The Bishop's Man is so brave a tale in both research and execution: "fiction reveals truth that reality obscures."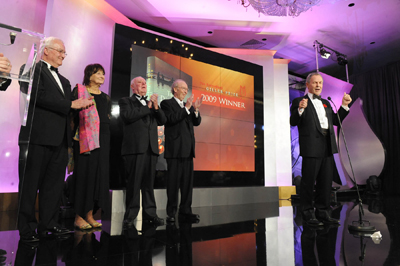 (Linden MacIntyre accepts the 2009 Scotiabank Giller Prize
onstage with the jury and Jack Rabinovitch)
During a period of six months the three jurors read nearly 100 different works of fiction and narrowed down to the longlist's twelve finalists with relative ease but struggled with selecting the five shortlisted authors and certainly with choosing the winner. For the first time in the history of the Giller the jury was not entirely Canadian: writer and professor Alistair MacLeod was the sole Canadian judge, with novelist and short story writer Russell Banks representing America and author and journalist Victoria Glendinning hailing from the UK. It seemed a puzzling choice to have international authors judge a very national prize, so I asked Elana Rabinovitch, Executive Director for the Prize and Jack Rabinovitch's daughter, for her thoughts and she told me their reasoning was simple. "Canadian writers and Canadian literature is read and enjoyed all over the world and therefore deserves to be judged internationally," she said. "We also liked the idea of moving beyond the Canadian literary community, which can be quite insular. Opening up the judging process to international writers effectively mitigates any potential conflicts of interest." Banks and Glendinning felt similarly about the benefits of being non-Canadians; Glendinning said "like a virgin, unaware of the reputations, expectations, feuds and alliances of the Canlit world...I came to them [the novels] clean," while Russell Banks said he enjoyed judging "innocent of any old rivalries or literary squabbles, debts or friendships". This literal and figurative distance of the jury to the prize selections represents a refreshing new chapter for the Giller that is sure to usher in even more international acclaim for our nation's celebrated authors.
The tight-knit Canlit community at last night's Giller Prize included such esteemed authors and past winners M.G. Vassanji, Margaret Atwood, Alice Munro, Michael Ondaatje, and Rohinton Mistry whose novel, A Fine Balance, is - I think - one of the most exquisite novels ever written. Certainly there is a wonderful sense of multiculturalism buoying the community, reflecting Canada's reputation for embracing a multicultural mosaic, but the judges were clear in their assertion that there is nothing parochial about Canadian literature. Banks told me, "there is nothing provincial or narrowly "Canadian" about the books we chose." Alternatively, he praised Canadian authors for "not being afraid to write about far-flung parts of the globe...they seem to feel a connectedness to the rest of the world and their fiction reflects that." Financial giant and Giller Prize sponsor since 2005, Scotiabank announced at the beginning of the ceremony with obvious pride that they are committing to ten more years of sponsorship, ensuring that despite the tumultuous time for print, another decade of Canadian literature will be cultivated, nurtured and celebrated both in Canada and internationally.
The Future of Literature In a Digital Age: Giller Prize Judges and Authors Weigh In
Despite the celebratory spirit of the Giller Prize and Scotiabank's guaranteed presence as generous co-sponsor for at least another decade, I could not quell my concerns for the future of literature in an increasingly digitized environment that so often disgracefully diminishes the power of print. I asked the jurors and shortlisted authors for their thoughts on this tumultuous time for books.
It was a very pleasant and reassuring surprise to discover that nearly everyone was optimistic about the future of literature; many referenced the historical changes that have proceeded this trend towards digitization and all conceded to an undeniable seismic shift in the delivery system of the "written word". Kim Echlin, author of The Disappeared, said that "the internet is as profoundly altering a technology as the Gutenberg printing press was in its time", suggesting that while change is certainly afoot, it is an inevitable and worthwhile stamp of progress. Author of The Golden Mean, Annabel Lyon, offered the example of The Iliad as having likely been passed down orally before being written down, and judge Russell Banks cited the ancient Egyptian's, who probably "bemoaned the abandonment of clay tablets for the new papyrus." Treading this historic trajectory of development and progress illuminates the path on which we can conceive of myriad benefits to digitization, such as Echlin's claim that technology possesses the potential to "further democratize communication" and "connect us internationally."
Amidst changes in the form and delivery of literature, the judges and authors were unified in their conviction that the of sharing stories will indefinitely be enjoyed, as communication is intrinsic to human beings and has always and will forever distinguish our species. Colin McAdam, author of Fall, said "when the medium shifts away from the book...the texture of it changes, but not the intimacy." Lyon spoke perhaps presciently of a nostalgia for the book - "things you could put on shelves...collecting bookmarks, losing your page, finding your page...rainy afternoons in used bookstores" - but was firm in her belief that stories won't ever pass away, that "literature will always be with us," a response also articulated by judge Alistair MacLeod. Banks attributed his faith in the human ability to transfer information and stories to a "species-deep necessity", while Glendinning said "the desire and need to read is hardwired. Telling and hearing stories is as old as our species."
In quieting the cacophony of predictions of literary catastrophe, what sage advice can these judges and authors impart onto a younger generation eager to write but wary to try? McAdam aptly suggested that "it might be a healthy moment for people to ask themselves why they want to write, and if it's primarily because they like reading, they should keep reading. I need to sell more books but if you're a writer, write." Investigative journalist, author and winner of this year's Giller Prize - Linden MacIntyre - suggested that the "success of writers like J.K. Rowling and Stephanie Meyer have secured a new lease on life for the book... they've helped to seduce a new fledgling generation into that age-old mystical relationship with this indefinably comforting, inspiring, ennobling "thing"." In a particularly funny moment last night, Lyon joked that 'I would have done way better had I made Aristotle [her book's protagonist] a vampire', but her reference to the success of Meyer's franchise does echo Linden's sentiments. Anne Michaels, author of The Winter Vault, likely wasn't referencing Meyer when she shared with me her powerful statement, "write because something is at stake", while Echlin recounted what Rev. Bruce MacLeod, a former United Church moderator told her: "keep writing, the world needs our stories." Lyon summed it all up beautifully: "Love what you do. Evolve."
We can only speculate what the future holds for books but one thing is for certain, the Giller Prize will continue to recognize, celebrate and award excellence in Canadian literature, and for that, we must all be grateful.
Congratulations to Linden MacIntyre for winning the 2009 Scotiabank Giller Prize with The Bishop's Man and to all the authors shortlisted for this year's prize!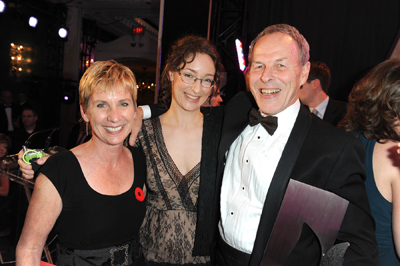 (Kim Echlin, Annabel Lyon and Linden MacIntyre)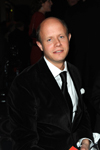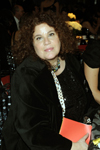 (Colin McAdam and Anne Michaels)
*All photos courtesy of Tom Sandler
REAL LIFE. REAL NEWS. REAL VOICES.
Help us tell more of the stories that matter from voices that too often remain unheard.