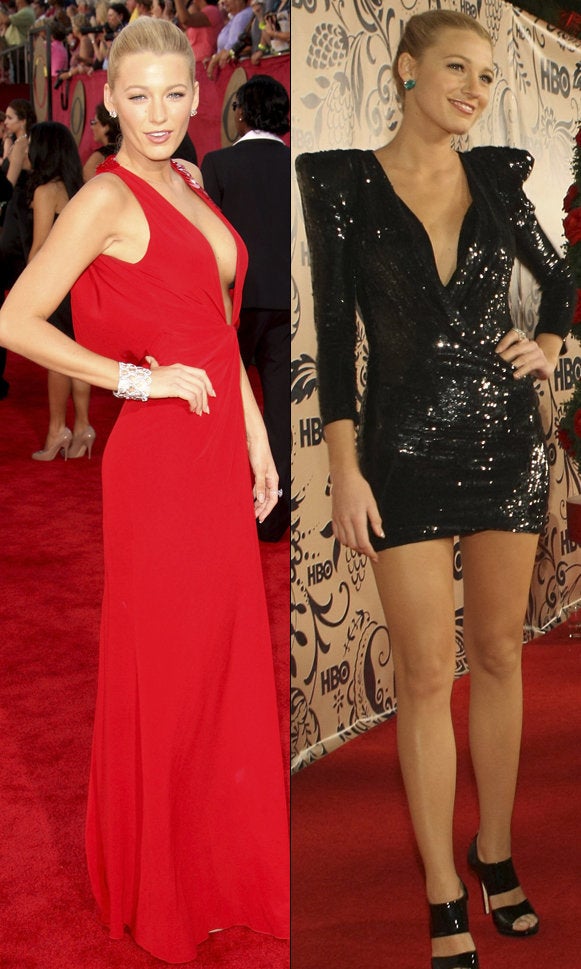 Gifting suites leading up to the Emmy Awards this past Sunday began as early as six days prior to the event and continued throughout the week. Although there were far too many to account for, below are some highlights.
Madison & Mulholland Charitable Gifting Suite at the London Hotel in West Hollywood.
Highlights: This gifting suite saw celebs going around from vendor to vendor collecting products which they - surprise! - did not take home for themselves. Rather, each bag was put together personally by the stars to go up for public auction with proceeds benefiting a charity of the stars' choice. The auction will go up live on CharityBuzz from September 23 to October 13.
The suite also held an exclusive Hollywood Stylist Breakfast hosted by the Accessories Council. There, celebrity and wardrobe stylists from different network shows had one-on-one face time with gifting vendors to make mutually beneficial connections. Stylists left with gift bags containing product that you just might see popping up on your favorite characters and TV hosts.
Cool items: S.T. Dupont's luxury lighters, pens and leather goods, leather handbags from Coccinelle, Lacoste Eyewear, Johnny Vincent Swimwear, Salt of the Earth clothing apparel, shapewear from TC Fine Intimates and Hip Heirlooms Jewelry among others.
Practical items: SmartMouth Mouthwash, Root Essentials to cover up gray hairs, Carmex lip balm, Hands 2 Go Sanitzer and Denta Bursts' Brush and Go disposable teeth cleaners.
Eco Emmys Celebrity Green Gifting and Wellness Chateau at a private estate on Fremont Place which benefited several charities including GreenWish, SPCA, I Am That Girl, Free the Slaves and Susan G. Komen for the Cure.
Highlights: organic make-up from Nvey, toxin free baby clothes from Biobaby, ultra-cool t-shirts from Disciple, Beth Springer handbags, eyebrow threading by Marco Ochoa, tunics from Single Dress, TIGI's latest green hair care line - Love Peace & the Planet.
There was plenty to nosh on as well including cupcakes from Luscious Organic Desserts, baked goods and meals from Bod Nutrition, while Forty Oaks Farm was making pizzas right next to their Molokai salt and rice oil tasking bar.
Awesome item: Cecelia Bythewood's "Green & Glamorous" jewelry line. Now you can take all your broken earrings and necklaces that are too pretty to throw out but totally useless to wear and send them to Cecelia. She'll take those baubles and creates you a one-of-a kind hand-encrusted wearable piece. Now all those gaudy pieces you inherited Grandma (and feel too guilty to get rid of) can be put to good use!
Practical item: Ditto Hangers, which are 100% recyclable. A must-have in today's world where 8 billion unrecyclable plastic hangers are land filled every year. At least Joan Crawford was right about something: "No more wire hangers ever!"
Kari Feinstein's Style Lounge at Zune L.A. benefiting Save the Children:
Highlights: Skincare from Sanitas, flat irons from GHD, fitted flannel shirts from Vintage Havana and a complete anti-aging skincare system from StemCell. Also, diamond encrusted jewelry from Hershey's Kisses, wellness books from Life Extension Media and T-Mobile Sidekicks. Footwear included ballet flats from Lindsay Phillips with interchangeable snaps that allow you to change the look of your shoe, while Reebok's Retro Sport had celebs picking up retro looking gear featuring logos of their favorite football teams.
Awesome item: A shopping bag full of products from GNC's newest "WellBEing" line designed exclusively for women. Goodies included the Health & Beauty Vitapak, a detox kit, an exercise enhancing turbopak and nutritional bars among other items.
Practical item: Lutron Electronic's latest dimmers. Their Occupancy Sensor saves energy with a motion sensor to turns lights on and off automatically as you leave the room. Meanwhile, Lutron's Eco Minder dimmer contains an LED that changes from red to green as you dim to indicate you are saving energy. Since lighting accounts for about 20% of an average household's electricity bill, these dimmers are pretty much a no-brainer to have!
WOW! Creations Gifting Lounge at the Penthouse in the Luxe Hotel on Rodeo Drive in Beverly Hills.
Highlights: Kroma make-up, tanning certificates to Infinity Sun, bath salt blends from the Joyful Bath Co, Bota Box wine-in-a box, Avitae Energy Water which has an infusion of caffeine for energy yet remains flavorless. Stat Key Company gifted stylized keys in different shapes and designs including houses, grenades, horses, butterflies and chess pieces. The company also accepts custom designs so celebs could create their own one-of-a-kind model. No more confusion as to which key is for what lock.
Awesome item: A two night stay for two people at the Royal Hawaiian resort in Waikiki; a one year gift-card for unlimited free food at Johnny Rockets for up to four people.
Practical item: Socket Sense Surge Protector, which expands to allow your oversized power adapters to plug in without blocking extra sockets.
The Silver Spoon Buffet at Adrienne Maloof's Estate in Beverly Park to benefit the Noreen Fraser Foundation, which focuses on finding a cure for women's cancers.
Highlights: Held on the Maloof backyard and tennis courts, this suite had Sketchers offering up pairs of shoes from their new Shape Ups collection, hair care products from Ovation and Nexxus, jewelry from Lois Hill and Skineez Skincareware undergarments. Also, shoes and purses from Menbur, stationary from Tiny Prints, Emile Sloan Totes and glass pens & photo coasters from Beau Coup.
Awesome item: Women's sexy Halloween costumes from Seven 'til Midnight including a sexy police officer, a sexy race car driver, a sexy hippie and more.
Practical item: If you love wine, then opt for wines from Cleavage Creek Cellars, which pictures breast cancer survivors on the label of each wine bottle. Their individual stories are told on the company's website. Talk about putting a face on cancer.
ALIVE Expo Green Pavilion/MixMedia Luxury Lounge at the Sofitel Hotel:
Highlights: Pulitzer Prize winning photographer Brian Smith's set up a portrait studio where celebs were photographed for "Art & Soul," a coffee table book benefiting Project Green and the Creative Coalition.
Goodies included Aubrey Organics make-up, hair, body and skincare products, Kathleen Kirkland shape wear and gift certificates from eco-friendly cleaning company Property Maid. There was plenty of green greeting cards and jewelry made from recycled material like Ann Made's soda can tab pendants, We Pilates Clothing, Fuzzy Green Monster organic children's apparel, all which tucked in a tote from Tuwa Elements of Earth. And for those needing a little sparkle for the red carpet, lab generated diamonds and jewels from The Nexus Design Studio (no blood diamonds here!) were going out on loan.
Awesome item: Dr. Garth Fisher's latest line of products from his new Cellceutical Skincare collection.
Practical item: For those watching their diet and health, Egg Whites International was sending guests a months supply of pure pasteurized liquid egg whites that are double filtered to have the smooth consistence of milk. That means no matter how you mix it, you can't taste any egg.
The SLS Hotel and The Secret Room Events "Think Pink" 2009 Emmy Awards Style Lounge benefiting the Breast Cancer Research Foundation and Tiger Lily Foundation.
Highlights: Julie Hewett Los Angeles make-up, Lexli aloe skincare products, flat irons from ISO International, t-shirt and hoodies from Secret Mind and jewelry from Breezy Jewelers. There was dog food from The Good Dog Company, Bare Sole shoes with interchangeable straps and a make-up enhancer kit from Geri G. Cosmetics.
Other goodies included Gold Canyon candles, Moonlight Pillows for post-surgical breast support, sterling sliver calendar keepsake charms from Not Just Any Old Day and reversible handbags and children's apparel from Luvali Convertibles.
For those with a sweet tooth, Tasty Clouds spun cotton candy in such unusual flavors as Lemon, Pina Colada and White Vanilla Licorice. Cake Pops provided bite-size cakes on sticks in all sorts of flavors including chocolate, carrot and red velvet.
Awesome item: Caribbean Magazine handed out week-long trips to the Caribbean.
Practical item: Sol Beads - ultraviolet light detection beads that change color in the sun, alerting the user of UV ray exposure; MobiGrip, a bungee-cord type leash that mounts to your cell phone, MP3, etc. and wraps around your finger to prevent accidental drops.
The Suite Life Skybar Emmy Suites at the Mondrian Hotel's Skybar Hut:
Highlights: Joe's Jeans, Kid Dangerous T-shirts, funky blazers from Moods of Norway, unisex skincare from Fenix, Smashbox Cosmetic, teeth whitening certificates from Beverly Hills Oral Spa Dentistry, a collection of tanning products including pressed powder bronzers and self tanners from Fake Bake tanning.
Awesome item: A-List Tan's Pashia Fisher and Tamara Czartoryski offered their mobile tanning services in the comfort of guests own homes. Each gal comes equipped with her own foldout tent and Fake Bake's unique tanning solution that is half bronzer and half self-tanner. The result is a long-lasting, even, golden glow.
An honorable mention must go to Sonya Dakar Skincare Specialists, who held a product launch at Spa Intercontinental to debut 2 new products: the Hand Spot Lightener & Firmer with SPF 30 and the Neck & Décolleté Firmer & Spot Lightener wit SPF 30. Guests were treated to hand and neck treatments with the products and were able to take them home as well.
Calling all HuffPost superfans!
Sign up for membership to become a founding member and help shape HuffPost's next chapter